US rental approaching 2020 with caution
By Thomas Allen19 February 2020
US rental companies are approaching 2020 with some caution, according to equipment suppliers at this year's ARA Show.
Malcolm Early, Vice President of Marketing at Skyjack, told International Rental News (IRN); "The US rental market is positive but 2020 will be an adjustment as we come off the back of 9-10 years of growth. It is more of a replacement market than a growth market."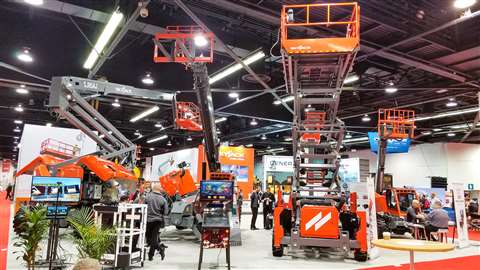 Part of this is the dampening effect of an election year. Specific to the access sector, he also mentioned that confusion around the new ANSI standards, which have been delayed again, is impacting demand.
"There is also the impact from Chinese trade wars, which affects the price of steel," Early added.
When asked about the potential impact of the coronavirus on supply chains, Early said, "Skyjack will have to expect some impact from the coronavirus. It will likely affect raw material prices and the supply of components. But it's too early to quantify, and we are in the same boat as other manufacturers."
Skyjack unveiled its next generation of DC scissor lifts at the show.
A similar sentiment was expressed by JLG's President Frank Nerenhausen, who said, "If we forecast 2020, I'll call it a soft landing. I think the market is fundamentally still sound. We believe that there'll be a tailwind coming in 2021, though.
"There's a lot of variability and a number of different factors that can influence the market. But if this is the landing in the next cycle, we're happy."
He also commented on the flexibility rental companies have in their CapEx planning; "We don't see any binary events of some sort that [could change spending/demand] like we saw in 2015 with up-stream oil and gas.
"They [rental companies] can shift and then we have to accommodate. You always search for bubbles. We don't see bubbles in this economy because it grew nice and slow for 10 years.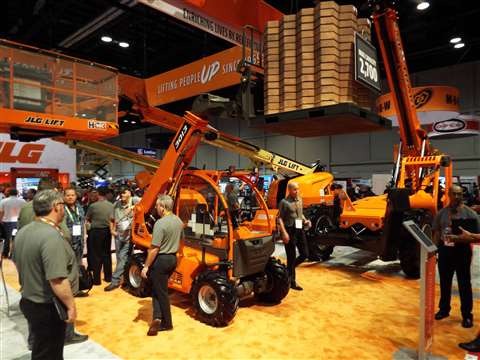 "But it's going to settle down a little bit in 2020 and then take off again. We think there could be a tailwind for replacement demand, but again, there are a lot of factors and variables out there."
Among the new products on show at JLG's stand was the SkyTrak 3013 ultra-compact telehandler, manufacturered by Spanish company Ausa.
Last year, US manufacturer Vermeer saw an increase in purchases, especially at the start of 2019, according to Austin Bonnema, the company's Commercial Business Manager. He described customers as bullish, requiring equipment as they chased a lot of growth opportunities.
"They were dealing with rather high utilisation and saw that as an opportunity to refresh some fleet as well as try to tackle some of that growth," Bonnema said.
However, towards the end of the year the market cooled, with big players such as United Rentals and Sunbelt pulling back, specifically in the northeast; "United pulled down a couple-hundred million dollars – maybe $300 million – and Sunbelt pulled back maybe $100 million," Bonnema said.
The trend has continued into 2020. Initial discussions with some major national players have suggested they are taking a relatively conservative replacement-only approach to begin with.
"They're taking a pause to get a clear picture of where their growth opportunities are and what they need to buy to capitalise on that growth," said Bonnema.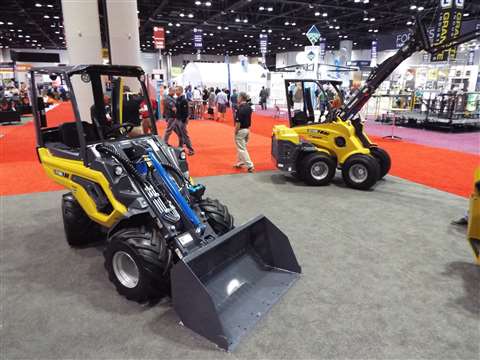 "With independent rental firms, though, it's probably a little bit the other way around." Encouraged by a good couple of years, they are deciding to grow their fleets.
Looking ahead, Austin said, "Overall, we're looking at this coming year as pretty flat with an optimistic outlook for independent rentals picking up a little bit more than they have in the past."
Vermeer was promoting its recent distribution agreement with Italian manufacturer MultiOne, in which Vermeer will distribute two of the company's articulated loader models: the ATX850 and ATX530.
Read a full US regional report in the March issue of International Rental News.
Meanwhile, Greg Bennet, Vice President of Sales at Point of Rental, said the software company generated more than 1,000 leads at the exhibition.
"The US rental market is optimistic, despite uncertainty caused by the election," said Bennet, "Speaking with lending institutions, they have opened more lines of credit for rental companies at this year's ARA Show than ever before."
Although there are some economic headwinds, he said Point of Rental is optimistic about 2020 and is expecting growth over the next couple of years.
"We expect more consolidation in the market," said Bennet, "This is good because it creates gaps in the market that create opportunities for new small companies to pop up."
Point of Rental was promoting its One App at the show. Initially released a few months ago, the App will eventually contain all of the company's Apps, acting as a sort of App store.
On Cummins' stand, Mike Bradfor, Technical Support Manager, Rental Accounts, highlighted the growing trend towards rental in the US construction industry. "A lot of construction companies are preferring not to maintain their own equipment due to the complexity of Tier 4 Final and electronics on equipment. As a result, they are renting more," he said.
"They're also covering larger areas," he added, "By renting, they don't need to worry about the logistics of getting equipment to different sites."
Cummins launched its new C12D6RE genset at the ARA Show.