US rental bolstered by rising penetration
By Thomas Allen11 February 2020
The American Rental Association (ARA) said rental penetration had significantly increased in the past year, with its penetration index rising from 55.9% to 56.7% between 2018 and 2019.
ARA said the reasons for the increase included uncertainty over presidential elections, the growing technical complexity of equipment, and the evolution of rental companies into 'problem solving' businesses.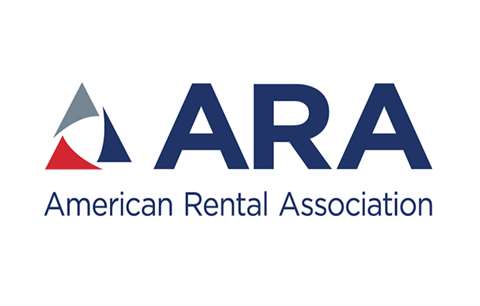 "This is one of the main factors that is keeping rental revenues growing faster than GDP and in the face of a flat outlook for construction spending", said ARA Vice President of Government Affairs and chief Economist, John McClelland.
The ARA defines rental penetration as the proportion of construction equipment currently in use in the US that is owned by rental companies.
The data was released on the opening day of the ARA Show in Orlando, Florida.
The association also forecast that US rental revenues would grow by 3.8% to $58.1 billion in 2020. It projected 4.1% growth in 2021, 4.2% in 2022, and 3.5% in 2023, reaching $65.2 billion. This is higher than the previous estimate of $64.1 billion.
John McClelland said, "We are in a fairly steady growth pattern with the chance of recession relatively low, keeping rental revenue growth moving higher throughout the forecast period."
Scott Hazelton, Managing Director of IHS Markit, the forecasting firm that partners with ARA, added; "The good news is that the US economy will hold to a moderate growth path, and the risk of recession has fallen.
"However, the markets that equipment rental primarily serves are likely to see some challenges. The US economy continues to slow as the impetus from tax cuts, fiscal budget stimulus and interest rate reductions all wear off."
In Canada, total rental revenues are forecast to top $5.6 billion in 2020, up 2.1% compared to 2019. Rental revenues in Canada are expected to grow 2.3% in 2021, 3.3% in 2022, and 2.7% in 2023 to a total of $6.1 billion.
On the increased rental penetration rate, ARA provided several reasons. It said rental companies were buying more equipment than construction contractors in part because of uncertainty relating to the upcoming presidential elections.
The association said the increasing technical complexity of equipment was making contractors less inclined to maintain equipment in-house, choosing to have rental companies deal with that.
A third factor was highlighted by McClelland: "We believe this increased penetration of rental equipment into the construction market is because equipment rental companies have become problem-solving companies, helping customers make more efficient business decisions and reducing the uncertainty that comes with making large capital investments in equipment. Our view is that this trend will continue for the foreseeable future."