Used Liebherr for Italian crane company
By Niamh Marriott17 October 2022
Italian crane company Seghetti has added a used Liebherr LTM 1100-4.2 mobile crane built in 2009 to its fleet.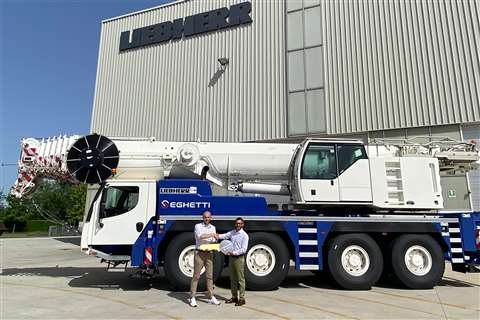 Inspection and reconditioning with original Liebherr spare parts and lubricants took place at the Liebherr Italia repair centre. The centre carried out the inspection and reconditioning of the 100-tonne machine with original Liebherr spare parts before delivery. This included maintenance and overhaul of the main undercarriage and superstructure components as well as adjustment and calibration of the control systems. During such repair works, original Liebherr spare parts and lubricants were used.
The high lifting height of the LTM 1100-4-2, its fast availability and Liebherr's leading role in the crane industry played a key role in the purchase decision, the company said.
Liebherr, among other manufacturers, have specific repair services for used cranes.
"The rapid availability of this used mobile crane was an important factor in the purchasing. The LTM 1100-4.2 will enable us to optimally cover the requirements of our market," said managing director Luigi Seghetti.
Large lifting heights
"The decisive factor for buying the LTM 1100-4.2 was its large lifting heights," said Seghetti.
The 100 tonne crane has a 60 metre telescopic boom – with lattice extensions, it can achieve lifting heights of up to 91 metres and radii of up to 58 metres.
The main areas of application for the LTM 1100-4.2 at Seghetti will be in construction work.