Utilities: Specialist machines
By Sandy Guthrie22 November 2017
The machines used for utilities projects are often specialist machines with a specific goal in mind, and this is partly a result of the changing nature of the work involved.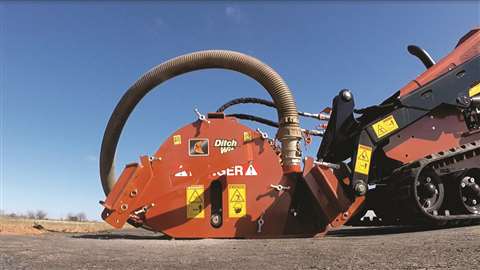 When it comes to laying fibre optic cables, for example, this is still a relatively new area of work, but it is now one that is in great demand.
Ditch Witch has introduced the new MT9 microtrencher attachment, which it said was designed to improve productivity and to reduce the cost-per-metre on small fibre jobsites.
Developed to work in tandem with the Ditch Witch line of mini skid steers, the system was described by the company as an industry first, and to be a solution for tight and confined residential areas, such as street crossings.
To reduce ground disruption, the MT9 creates clean, shallow trenches up to 23cm deep and 0.95 to 3.8cn wide. A patented blade plunge provides infinite variable depth control while the machine is in operation.
Additionally, the microtrencher works with the FX65 vacuum excavator to try to create a clean trench in one pass by effectively removing spoils.
Steve Seabolt, product manager, heavy duty tractors, said, "Traditional fibre-installation methods lack the speed and efficiency to be cost-effective for contractors in many residential areas. Our new MT9 minimises the space required to operate, avoiding hurdles found in confined, tight and urban jobsites."
Ditch Witch said that the ability to push or pull the microtrencher kept the saw in the ground for more efficient and accurate cuts.
By eliminating the need to realign during a cut, operators were able to complete the cut faster and produce a better-looking finish, it claimed.
The MT9 works with the Ditch Witch-exclusive PDC Fiberblade that contains diamond embedded carbide. Described as having a durable, maintenance-free design, the Fiberblade was said to last up to 20 times longer than standard blades.
Broadband cables are being laid in Austria, and a Wirtgen W 100 CFi compact milling machine with deep milling unit has been used for trenching prior to the laying of the cables – just before the machine sets to work milling off entire pavements.
Broadband
In the Upper Austrian district of Schärding, not far from the German border, communities are being given broadband internet access.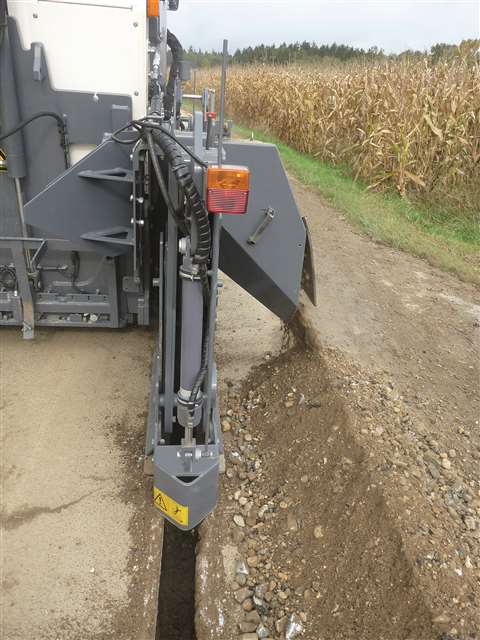 The contractor, Hemmelmair Frästechnik from Linz, is using the W 100 CFi, a model from the latest generation of compact milling machines featuring a deep milling unit that Wirtgen said it had developed especially for this application.
Manfred Grössing, managing director of Hemmelmair, said, "We have 15 Wirtgen cold milling machines in operation."
Once the requirements had been discussed with Wirtgen's product management team, the design department at the brand headquarters in Germany was given the development order.
Manfred Stiegler, customer service manager at the Wirtgen's sales and service company in Austria, said, "We wanted our customer to be able to use the milling machine flexibly, ie be able to switch back to conventional repair jobs as quickly as possible."
Wirtgen developed a special solution for the trenching method. A housing containing a narrow cutting wheel fitted with standard W6 picks was mounted behind the folded-in crawler track on the right.
With a large cutting diameter of 1,620mm, it can mill channels up to 600mm deep and 300mm wide.
The rotary milling motion conveys the milled material upwards, where it is discharged via a baffle plate and chute.
The deep milling unit is controlled from the traditional control panel of the W 100 CFi.
Andreas Salz, responsible for design and development of cutting technology, said, "This means that the machine operator can operate his milling machine in the usual way."
Grössing said, "The easy assembly and dismantling of the deep milling unit and the straightforward transport of the W 100 CFi allows us to use the milling machine flexibly and thus optimally."
Highly competitive
As Kubota concentrates on the compact sector, it is no surprise that the utilities sector is front of mind. Dave Roberts, managing director of Kubota UK, said, "The utilities industry is an extremely important sector for our business. It's a highly competitive market, with many of the project contracts awarded on a work completion basis.
"It is therefore paramount that the machines specified for any contract can be relied on to enhance productivity and performance. It is also vital that these machines provide optimum performance, maximum uptime and don't let operators down, while holding their residual value for contractors who manage their own fleets."
He admitted that there was a wide range of compact construction equipment for any company operating in the utilities market to choose from, and that the most used machines within the sector were mini-excavators.
"These machines have evolved over the years, with the undercarriage, swing frame and hydraulic systems being improved and strengthened for enhanced safety and performance," said Roberts.
"Kubota's excavators are also powered by our world-renowned engines, making them extremely fuel efficient, particularly important for contracts where emissions are considered as part of the tender process."
He said it was key that the mini-excavators specified had high levels of flexibility and versatility, with the ability to carry out a range of tasks in a wide variety of conditions using different attachments, particularly buckets and breakers.
"Typically," he said, "a 1.5 to 2.5 tonne excavator is the ideal solution for utility jobs, but this clearly depends on the size and scale of the task."
He added that the digging depth, maximum reach required, and a machine's lifting capacity were important considerations when choosing which is the right excavator for a contract.
"It's also important to consider on-site space and whether a conventional or zero-tail swing machine is required. If it's a compact area within a road side application for example, a zero-tail swing model like the Kubota U17-3α or U27-4 might be the best option."
He claimed that "outstanding comfort" and ergonomic control layouts made Kubota a good choice for operators, and he said this could be critical when jobs could sometimes face time pressures and long hours of use becomes a must.
"Easy maintenance, and Kubota's Anti-Theft system, also make the Kubota proposition an easy choice for customers," he added.
Whatever machine is chosen, he said, it was important to understand the weight of the machine, ensuring it was below the payload threshold of the towing vehicle to be used, so the machine can be moved legally and without complication.
Updated
JCB has updated the 110W Hydradig wheeled tool carrier, with the installation of a Tier 4 Final/Stage IV JCB EcoMAX diesel engine.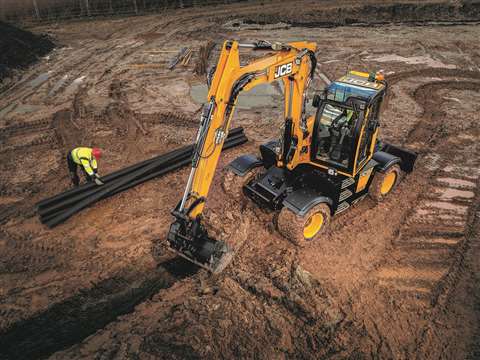 The Hydradig claims to deliver good visibility from the cab thanks to its innovative design, which puts the engine and transmission in the lower section of the chassis. It said this lowered centre of gravity boosted the machine's stability, while its all-wheel steer chassis delivered manoeuvrability on site.
The Stage IV EcoMAX diesel engine features selective catalytic reduction (SCR) with DEF additive resulting in no need for a diesel particulate filter (DPF). It claims a minimum 4% fuel saving over the previous engine, and low DEF use. It also said that its NOx emissions had been reduced by 88%.
JCB has launched three new mini excavators with operating weights of 1.6 to 1.8 tonnes.
It said the line-up included the rental-specific, conventional tailswing 16C-1 and JCB's first zero tailswing 1.7-tonne model, the all-new 18Z-1. Completing the line-up is the conventional tailswing 19C-1.
Key features of the new range are said to include 100% steel bodywork for maximum impact protection and ease of repair, and an improved design to protect all the hydraulic rams and hoses.
Also, 10 integral tie-down points are said to make transportation easier without damaging the tracks.
JCB said the three machines shared common design DNA, boasting improved durability with robust construction and ease of maintenance, to minimise downtime and to boost productivity for the customer.
"They have been engineered from the ground up to deliver reduced total cost of ownership and improved ease of use," the company said.
Utilities are a key part of the business of rental company Gustav HC, based in the Danish city of Herning on the Jutland peninsula. It has invested in a new Hitachi ZX225USLC-6 for its fleet, where it joins a Hitachi ZX225USLC-3, ZX140W-3 and ZX18-3.
Supplied by HP Entreprenørmaskiner (HPE), the new model has a two-piece boom designed to allow the operator to work closely and precisely in the area immediately in front of the machine. Combined with a tilt rotator, this increases its versatility for working in confined spaces.
Gustav HC owner Gustav H Christensen said, "We continue to buy Hitachi construction machinery due to the speed and overall performance of our current and previous Zaxis excavators, as well as the quality of the hydraulic systems.
"HPE consistently provides us with the best possible solutions and each new machine is delivered to the exact specification we require."
The four Hitachi machines are primarily rented out – for 70% of the working year – to local contractor Sunds Entreprenør.
One of the first assignments for the ZX225USLC-6 was on Idrœtsvej in the town of Sunds, just to the north of Herning. Sunds Entreprenør was responsible for lifting the old sewage and rainwater pipes from beneath the road and replacing them, before covering the new pipelines over a distance of 4km on this and adjoining streets.
Portable power
Power in the right place at the right time is another important consideration when working on utilities projects. With this in mind, Doosan Portable Power has introduced several new developments in its portable compressor and generator ranges, including a new generator option for the company's portable compressor range aimed specifically at the utilities industry and rental companies serving this sector.
The new 8.5kVA generator option is said to meet a specific requirement in utility work to meet the demands of the latest fusion welding equipment, providing electrical power that can also be used for lights and tools, together with compressed air for powering breakers and other pneumatic equipment.
The generator option is available on two machines – the 7/31+ model, providing a free air delivery of 3.0m3/min at an output pressure of 7 bar. The 8.5kVA generator option is also available on the larger 7/41+ portable compressor, supplying 4.0m3/min of compressed air at 7 bar output pressure.
Polymer canopy
Another option on these compressors is the Tough Top polymer canopy which is said to combine durability with aesthetic design. In addition to its durability, the Tough Top canopy is also non-corrodible. It can be supplied in customer colours and retrofitted to existing Doosan compressor units.
Doosan said that, as with all its compressors, the modular design of the 7/31+ and 7/41+ ensured that a wide range of optional equipment could be added easily. As well as the polymer canopy, they can include LED lights, a heavy duty light grill, a number plate clip, wheel nut indicators and a bunded base.
The bunded base option for environmental safety is available on most of the models in the Doosan range, providing a fully contained base to try to ensure that all operating fluids – fuel, oil and water – stay within the compressor.
Doosan Portable Power has also launched the new 14/144 Stage IV compliant model, the largest model in a new single axle portable compressor platform. This platform offers a bunded base as standard and the fuel tank features a large size filler to limit the risk of fuel spillage.
The 14/144 portable compressor is powered by the Cummins QSB6.7 6-cylinder diesel engine producing 168kW of power at a full load speed of 2,000rpm. The 14/144 supplies a free air delivery of 14.0m³/min at a rated operating pressure of 13.7 bar.
Manhole covers
Fibrelite, which manufactures in the UK, the US and Malaysia, makes GRP (glass reinforced plastic) manhole covers, trench covers, and underground containment systems.
It pointed out that precast concrete trench systems were used extensively in infrastructure to provide protection for and easy access to underground services.
It added that as composites adoption grew, many precast trench manufacturers were extending their product lines to offer GRP covering options.
Fibrelite said that precast concrete trenches were used to carry cabling and piping – instead of direct burying – protecting them from external factors like damage and adverse weather conditions, while allowing access for maintenance.
Precast concrete trenches are frequently favoured over concrete cast in-situ, it said, to reduce the installation time and the skilled labour required on site.
Historically, said Fibrelite, precast concrete trenches have been covered with concrete or metal covers, and where high load ratings are required – for example, road crossings – covers can weigh hundreds of kilos. Over time environmental factors can cause covers to crack, fracture, crumble or corrode, it said.
However, Fibrelite said that as specifications were changing to favour GRP access covers, precast trench and composite cover manufacturers are working together to bring joint offerings to the market.
Fibrelite serves as strategic partner on a number of large-scale developments specifying composite covers. Their UK design and manufacturing teams work with contractors, architects and end-users to create custom covering solutions for each trench layout.
Fibrelite said its covers weighed a fraction of concrete or metal alternatives, and offered load ratings up to F900. It said all its trench covers could safely be removed manually by two people, no matter what the load rating. The composite material is inert, eliminating deterioration from corrosion and extreme temperatures in service, including freeze-thaw.
One recent example is the Garreg Lwyd Wind Farm in Wales. Fibrelite created bespoke covers for 40 linear m of precast trenches on the new wind farm's substation.
Fibrelite said the D400 load rated covers could be removed safely by two people, while a concrete cover would have weighed approximately 400kg.
Fusion
The McElroy Acrobat – a hydraulic butt fusion machine originally designed for the plumbing and mechanical industry – is now available for the underground and construction market.
The Acrobat 180 is described as a reliable, easy-to-use machine. It butt fuses 63mm to 180mm HDPE pipe and fittings with a variety of pressure ratings, but is light enough to be carried easily.
McElroy said the Acrobat 180 was suitable for in-ditch work and tie-in fusions, and provided a cost-effective alternative to electrofusion, which required the purchase of additional fittings.
It is said to function in tight work spaces by removing the base and converting the carriage from 4 to 3 jaws. The top jaws can even be removed for easier manipulation around pipe and fittings.
Jason Lawrence, director of product development, said, "The Acrobat 180 is a sophisticated machine that is easy to operate at the same time. While the capabilities of the machine are impressive, it is not intimidating.
Two Hydraulic Power Unit (HPU) options are available to provide fusion pressures up to 800 PSI or 1,500 PSI.