Utilizing crane attachments in specialized applications
By D.Ann Shiffler16 August 2022
With custom attachments, cranes can be used for a variety of tasks, mainly in shoring up foundations for bridges or other structures.
The Howard Frankland Bridge has been an iconic Florida landmark for over half a century, carrying 132,000 vehicles along I-275 between Tampa and St. Petersburg daily. Its infamous traffic jams have resulted in the bridge becoming a major chokepoint. It is once again undergoing a major upgrade.
An army of Manitowoc cranes is working on the $865.3 million project. The bridge's design and construction are a 60:40 joint venture between Archer Western Construction, (part of The Walsh Group), and Traylor Bros.
Work began in November 2020 to build a new structure alongside the existing southbound bridge. At just under three miles long, the new 168 foot-wide design will support more deck area than any bridge in the state, which explains why 3,000 concrete and steel piles – a potential 43 miles worth of them – will be installed into the bay's limestone bedrock. More than 21 Manitowoc crawlers, including a 4100 Ringer, are the workhorse fleet on the project. Models include 14000, 999s, 2250s, 888 and MLC300s, with standard maximum capacities between 200 and
330 tons. Planning for the crane-intensive project started 1,200 miles away at The Walsh Group's Chicago headquarters.
"One of the unique challenges of this job is the sheer number of cranes needed. From a business stance, buying all new was not the right option, so we used a mixed strategy. With the volume of Manitowoc crawlers in our fleet, we refurbished many of our existing cranes and supplemented them with four new MLC300 models," said Chris Stearns, senior manager at Walsh. "We also purchased used Manitowoc crawlers that were refurbished by Walsh shops in Chicago and Texas and at Manitowoc dealer Ring Power Crane in Florida."
Ring Power Crane refurbished and repaired several 2250s, 888s, 14000s and one MLC300 t their Riverview, FL location. Manitowoc dealer Walter Payton Power Equipment, based in Riverdale, IL, provided parts and refurb work.
The bridge's construction is linear, starting at both ends concurrently and progressing to the center. This required tight coordination for equipment selection, says Pat Delis, Walsh's account rep at WPPE.
"Part of the challenge with driving pile in Tampa Bay is that the geology of the rock changes rather rapidly across the entire Bay, both in depth and hardness," Delis said. "Once we've selected the correct model for the capacity and radius, each crane needed to be configured specific to its application."
SPECIAL APPLICATIONS 
                                                                                                                          Cranes are not just for lifting and placing things. With specialized attachments, cranes can be used for a variety of tasks, stabilizing soil conditions, shoring up foundations for bridges, structures or building coffer dams. The market for these attachments is strong and ever-evolving.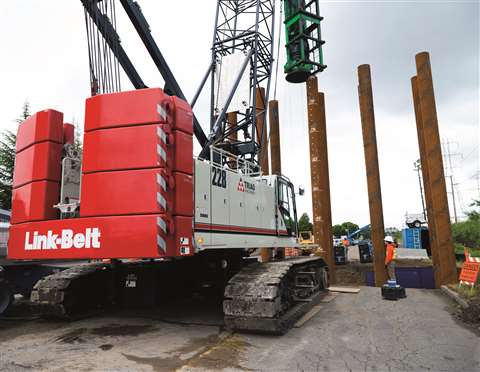 For the most part, lattice crawler cranes, are the best cranes for these specialized attachments. However, telescopic crawlers and rough terrain cranes have been utilized for their speed and mobility. The attachment doesn't have to be attached to the crane. Pinnacle Cranes Salesman Scott Knight has several customers who buy cranes for foundation work.
"For most foundation work, you will be talking about driving piles or drilling holes," said Knight, who worked for several years at Link-Belt as a crawler crane specialist and product manager. "When talking about hammers, there are generally two types, impact hammers and vibratory hammers. These hammers work just like they sound, Impact hammers drive piles and vibratory hammers vibrate pilings in the earth. They can be used in lakes, rivers and the ocean for bridge work or piers. You can drive wood, concrete and steel into the ground to solidify the soil and create a strong foundation.
"This depends on the company," Knight continued. "A company that specializes in foundations may rig up a crane to stay with one application and the crane will live its whole life that way. Other companies doing bridge work may rig up the crane with an impact hammer for driving piles. Once the ground is where it needs to be the crane goes back into lift mode, setting bridge girders. In both these applications, nothing is usually attached to the crane."
Some cranes are modified to handle certain attachments, (ie: fixed lead, spotters and power pack trays) and in these cases, the owner has to get the approval of the manufacturer to alter the crane, per OSHA rules, Knight said.
Walter Payton and Manitowoc Lift Solutions collaborate
As of May 2022, crews have sunk over 1,700 concrete piles, ranging anywhere from 77 to 121 feet in length due to the uneven floor of the basin.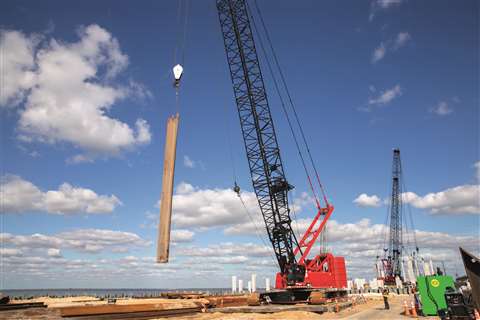 In typical pile driving from barges, beams of this size require two crawlers to tip into position. Seeking a more productive method, Walter Payton collaborated with the Manitowoc Lift Solutions team to design special tilt block adaptors to deftly handle the piles.
"Now, you can place the pile with a single crane because you can hang two blocks from the same point," said Dustin Soerens, product support specialist at Walter Payton. "The tilt block adaptor pins into the lower boom point and provides sheave-mounted transverse to the boom, allowing the piles to be tilted side-to-side without exceeding the allowable angles of the wire rope reeving."
Another complexity of marine piledriving is the constant saltwater spray back from augering. The crawlers were fortified with a special marine-based zinc undercoating to resist corrosion.
Many of the project's challenges are also environmental.
"The Bay is an environmentally sensitive area, so we've hired dedicated personnel to look out for manatees and any other endangered species in the waters around the bridge. Manatees are attracted by the seagrasses, which we mark with buoys to ensure our barges don't impact them, or that we don't split down our equipment in those areas. Any time they come within proximity of our equipment, we're required to shut down until they leave the area before we can work," said Greg Fullington, project executive with The Walsh Group.
HAMMER DOWN AT BONNER BRIDGE                                                                                                       
The North Carolina Department of Transportation selected a design-build team with PCL Civil Constructors as the contractor and HDR as the designer to replace the Bonner Bridge. The 2.8-mile, $254 million replacement provides a modern link between Bodie and Hatteras Islands.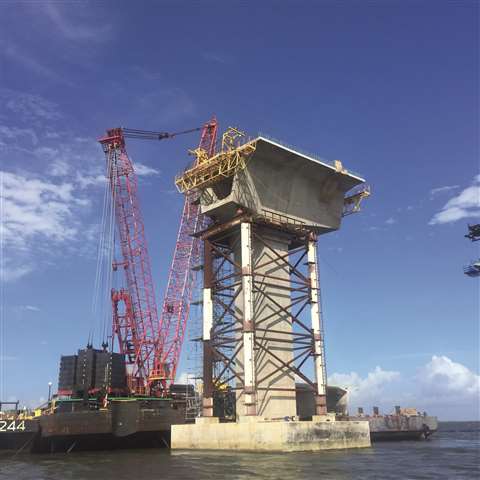 The centerpiece of the new bridge is a 3,550-foot-long, 11-span, segmental concrete box girder unit. This enormous structure provides nine 350-foot spans, any of which can accommodate the shifting position of the navigation channel through the ever-changing Oregon Inlet and is the third-longest continuous segmental concrete box girder unit in North America.
The GeoQuip/HPSI team designed and built two custom fixed vibratory hammer lead systems in-house for PCL Civil Constructors for use in Oregon Inlet, N.C., according to Martin Terwilliger, GeoQuip.
The HPSI 500 vibratory hammers were mounted in lead sleds, and the custom leads were outfitted custom head blocks, hydraulic 50,000-pound winches, and hydraulically operated pile gates to assist with pile alignment.
The setups were designed to utilize the full extraction force of the vibratory hammers for the installation and removal of their 36-inch template piles. Barge-mounted 600-ton Manitowoc 4600 Series 3 Ringers rigged with 190 feet of boom were the cranes used.
"This is a great tool to provide a more efficient, controlled operation while installing numerous piles with awesome precision. This will be a desired tool for many contractors," said Robert W. Gajowski, NCDOT Transportation Technician