Van mounts and pick-up lifts
By Euan Youdale12 June 2018
Pick-up mounts are an increasingly common addition to manufacturers' ranges, while van mounts are offering greater flexibility.
Time International is setting the tone for the modern vehicle mount sector, thanks to the launch of its latest series at Intermat exhibition, taking place in Paris, during April.
The new Versalift VTL series combines the rigidity of the company's popular heavy-duty VT series with the low weight of its lightweight ETL series. It will be available for vans, chassis and pick-ups for a standard class B driving license, but also for heavier vehicles.
In light of this, initially the series will be available for 3.5 tonne and 5 tonne vans with working heights of up to 15m, on 3.5 tonne vehicles, as well as for the light chassis and pick-ups. The competition in the 3.5 tonne vehicle mounted segment has increased rapidly, says Per Cæsar Torp, sales director with Time International. "The standardisation of European driving license classes with 3.5 tonne as the new norm has greatly increased the size of the market for platforms on lightweight vehicles.
"The challenge is to offer both competitive performance and low weight for adequate leftover payload at the same time. In addition, volume is crucial to keep costs low."
The VTL supports 265kg capacity structurally, although just 265kg is offered on 5 tonne vehicles and up, solely because 3.5 tonne vans lack sufficient counterweight. And it offers more working height and lateral outreach compared with an equivalent Versalift ETL or ETM because of its bigger turret, longer booms and improved overturning moment.
Both the tail swing of the turret and the spread of the standard A-frame outriggers are kept within the mirrors of the vehicle and the VTL is designed for safe emergency operation as the valve bank is installed on the pedestal. In addition, the VTL maintains class-leading leftover payload and a clean and easy-maintenance design with no exposed parts for low life-cycle costs.
It is no coincidence these latest products from Time are launched simultaneously on pick-ups, as the vehicle type has seen a significant increase in recent years, originally in the off road sector, and recently in some respects to replace the Land Rover Defender, which is no longer in production.
One of the companies demonstrating the trend in new pick-up mounts is Klubb. France-based Klubb launched a new 4X4 pick-up in February this year. The K26 is mounted on a Mercedes X-Class, with Klubb being the first platform manufacturer to launch a lift designed for the new Mercedes pick-up.
New developments
It can reach a working height of 11.1m and a lateral outreach of 5.2m. In addition, its size is reduced thanks to the new remote turret; by passing over the cabin, the rear overhang has been reduced, making the vehicle more compact and therefore easier to handle and park. The model comes too with large aluminum trays allowing users to easily store all their equipment and materials.
The company also has some exciting plans for Intermat. Julien Bourrellis, president of Klubb, says, "regarding our van mount range, we will show the smallest van mounted platform in the world at Intermat. This vehicle will be intended for applications in urban applications."
In addition, Klubb has been on the acquisition trail with the buyout of its UK dealer, CPL (Cumberland Platforms), in February. CPL was appointed as the UK dealer for Klubb van mounted platforms at the beginning of 2016. Bourrellis explains, "This company is a leader in England on the pick-up lift market and is very well positioned on the van mounts segment. Our manufacturing capacity for these types of products consequently increased a lot."
Of course, these products, both pick-up and van mounts, are not yet a truly global product, with their main markets being in Europe. Yet, Gabriele Valli, sales director at Comet Officine, is seeing a rise in the international market. "We are selling this equipment especially in Asia and South America where the number of pick-ups is in continuous growth. Our models are very much appreciated there, as we are one of the few on the market to be able to propose insulated vehicles, on top of low maintenance and simple use."
Comet's latest products are the articulated X4 12 or X4 14 pick-up mounts, with 12m and 14m working heights, respectively. The X system was designed by Comet. Its articulated boom can also be used as a crane and is fixed sideways up against the cabin. This allows a large load capacity using the spare space on the cargo bed. This means it is still essentially a transport vehicle, yet with a platform of either 12m or 14m working height. It can also be installed on most common 4x4 vehicles.
Valli says, "One trend of ours is to produce vehicles not only used as aerial platforms but that are multipurpose." Indeed, there is an emphasis on the pick-up at the company, "We invest a lot on the pick-up models with X4 12 and X4 14, as well as the X Van line with 12m or 14m platforms.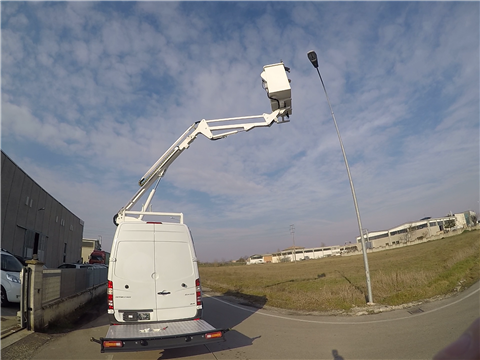 A new launch from the company is the double-articulated 14m working height Eurosky 14.2.6 HQ Jib. It can be installed on most 4x4 vehicles with a double cabin, horizontally on the vehicle. Valli says the company is always working to the demands of the industry. "We are working to increase the working height yet ensuring the operator's security, which is the first absolute priority."
Another trend is in environmentally-friendly products. "We are particularly sensitive to ecological impact and have developed hybrid technology with electric motors on some of our most compact lines, ideal especially for works in the cities. And we are aiming at developing innovative solutions in this area," adds Valli.
Socage is also expanding its pick-up range with greater working height models planned for 2018. Fabio Di Minico, Socage project manager, says, "We are projecting a pick-up with the same characteristic as our A314. It means same length, same height when the platform is closed and same encumbrance. What will change are the height of work and the outreach."
Green products
The company first launched the A314 pick-up model in 2010, designed to be compact and light. Originally developed for off-road, the model has a maximum working height of 14m and a basket capacity of 220kg.
Continuing the ecological theme, the latest version was released in 2017 as an electric model particularly for city centres. Socage's most recent van launch is the 15VTJ, brought to the market in 2015 and has found particular interest in the French and UK markets.
Fabio Di Minico, comments, "The main advantages of our aerial platforms mounted on vans are, first of all, that they allow a big load capacity, second, it is easy to use and it can be put to work quickly without stabilisation. He adds, "In terms of van mounts, we have been expanding sales, particularly abroad. While, with the pick-up we have been expanding in terms of choice - we have installed this type of platform on a lot of different models with a lot of options, it is almost customised.
"One of our goals for 2018 is to enter Russia and more generally Eastern European markets with our vans and pick-ups. The main challenge will be to expand into markets outside Europe, where the customers' habits are different, as well as the low adoption of the product."
Growth markets
The latest model from Custers Hydraulica is its 17m working height Taurus model. As is a common theme, it is designed to offer good load capacity after the addition of the platform on a 5 tonne van. It joins the company's 12m and 14m Taurus models available on 3.5 tonne and 5 tonne vans. Recently the company supplied 20 units to a Netherlands-based energy company.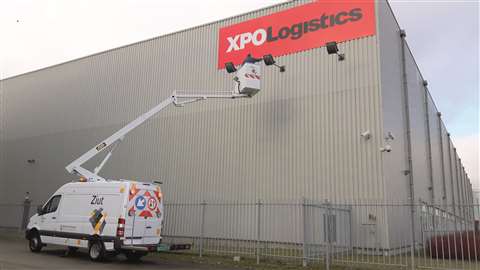 A company spokesman says, "This is an interesting machine for the infrastructure market; this industry is facing more and more problems relating to weight restrictions."
The new 17m is an articulated model and offers double telescopic boom and fly jib. As explained, it can be mounted on a 5 tonne vehicle as well as all the common 3.5 tonne van options. Its capacity is 230kg with a minimum outreach of 7m to 8m. Greater outreach can be achieved by limiting the cage capacity, for example with one-person use. The newly-developed outriggers ensure the operator's entrance to the van is not blocked.
"We have a new sophisticated stabiliser system, which enables an open entrance into the van and stabilisation within vehicle-width," said Custers. "We sell our truck and van mounted platforms mainly to European countries."
At the moment van mounts do not have such a major international following and its the truck mount side of the business that is more global. He adds, "We sell our truck lifts to other parts of the world but mostly send them as kits."
Compact offering
France Elévateur's latest van mount is the compact 111Fcc on Renault Trafic E6 van, akin to a Peugeot Expert, Citroen Jumpy or Fiat Talento.
Its working height is 10.6m, while outreach is 6.5m and basket capacity is 120kg for one person without outriggers. The model has a 2.9 tonne curb weight and can work on a steep slope. The dimensions of the product are 2.60m x 5.35m x 2m wide and the rear is cut out to fit the basket within van's dimensions, thus the footprint of a normal sized car.
Romain Muller, export sales manager says, "By creating the MEWP for the vehicle and not just trying to implement something already existing on a vehicle; we had to engineer and design the aerial platform entirely from scratch to have a vehicle capable of carrying around tools and equipment but also perform the work telecommunication networks requires without being limited by its autonomy.
"The advantages for the customer are multiple: working in city centre, work faster without outriggers, easier access to the basket due to great ergonomics, reduce footprint on the road, carry around tools and equipment almost without limit."