Vemcon integrates Lekatech attachment app into its platform
By Catrin Jones12 December 2022
Hammering technology company Lekatech has announced that its new attachment app has been integrated into Vemcon's CoPilot platform.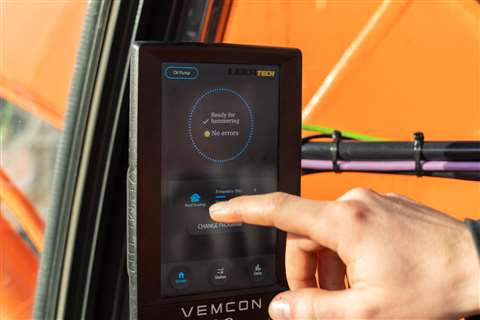 The Vemcon CoPilot is said to support the operator in difficult work processes, providing mental and physical relief. In addition to this, an inexperienced operator is said to be able to work faster, safer and more precisely by using the CoPilot platform, which automates and optimizes recurring machine movements.
All excavator operators, contractors and OEMs who control their fleet via the Vemcon CoPilot platform will have access to operating modes for Lekatech's electric tools. 
Vemcon, a manufacturing company of machine control for work machines, says that its modular technology platform offers several functions which are available for excavators markets. With the integration of the Lekatech app into the Vemcon platform, users can now select different application modes.
The app, launching first in Europe, is said to allow users to combine different frequency and energy settings for the electric hammer. At the same time, the user monitors data coming from the electric hammer at a glance. The app can be used to collect the hammer's operating hours as well as feature various safety functions and warnings. 
Founder and CEO of Vemcon Jan Rotard, says "Our CoPilot system sends all data to the respective fleet management system used by the contractor when required. In doing so, all components can be individually combined with each other by the user at any time and expanded almost indefinitely."