Versalift extents van mount range
By Euan Youdale14 June 2019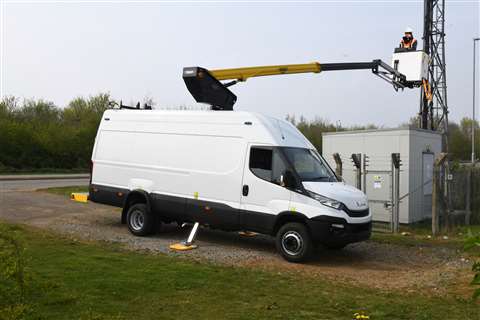 Versalift UK has presented a new van mounted platform, adding to the manufacturers range.
The addition of the VTM-170-F, mounted on a 7 tonne GVW Iveco Daily 70C, made its debut at the Vertikal Days exhibition in the UK, during May this year.
Joining the VTL series of van mounted platforms launched by Versalift in 2018, the VTM-170-F features the same ultra-high strength profiled boom, designed for rigidity and smooth platform operation. It has a 17m working height, 10.5m outreach along with 2,200kg of spare payload after driver passenger and fuel.
Suited for motorway and dual carriageway use, the VTM-170-F is equipped with intuitive LMC load sensing providing variable outreach based on pressure in the boom lift cylinder. Other features include zero tail swing – including with A-frame outriggers deployed – and the choice of walk-in or duck-under bucket.
Replacing the LAT-160-F, the VTM-170-F has been designed and developed to equip highway maintenance contractors with improved performance and productivity through additional outreach, working height and payload.
The new VTM-170-F comes with a host of options allowing customisation to suit individual application and safety requirements. A secondary guarding anti-entrapment system designed to reduce the risk of entrapment is now available across the VTL and VTM range.
There are a range of VTM-170-F options, such as bespoke storage racking, twin joystick LMC control system with LCD interface screen, secondary guarding system, 1kV certified insulation and stabiliser controls from bucket, among others.