Vertical masts
By Euan Youdale10 September 2019
AI looks into the latest trends in the expanding vertical mast lift sector.
The use of vertical masts is becoming more commonplace, partly thanks to:
a growth in the types of applications that suit it most, for example in industrial and warehouse settings.
new products to fit this wider range of needs.
greater flexiblity compared to other product types
growth potential in North America
Manitou launched its 90 V'Air back in 2014, specially developed for the aircraft industry. At the end of 2018 and beginning of 2019, the company launched phase 2, with the 100 VJRs and 80 VJRs for more general use. Upgrades were also made, including adding fork pockets to aid transport.
The 8m and 10m working height models are essentially the same, equipped with a jib to offer the operator outreach of more than 3m. The third 9m working height model, for the aircraft industry, has a design that allows the sides of the basket to be lowered, providing the operator easy access to plane components. All have non-marking tyres and very low ground clearance and turret rotation.
Manitou updates
Samuel Viaud, Manitou product manager AWP, Manitou, says, "Historically, the vertical mast lift was launched in France. France is the largest market for vertical lifts in the world. Today, France and Germany represent our main markets on this type of platform.
"We realised that many manufacturers were asking for a small compact machine that takes up less space than scissors, we had to find a solution that would meet these requirements."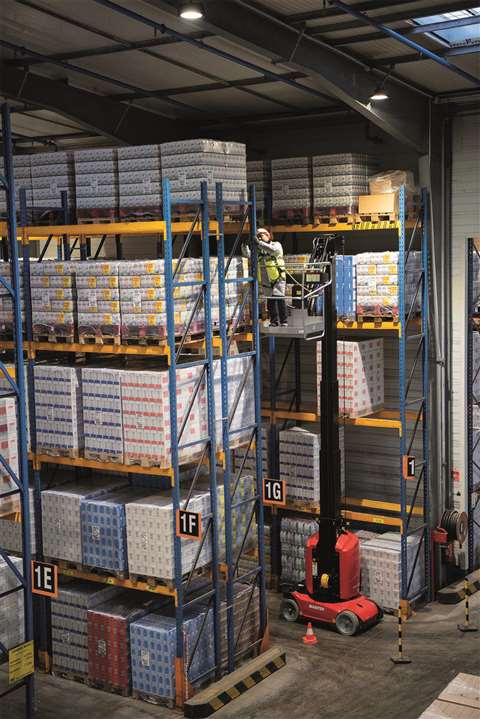 Viaud adds that transportability of machines is becoming a major concern for customers. "For this, we improved our 80 & 100 VJR - our range is now equipped of fork pockets to facilitate the transport of the machine. We also redesigned the lashing points of the machine so the transportability has been improved in terms of safety."
And there are great opportunities for the mast lift, geographically. "The US can accommodate a much greater population for these machines." Viaud says. And, in addition, "Today, we see a growth potential for this type of machine for emerging markets that are increasingly structured in terms of worker safety.
"Moreover, the vertical mast lift has the advantage of more flexibility, thanks to its compactness. That's also why this type of platform is well appreciated in Europe."
Another French manufacturer, Haulotte, has been very active in this product area in recent times. The Star 8S was launched at the beginning of this year. "Vertical masts are clearly growing in popularity in access the industry, the demand for this product range is booming, growing at a strong +10% compound annual growth rate (CAGR) on the past five years," says a company spokesperson.
Haulotte adds agility

As mentioned, one of the main points is their compactness, providing workers the ability to fit through standard doorway in most cases, and greater manoeuvrability, with a very tight turning radius and zero tail swing.
Haulotte machines are equipped with such features and include a dedicated forklift pocket, 25% gradeability, direct electric drive with maintenance-free AC motors and the Activ'Screen onboard diagnostic that are standard across the range. Most of them can be used indoor and outdoor on slab floors. Both the pre-existing Star 6 and new Star 8S, are supplied without a jib and include, for example, anti-slip step, basket load capacity of 230kg and platform extension deck of 0.4m, as an option. Both are chain-free. The two swing out trays means it leads to minimal maintenance and downtime.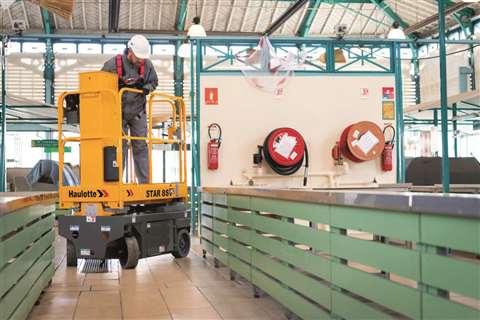 For industrial maintenance, the Star 8 and Star 10 come with a jib and zero tail swing. Their working envelope provides 3m outreach. "Falls from height from ladders, podiums or folding and rolling scaffolds are still the most common cause of injuries and fatalities at work. Vertical masts have become a safer alternative, helping companies to minimise the risk of injuries or fatalities associated with falls from height," says Haulotte.
For this reason vertical masts are highly concentrated in mature markets where safety at height increasingly becomes a key driver. "One other reason for the increasing demand of vertical mast is in industrial maintenance, for example production equipment in manufacturing environments, thanks to their compactness and jib. A final reason is the increasing demand for picking applications," confirms the spokesperson.
Skyjack sees growth
The challenge for Vertical masts will be to provide more platform lift capacity while offering lighter overall products, especially on low level access segment, adds the company. Kristopher Schmidt, product manager at Skyjack says he has seen high level growth in the Europe, Middle East and Africa (EMEA) vertical mast market over the past three years. "There was a slight decline from 2017-2018, but the market for these machines is picking up again with significant growth throughout the start of 2019."
Skyjack has two vertical masts in its line up with working heights ranging from 5.65m to 6.75m. He says more companies are seeing the benefit in using a low level access machine over traditional ways of working at height and Skyjack specially saw the market opening up when more companies started choosing access machines over scaffolding and ladders.
Driveable at full height, Skyjack's SJ12 and SJ16 provide a zero-inside turning radius for maximum manoeuvrability, 30% gradeability, and rated load lift times from 16 to 20 seconds respectively. A key differentiator of Skyjack vertical mast lifts is that the design keeps the masts at the rear of the platform, providing maximum visibility for the operator.
The CE-compliant SJ16 model is also rated for outdoor use with a wind rating feature that, once lifted over 3.65m, alerts the operator to remind them that the machine shouldn't be lifted any higher while outdoors. Lastly, Skyjack vertical masts have a traversing platform that provides an easy access to drop ceilings for indoor work.
Snorkel electric drive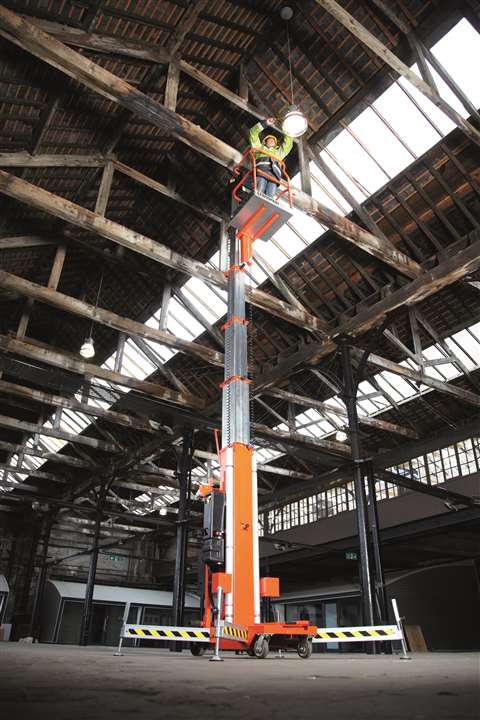 In February 2017, Snorkel launched the TM12E, which offers a working height of up to 5.65m and can lift up to 227kg, Weighing in at just 840kg. A year later, in February 2018, Snorkel showcased the TM16E, the third model in its line. Offering a working height of up to 6.87m, the TM16E can lift up to 227kg and weighs in at just 1,105kg.
The original Snorkel TM12 hydraulic drive mast lift remains popular, says the company, but is now offered as the TM12E and TM16E with a new electric drive system for increased efficiency on the jobsites.
Ideal for working in confined spaces, the Snorkel TM16E can be driven through a standard interior doorway and is lightweight enough to be carried in elevators. Capable of lifting 227kg up to 6.87m, the unit weighs just 1,105kg. The new electric drive system draws 50% less amps than most hydraulic mast lifts, says Snorkel, and offers a zero inside turning radius.
Snorkel telescopic mast lifts include a fixed upper control box with a power to platform outlet as standard, saloon-door style entry gates, plus a built-in step in the chassis to ease access in and out of the stowed platform.
Following the launch of the TM16E, the company is continuing to explore other model variations for this family. "Most rental operators are reporting increased demand from job sites and end users for these machines. Vertical mast lifts are typically used by mechanical and electrical contractors, as well as in facilities management situations," says Matthew Elvin, CEO of Snorkel.
"Small volumes will be purchased outright by facilities for maintenance applications. Contractors who require volume have been known to purchase or lease, but this may alter as more low level access becomes available through the rental channel."
Genie line
Genie has a full line of GR, GRC and QS products, all with zero degree turning radius and compact base. The proportional controls make these machines easy to manoeuvre and accurately position for work in finished spaces.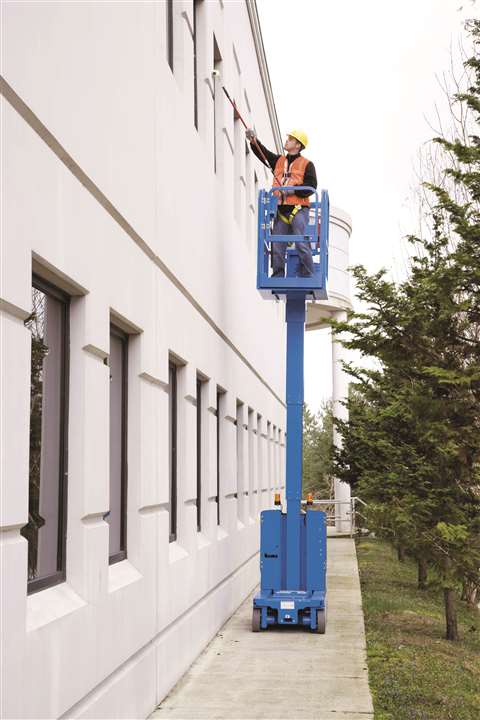 With their compact size, more machines can fit within the same jobsite area explains Molly Frank, Genie product manager, Terex AWP, and with new technology in construction materials and processes, larger platforms, extension decks and capacities founds on scissor lifts are not necessary for what are increasingly becoming one-person tasks.
One issue is the upcoming ANSI/CSA standards in North America, adds Frank. It will drive changes across all vertical mast manufacturers. For example, they will now distinguish between indoor and outdoor capable machines. "This has not been the case in the past and will require collaboration between the manufacturer, rental businesses and end users to fully understand the change. We have been engaging these groups, both online and in person, this year in order to smooth the transition to the new standards."
Expanding on the advantages of mast lifts, Frank adds, "Vertical masts are often more compact and lower weight than a comparable scissor lift. Additionally, lower platform heights provide for a better match between machine capabilities and jobsite demands, improving rental return on invested capital.
"With their compact size, more machines can fit within the same jobsite, and with new technology, larger platforms, extension decks and capacities on scissors are not necessary for what are becoming one person tasks.
Practical picking from Faraone
Faraone recently launched the 5.15m working height Elevah 5 move picking.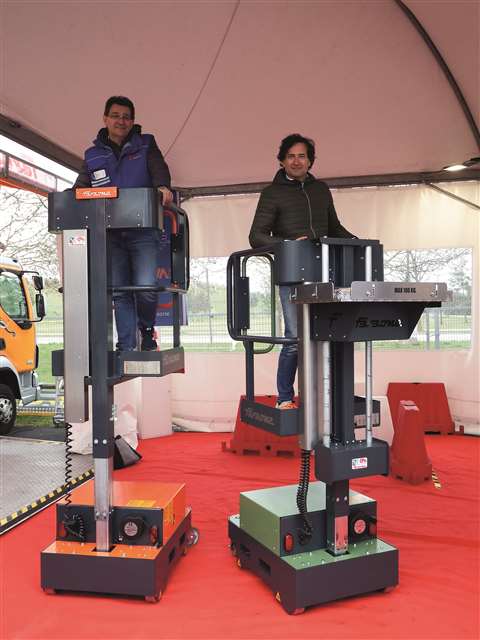 The most compact of its category, with a footprint of 70cm x 98cm, it can move easily in a space of only 95cm. Another advantage is that it can turn 360 degrees within its own footprint and is easy to drive. The basket has a 200kg capacity, while the picking plate has a capacity of 100kg and is electrically adjustable.
The basket is wide at 115cm and has side handles, making it more practical and safe. There is also a range of safety features, including an automatic door block, a tilt device and three proximity sensors that can be integrated with Faraone's Blu Spot accessory.
The company says the product represents the main trends in the vertical mast sector, those being a move to more sensors and secondary guarding, as well as an increase in picking activities. "Compactness, light weights and, at the same time, great height and strength are also the main features of our machines. To share the culture of safety, and make people understand what it really means to work safely, we organise many activities to raise awareness on this issue," adds a Faraone spokesperson.