Vertical stars: affordable products for low level work
By Access, Lift and Handlers07 March 2008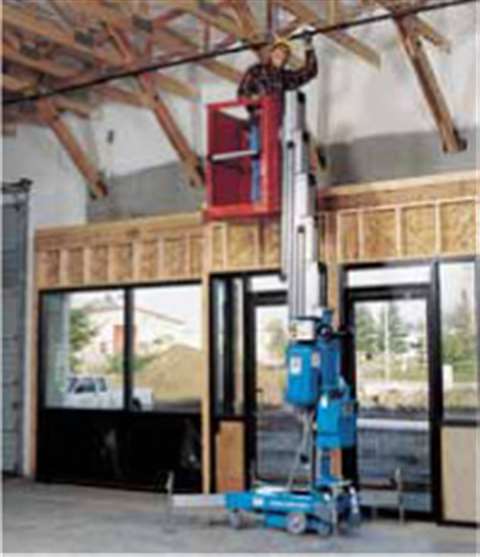 Personnel lifts are affordable products that can be used by an interior contractor or maybe by a maintenance operative just to change the light bulb.
The vertical mast machine, whether the push around models or electrically driven, have seen a gaining popularity in years. As a step-down from scissor lifts and step-up from ladders, these units are utilized by any number of contractors in an industrial setting, as well as for maintenance at any kind of indoor space – commercial, hospitals, airports, you name it.
Emerging into the US market, Haulotte offers three self-propelled vertical mast lifts (the Star product line) and seven push-around vertical mast lifts (Quick-Up product family). Chris Koch, vice president and general manager of Haulotte's North American operations, tells ALH that in North America, these products are popular with electrical contractors, HVAC contractors, painters, drywall contractors, railroad maintenance companies, industrial maintenance companies, and warehouse distribution operations.
"Our Star products feature proportional precise controls for smooth operation, a 440 pound platform capacity coupled with a 9 foot, 10 inch jib," says Koch, "In addition to full electric drive with the ability to drive at full height, our Star products have a positive/negative jib which offers much more flexibility throughout the working envelope. Furthermore, the narrow turning radius and the option of the smaller 21 inch basket allow this machine to access the tightest of working areas."
Lightweight and compact
The company's Star22J and the Star26J self-propelled models sell the most in North America. However, with the introduction of its push-around Quick-up models, the company expects the most volume of sales in 2008 from this product line because of its lightweight, compact, and versatile design that the company believes meets the North American market demand, says Koch.
Bil-Jax offers six models in three different product groups: its C.A.T Series is a push around lift that has a maximum working height of 23 feet. According to the company's Vice President of Sales, Chuck Hutchinson, "It gives customers maximum height, it's in the most popular height range of 25 to 30 feet and it's inexpensive. It is recognized as a good value."
The company's tomC.A.T. Series lifts has the same steel construction features of the XLT-C.A.T. 23 Lift. The feature of a no-outrigger shorter base unit, with a powered base set, allows the unit to be used in tight work areas with limited space that normal outriggered units couldn't maneuver in.
The company's latest model is the self propelled telescopic lift, the ESP 19, which has a 19 foot, 3 inch platform height, and is drivable at full platform height. It has a capacity of 450 pounds.
Genie offers a total of 14 different models – AWP-20, 25, 30, 36, 40; IWP-20, 25, 30; DPL-25, 30, 35, and; GR-12, 15, 20. Kim Williams, product manager with the company, says, "These units have greater maneuverability in tight work areas and provide construction elevator access. They can easily be transported; AWP's can be loaded in the back of a pick-up truck, they are quick and simple to set-up for one person and easy to use". She states its most popular model is the AWP-30, because its height range, with a platform height of 29 feet, 6 inches and working height of 35 feet, 6inches, is what most users require.
In regards to the AWP and IWP Series, Williams says some of the notable features are that the units can be customized by choosing from a variety of options: six different platforms, three different bases, various heights and lift capacities, and multiple accessories.
Speaking on behalf of the Snorkel range is UpRight's Richard Tindale, sales and marketing director. Snorkel offers three types of vertical mast lifts with its push-around (UL series) with platform heights of 25 to 32 feet; its TM12 self propelled model with a platform height of 12 feet, and; self-propelled with rotation and jib (M series) platform with heights of 20 to 26 feet.
The most recent offerings are the Snorkel M Series with two models: The 20 foot Snorkel M2032J with an overall width of 32 inches, and the Snorkel M2639J, with a platform height of 26 foot that is 39 inches wide. "These machines, with their useful jib and turret rotation, have long been popular in Europe as the UpRight MB20N and MB26, and now the US is starting to appreciate the benefits of the concept for use in supermarket aisles, warehouse and production facilities," says Tindale.
Commenting on the overall vertical mast product family, Tindale says the equipment shares the same concept of mast design, that being a concentric (telescopic) format as opposed to the sliding rail "forklift"-style mast. He says the benefits of this design include greater rigidity, easier work platform placement ("the platform travels vertically above the base of the mast instead of moving away from the center line as is the case with sliding rail designs") and smaller dimensions.
A direct competitor to the TM12 product is JLG's recent 1230ES vertical mast. The unit has been successful since its launch, says the company's Product Champion - Scissors Bill Dovey, "because it lasts so long on a charge, it's affordable and maneuverable." The unit has a 12-foot platform height and a 500-pound platform capacity. According to Dovey, the machine's battery can last twice as long as competitor makes.