Vestas orders wind transport systems
By Christian Shelton12 June 2019
Aarhus, Denmark-based wind turbine manufacturer Vestas Wind Systems has signed a contract for nine wind blade transport systems from heavy load transportation equipment manufacturer TII Group.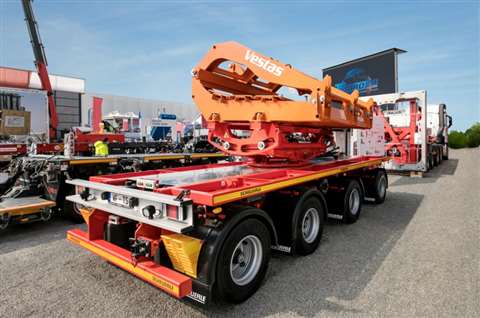 One of Vestas' new rotor blade transport systems made by TII Group
According to TII Group, the transport system consists of a two-axle jeep dolly with a free-turning device and a four-axle trailer. TII Group developed the system in conjunction with Vestas and launched it at the Bauma 2019 trade show.
TII Group says the transport solution was designed for the transport of the latest generation of wind blades and includes a plug-and-play wind blade mounting system comprising a root adapter and a root frame. TII says the mounting system requires fewer tools than conventional systems.
TII Group claims the new windmill blade transport system is highly manoeuvrable and provides a high level of load safety. Jointed bearing systems are designed to aid gentle handling of turbine blades. A plug-in, manufacturer-independent friction clamp can be fitted at the rear of the system for additional security. The transport system's lifting height can be adjusted up to two metres at the front and up to one metre at the rear.
One a wind turbine blade has been delivered, the all parts of the transport system can be shortened to create a semi-trailer combination with a total length of 16,500 mm and a weight of less than 60 tonnes. TII Group say this eliminates the need for special permits for return transport.