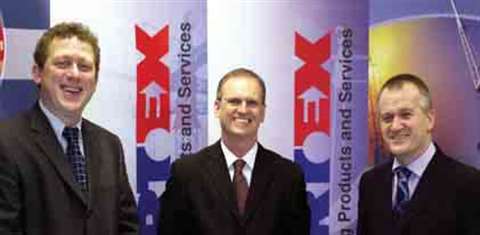 Directors at Certex UK have taken control of the company for £ 5.2 million (US $9.5 million) following a vendor instigated buy out (VIBO) from Bridon International, part of the FKI group.
New managing director Tony Stringer, sales and marketing director Charles Gillespie, and operations director Kevin Smith, funded the buy out themselves, with additional financing from Enterprise Finance Europe and a £ 2 million loan note from FKI.
The company will continue to act as a distributor for Bridon wire rope, Crosby fittings, Kuplex chain systems, Elephant chain blocks and Viking slings.
A new direction under the new ownership will be to expand contract hire services. Certex originally started doing this with offshore applications, where it took over the running, maintenance, servicing and certification of a company's lifting equipment. Certex already has similar contracts with onshore companies, including Corus and Ford.
Certex operations director Kevin Smith said that offering this service to crane users was a possibility that the company was looking into, believing this would give crane owners more time to concentrate on renting out cranes.