VIDEO: Liebherr launches range-topping flat top
By Alex Dahm17 April 2012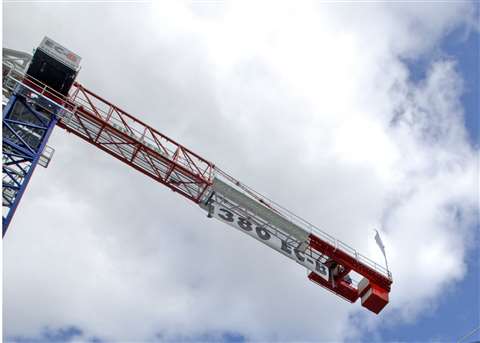 A surprise launch from Liebherr at the Intermat show in Paris, France was the 380 EC-B 16 Litronic flat top tower crane. It extends the series upwards, to 380 tonne-metres, and takes the range to 16 models. The new flagship offers a maximum radius of 75 metres, where capacity is 3,400 kg at the end of the jib. The 380 EC-B is available in 12 or 16 tonne capacity rating.
Flexibility is a feature as the 380 can be used on an IC or HC tower system. The 256 IC and 355 IC towers are characterised by their 1.9 x 1.9 m tower cross-section, making them suited for erection in lift shafts. The IC tower system allows it to climb both on the building and in it.
Free-standing height under hook of close to 70 m can be achieved with the IC tower system. For more height under hook the 380 EC-B can be mounted on the 355 HC / 500 HC tower system where the maximum freestanding height under hook is almost 85 m.
Designed with a view to easy transport, the crane superstructure, with a maximum radius of 75 m, can be loaded on five trucks. Particular attention was paid in the design to make sure that all parts meet the requirements of container transport. The whole of the EC-B head, including the IC slewing ring support and the 75 m jib, fit in 40 foot containers.
Assembly weight of the EC-B head can be reduced as it is designed to have easily divided modules. The heaviest component, at 7.4 tonnes, is the slewing platform with ring. With the slewing platform installed it offers a safe place to stand inside the element. Two railings are pivoted upwards, and the fitter can then wait in his secure position for the further modules to arrive. New quick-action connections allow the switchgear cabinet and the cab to be fitted rapidly and securely, followed by the installation of the A-frame, Liebherr said.
The 380 EC-B 16 has quick-action connections for the jib and counter jib, the patented LiConnect jib quick-action connection, and plug-in electrical connections for the drives and switchgear.
Frequency converter control is used on the hoist with power output between 45 and 110 kW. The Micromove fine-positioning mode of the hoist gear means that positioning and holding of the load can be done precisely.
The Litronic system allows provision of up to 20 % more load capacity at the push of a button. Litronic is a crane control system to monitor, control, and co-ordinate all major functions. To do this, modules such as the LMB load-moment limiting system, ABB operating-range limiting system, and MDA machine data evaluation program, are integrated. An option on the new crane is the LiDAT data transfer and location system.