Vinci companies win €50m deal to triple Loire bridge width
By Neil Gerrard10 January 2023
A group of Vinci subsidiaries will triple the width of an existing bridge over the Loire river in France, to create a new multimodal crossing.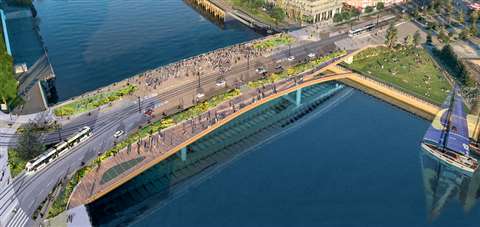 The €50 million bridge will feature its own square, garden and viewpoint.
Vinci-owned companies GTM Ouest, Dodin Campenon Bernard, Freysinnet, Botte Foundations and Eurovia will modify the 145m-long, 1970s Anne-de-Bretagne bridge in Nantes. They will extend its width from 18m to a maxiumum of 61m, allowing it to carry road traffic, tramlines, and cyclist and pedestrian routes.
Construction will start in 2024, with completion due in 2027.
The project follows a public debate in Nantes over the city's relationship with the river.
Dietmar Feichtinger Architects has designed the project, after a competition between three firms.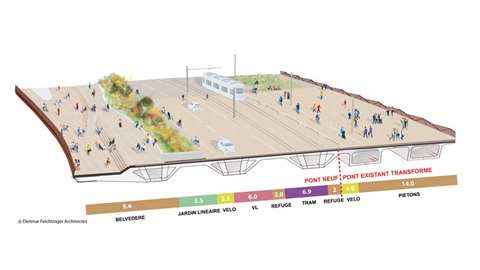 The project involves retaining around 4,250 tonnes of concrete and 1,300 tonnes of steel already incorporated in the original bridge. That saves around 6,000 tonnes of CO2 compared with a full replacement.
The bridge will dedicate around 43% of its space to pedestrians, with 13% for cycles. It will also carry lines 6&7 of the local tram network in the future. It will feature 1,270m2 of green space, with a 7m-wide suspended garden.
Vinci's subsidiaries will combine the old and new structures by lowering the deck of the existing bridge.