Vinci focuses on 3D printing
By Andy Brown21 June 2019
Construction contractor Vinci, through its subsidiary Freyssinet, is launching Concreative, a new company focused on the 3D printing of high-performance concrete.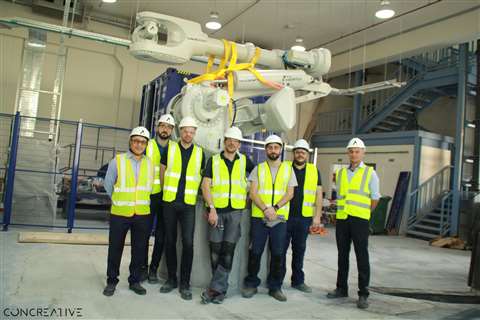 In the first stage of its expansion, Concreative is inaugurating a design-build factory in Dubai to meet future demand in the United Arab Emirates.
The Emirate of Dubai introduced a strategic 3D printing strategy in 2016 with the goal of basing a quarter of its new buildings on 3D printing technology by 2030. Dubai's goal is to be a leading global 3D printing hub by the end of the next decade.
Concreative uses a technology patented by XtreeE, a start-up in which Vinci is a partner and shareholder. The technology consists in extruding concrete layer by layer, with each layer printed via a digitally controlled nozzle.
3D concrete printing technology is said to free architects from the restrictions of standardised formwork as well as offering a way to design and build complex concrete architectural and structural elements while controlling costs and time.
According to the company, 3D printing can lead to cement savings of up to 70%.
"Concreative is the result of a combination of two favourable circumstances: the arrival at maturity of the technology a year ago, and the decision by the United Arab Emirates to become a major construction market using and promoting 3D printing," said Khalil Doghri, Middle East India area director, Freyssinet.