Vinci to build Nanterre HQ
By Sandy Guthrie15 March 2016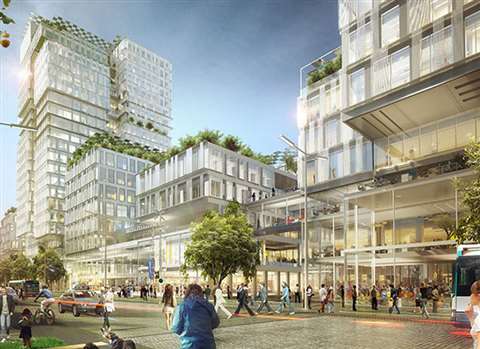 A new head office for French contractor Vinci will be built at Groues, in Nanterre, Hauts de Seine, near Paris, with the company saying that the new complex would be a showcase for its expertise.
Vinci said the head office would form a new link between the City of Nanterre and the La Défense business district in the French capital.
By 2020, the 74,000m2 complex will bring together at the same site some 4,000 employees of the group's head office and its concession (Vinci Autoroutes, Vinci Airports) and contracting businesses (Vinci Energies, Eurovia and Vinci Construction).
The Groues architectural project was selected following a competition with a jury which included Xavier Huillard, chairman and CEO of Vinci; Patrick Jarry, chairman of the board of the Etablissement Public d'Aménagement de la Défense Seine Arche public development authority (Epadesa) and Mayor of Nanterre; and Hugues Parant, CEO of Epadesa.
The new head office was designed by Jean-Paul Viguier & Asssociés, in association with architect Marc Mimram. The complex is said to be designed to demonstrate the technical solutions developed by Vinci and its subsidiaries. Vinci said it would be part of an ambitious environmental programme and would accommodate changing uses of the buildings, and mobility of those working in them.
The new Vinci head office will be made up of several connected buildings.
The project also provides for a combination of office space with a range of shops, services and public facilities. The goal is said to be for this mixed-use development to enable Nanterre's 11th district to set an example in terms of quality of life and outreach to other areas.