Vipers add bite in Finland
By Steve Ducker28 February 2018
Finnish contractor T Mäkelä has been using Viper crusher buckets developed and manufactured by Ajutech for concrete crushing operations after demolishing a four-story apartment building.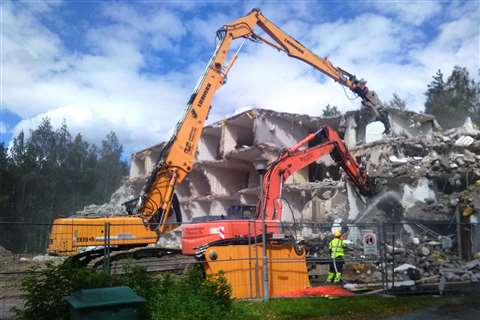 After the first stage of taking down the building using concrete pulverisers, the company was still left with blocks of material up to 800 x 400 x 250 mm (31 x 16 x 10 in) in size.
It used two excavators to precut the blocks before crushing them to fragments of 80 mm (3 in) or less, for reuse in road foundation construction. Crushing the concrete and reusing the material on site brought considerable savings compared to haul the material to the landfill tip, with most of the transport and all waste material fees eliminated.
"Instead of traditional crushers we used the Viper slow moving drum crushing bucket to crush the concrete blocks," said Tatu Kantola, operator of the excavator with Viper crushing bucket.
"We have experience of the jaw crushers, but we selected the Viper VPCH 21 crushing bucket for a number of reasons. Its superb capacity and no daily maintenance helped us to keep to the tight schedule."
The Viper VPCH 21 has a 40 rpm, large 700 mm (27 in) drum with hard metal tips that crushes the material against the counter teeth. Using the bottom grid Viper crusher reduces the fragmentation from standard 0-150 mm (6 in) down to min 0-60 mm (2 in).
The larger VPCV 22 is a two-drum crusher bucket, in which the drums rotate opposite direction crushing the material between the drums.
The crushing capacity of VPCH 21 was m94 t/hr, which the company said is around twice that of conventional crusher buckets.
All Viper drum crusher buckets are said to crush hard demolition waste, such as concrete and tiles, as well as materials such as soft asphalt, tarmac, wood and mixed waste.