Virgin turns to Hird and Manitex Valla for aircraft maintenance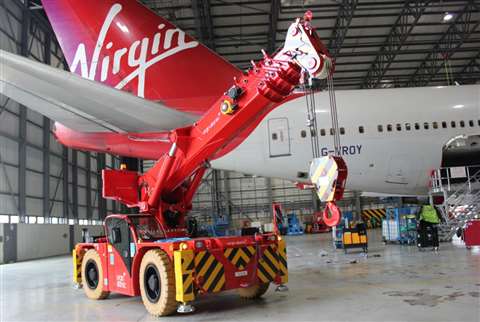 Virgin Atlantic Airways worked with Hull, UK-based Hird on a Manitex Valla crane for use at Gatwick Airport in the south of England.
The 22 tonne capacity Manitex Valla 1725 48ES DC electric crane improves the airline's aircraft maintenance capability. Virgin Atlantic now plans to work with its aviation suppliers to obtain approval to use the crane to change engines on its aircraft, which will be the first time a mobile crane has been used to complete such a task anywhere in the world, Hird said.
Hird is the UK and Ireland distributor for US-owned industrial crane manufacturer Manitex Valla in Italy. Aviation ground support equipment specialist Rushlift approached Hird to supply the crane as part of its equipment supply and maintenance service for Virgin Atlantic at Airport and Heathrow Airports.
Andy Currey, tooling and ground support equipment manager at Virgin Atlantic, said, "Working with Hird to develop the specification and deliver this crane for us represents a major step forward in lifting applications. Health and safety is our number one priority and it will help us complete lifting tasks with significantly less manual handling. As an electric crane it has zero emissions and is low noise, so is a green solution, which is good for our staff and the environment."
Continuous slewing it has a maximum lifting capacity of 22 tonnes, a working height of 15.5 metres, and a reach of 13.5m. It has fully-blocked and short-blocked duties, in both free on wheels and pick and carry modes. It has been used for a range of lifting tasks at the Gatwick hangar and will be used in changing engine reverse thrusters, engine and aircraft nose cones, radar units, tail rudders and ailerons, Hird said.
Virgin Atlantic stipulated capabilities that would also allow it to change engines. The task is currently carried out using an industry standard 'bootstrap' system, where a winch and sling system lowers the engine into a stand. Using this method an engine, which can weigh up to 6.5 tonnes, can be changed in 12 hours using up to six people, all involved in a significant amount of manual handling. Currey said that using the Manitex Valla crane would allow completion of the task in six hours with no more than four people and minimal manual handling.