Visitor numbers may have been down, but Bauma was still a giant
By Murray Pollok28 September 2010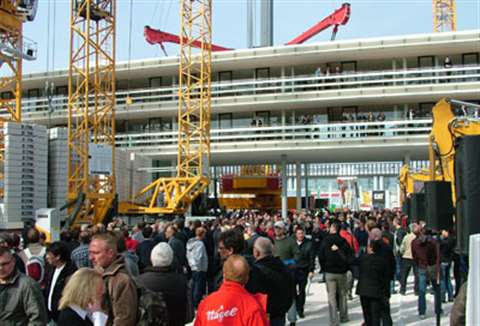 The closure of European airports at the start of Bauma week had a definite impact on visitor numbers, but that didn't stop it from being a mega show.
The Icelandic volcanic ash cloud can be blamed for the 17% reduction in visitor numbers for April's Bauma exhibition, with 415000 attending compared to the half a million in 2008.
The difficulties in reaching Munich were most apparent on the first few days of last week, with numbers picking up as the week wore on - allowing some visitors to reach the show by long land journeys. For example, executives from Mills Rental in Brazil managed to reach the show via Spain, Italy and then trains and taxis to Munich.
About 50 of the 3150 exhibitors, mainly those from Asia and America, were also unable to get to the show. The figure of 415000 is still more than double the number of people that go to any other construction exhibition anywhere in the world
Major suppliers generally expressed satisfaction with the event, even if international visitor numbers were down. Liebherr, who's custom-built 13500 m2 stand was one of the most spectacular at the show (see photo), said its expectations "were more than satisfied" and reported concluding sales deals valued at €200 million during the show. Werner Schwind, head of sales and marketing at Wacker Neuson, said Bauma "really went well" for the company.
Peter Schrader, managing director of rental company MVS Zeppelin, exhibiting as part of the Zeppelin group at Bauma, said the show had gone extremely well, with the company hosting as many as 2000 guests every day at a specially designed beer garden in the back of its stand.

Fuel-efficient
JCB backhoe
JCB unveiled its new generation of backhoe loaders, featuring new styling and impressive fuel savings. According to Tim Burnhope, JCB's group managing director for product development and commercial operations, "This is our most fuel-efficient backhoe loader ever."
The key innovation is under the bonnet, where a third hydraulic pump has been added for more efficient digging. This 'ECO DIG' innovation means excavation can be carried out at lower engine revs, cutting fuel consumption by up to -15%. In addition, ECO ROAD and ECO LOAD innovations means overall fuel consumption is lowered by -16%.
In terms of styling, the front of the machine features a sloping hood and grill, improving visibility and minimising the chance of damage from collisions. The cab interior has also been restyled, with more ergonomic controls, clearer instrumentation, automotive style steering wheel and pedals, and more durable finishes.
Copco highlights 35-45%
compressor price hike
Atlas Copco Portable Air has used Bauma to highlight the implications of engine emission regulations on portable compressors and to unveil a prototype Tier 4A/Stage III B compliant XRHS 366 compressor.
The tighter emission regulations for engines between 130 and 560 kW come into force from January 2011 and Atlas Copco said the technology required would add between 35 and 45% to the cost of its affected products.
John Hort, vice president marketing at Atlas Copco Airpower, told IRN that the new regulations would have an enormous impact on rental buyers; "We really want to get this on the agenda of our biggest customers. It's a big change for them."
Atlas Copco Portable Air said it had chosen Caterpillar's EGR/DPF solution to meet the limits having evaluated both it and the Selective Catalytic Reduction (SCR) method. This technology will mean that customers do not need to refill with diesel exhaust fluid (DEF) or AdBlue. Atlas Copco showed an XRHS 366 compressor with a new CAT C9.3 ACERT engine at Bauma.
In addition to the pricing impact, the new emission regulations will make it more difficult for rental companies to move compressors between regions because the new units will need to use high quality diesel fuels that are not available in all markets.
The changes will also have an impact on the use compressor market, since the regulations will not affect existing units in the field. Some rental companies will be tempted to extend the lives of their existing units and there is likely to be a rise in demand for used equipment. Mr Hort said "our buy-back programmes will become more important."

Aichi finds niche in Munich
Japanese aerial platform manufacturer Aichi may have delayed the development of its 'global' product line - customers will have to wait a bit longer for its rough terrain scissors and articulated booms - but it decided to make its Bauma stand interesting by showing some 'niche' products that have long been available in Japan.
Most obvious here was the Skymaster WZ09ASM, a 800 kg cage capacity self-propelled boom that has the ability to work in the vertical or horizontal plane using a single control.
"The WZ09 is a proven machine in Japan", says Ken Nezuka, Aichi Corp executive officer and president of Aichi USA, "Customers like the vertical and horizontal controls, and it is good for tunneling work."
The heavy carrying capacity allows workers to have tools and small compressors in the platform while they work. It's a big machine - it weighs around 6.8 t and it measures 2.2 m (W) by 2.8 m (H) by 3.8 m (L). It is also expensive; "I'm afraid to give the price!" said a laughing Mr Nezuka.
Also on the stand was a tiny vertical mast machines, the tracked, 3.8 m platform height RM04B, another machine in production in Japan for over a decade. This weighs 636 kg and has a platform capacity of 200 kg.

Bocker launches
mast climbers
Germany's Böcker has added mast climbing work platforms to its range of rack and pinion products. The new MAXI-Climber MC 650 - pictured here at Bauma - is available in five different sizes and either as a single or twin-masted unit. The single-mast platform is available up to a maximum width of 13.7 m or a maximum lifting capacity of 3.5 t, and the twin unit has a maximum platform width of 30 m or a lifting capacity up to 6.3 t. Although a new product sector for Böcker, the climbers will be compatible with the mast sections used on its GIANT-Lift and Superlift LX hoists.

Merlo's hybrids
Italian manufacturer Merlo had three 'specials' on its stand. First was a prototype telehandler using a hybrid power source, second was a compact telehandler mounted on a crawler chassis (also a prototype), and the last one was a telescopic aerial platform mounted on the road-going chassis from one of its concrete mixing trucks.
The hybrid unit takes a standard Merlo Turbofarmer P 41.7 with a 103 kW engine and fits a new hybrid power unit comprising a 55 kW Kubota engine and a 49 kWhp motor/generator fed by a Lithium Ion battery pack.
The handler can be used in three modes: using diesel power only; in hybrid mode, powered by battery and with the idling engine powering up if needed; and in all-electric mode, with the batteries regenerated during breaking. The batteries sit under the cab and the fuel tank has been shifted to the forward left hand side of the machine.
A spokesman for Merlo says applications could include tunnelling, for quiet working in city centres and in glass houses. It is described as a "very serious concept", but don't expect a production model this year.
Also new is a tracked version of Merlo's P 25.6 compact telehandler launched last year. Powered by a 73 kW engine rather than the 67 kW unit on the conventional model, the Tracked Panoramic 25.5 uses 0.45 m wide tracks that Merlo says will allow it to travel over even the roughest terrain to its working position.
Finally, showed one of its new MPR truck mounted aerial platforms. These 15 m and 18 m working height telescopic boom models are the latest examples of Merlo's 'rapid transit' models, able to travel on road at speeds of up to 25 mph. The operator can travel at creep speeds with the boom raised and at speeds of up to 4 mph when stowed.

Terex/Manitou sign
cross selling deal
Terex AWP and Manitou have signed a cross selling agreement under which Manitou will market two Genie rough terrain scissors under its own brand while Terex AWP will sell two vertical mast Manitou machines.
Terex AWP will manufacture 7.92 m and 9.75 m self-propelled rough terrain diesel scissor lifts - its GS268RT and GS3268RT modes - for sale by Manitou as the 100 SC and 120 SC. Manitou will manufacture 5.70 m and 7.90 m self-propelled vertical masts for sale by Terex AWP as the GR-20J and GR-26J.
The agreement will initially operate in Europe but with the intention of widening it to North America and other areas by 2011.
Tim Ford, president of Terex AWP, said; "These vertical mast products are complementary to our range and give us the opportunity to go to market quickly and offer our customers an additional, high quality, product offering. The Genie and Manitou brands have proven track records for build quality and reliability, so this is an excellent match on various levels"
Jean-Christophe Giroux, Manitou chief executive officer, told IRN that the cross-selling agreement was illustrative of Manitou's increased openness to alliances and joint ventures with other manufacturers, and that there was a possibility of further cooperation with Terex. He said that while consolidation in the manufacturing sector was widely anticipated as a result of the economic crisis, it might be more attractive to pursue such alliances.
He added that Gehl in the US - which is owned by Manitou - was still losing money but that it would "again be a US$500 million company. The question is when."

Europower moves up
with 250 kVA genset
Belgian genset manufacturer Europower unveiled its new 250 kVA generator at a special ceremony on the first day of Bauma.
The EPSR250TDE is fitted with a Volvo engine, but the same canopy can also accommodate Perkins, Cummins, John Deere, Deutz and JCB power plants, said general manager Luc Heylands.
The unit has been designed for the rental market and is the largest ever produced by the company, with a 250 kVA continuous power rating and 275 kVA standby rating. Dimensions are 3.6 m (L) by 1.23 m (W) by 2.53 m (H).
Key features including a 1.23 m width that means that five can be loaded on a 9 m trailer - an important consideration for rental companies; sound proofing to 93 dbA; and a 24 hr capacity fuel tank (1260 litres). The 250 kVA genset will be joined by further sets in the 85 to 250 kVA range, with 325, 400 and 500 kVA versions to follow when larger Tier IV rated engines are ready.
"Lots of rental companies were involved in the project [for the 250 kVA unit]", said Mr Heylands.
Mr Heylands told IRN that the company had seen a 30% increase in rental sales in the first quarter of 2010 compared to the same period in 2009.
Chicago Pneumatic targets
rental with "value brand"
Kishore Sidhwani, the recently appointed executive leading the development of the Chicago Pneumatic (CP) business for Atlas Copco, said the company's "value segment" equipment would be particularly attractive to small and medium sized rental companies.
CP is selling a range of compressors, generators, concreting equipment, light compaction and hand held tools, some of which are modified Atlas Copco models.
Mr Sidhwani, who became vice president of CP earlier this year having previously working for Atlas Copco in India, said the CP equipment would not be full-feature or full specification models, but simple to use and own; "We will also differentiate [from Atlas Copco] by the way we do business - through distribution only. Atlas Copco is direct sales and distribution. And we will focus on doing business via the web."
He said; "There will be rental companies who would be very much interested in what the CP brand stands for - solid, reliable equipment that is easy to maintain. Products that work."
Chicago Pneumatic as a brand is best known in North America, and Mr Sidhwani said his priority would be to expand the business there and also in Europe, South America and India, before focusing on other areas such as the Middle East and South East Asia.
Another priority will be to expand the network of dedicated CP distributors. "We're going in with a good full range of equipment", said Mr Sidhwani, "Yes, we have plans to increase portable compressors and generators, but we have a very good offering to start."
Also part of the CP business is Tremix, the former Dynapac business for concreting and light compaction equipment. Tremix is best known in northern Europe and Mr Sidhwani said the brand would be retained; "We intend to keep that brand and the specialisation that they have in concrete."

Doosan to resell four
Dieci heavy telehandlers
Doosan Infracore Construction Equipment has agreed an alliance with Italian telehandler manufacturer Dieci to offer four Dieci-produced high capacity telehandlers under the Doosan brand.
Doosan will have the rights to sell the handlers in Europe and the Middle East initially, but there is a possibility that this will be extended further in the future. The range - which will be available from the end of this year - offers maximum lift heights of 10 m and lifting capacities from 7 to 21 t, larger than any of the Bobcat branded handlers produced in Europe. The 16 t capacity DT160 (pictured) was shown on the Doosan stand at Bauma.
Jae Jong Jin, vice president heavy product management and parts at Doosan in Europe, told IRN that the cooperation with Dieci allowed Doosan to quickly enter a niche handler market without having to invest in research and development. Mr Jin said he anticipated sales of around 40 units a year for the handlers.
The decision to brand the telehandlers as Doosan products rather than Bobcat, which is a well-known telehandler name, was made in accordance with Doosan's strategy to reserve the Bobcat name for compact equipment and Doosan for heavy machines.

New engines solve
old problem
Briggs & Stratton Commercial Power has developed a four model range of Vanguard 5.5 hp to 10.0 hp engines featuring an automatic fuel cut-off system that will prevent the common problem of fuel spilling during transport and contaminating the engine oil.
The TransportGuard system automatically shuts off the fuel when the engine is turned off, preventing a very common problem - particularly in rental - where customers neglect to shut off the fuel before moving the machine.
Paul Bramhall, senior category manager with Briggs & Stratton Commercial Power, said customer research with major rental companies had revealed that the full two-step engine shut-off procedure is not properly followed in up to 72% of rentals. This can lead to oil dilution and consequent engine wear.
Mr Bramhall said the new engines were now undergoing testing with some large rental companies, including Speedy in the UK, where Briggs & Stratton has retrofitted the new engines to some of Speedy's equipment.
"Our work in the field helped define the design criteria for these new Vanguard engines", said Mr Bramhall, "By listening to customers and working with some of the world's leading OEMs, we have developed an engine series that will raise the standard of dependability in the toughest job site situations."
Mr Bramhall said Briggs & Stratton would be targeting equipment manufacturers as well as rental companies directly, where 're-powering' of existing equipment will be possible.
The two smaller models in the range, the 5.5 and 6.5 hp units, are available now, and the larger 8 and 10 hp models will be released in September this year.

Doosan sets up stall
One company with a major presence at Bauma was Doosan. With just six years in the construction equipment business, it has wasted little time establishing itself as a major player.
Its acquisition of Daewoo construction equipment in 2005 was followed by the purchase of Bobcat and other parts of Ingersoll-Rand in late 2007, including compressors and various equipment attachments. And these big buys have been supplemented by Norwegian articulated dump truck manufacturer Moxy.
The various brands have disguised just how big a player Doosan is: it claims number four position in the global excavator business - thanks to a leading position in China - as well as being number one in mini excavators, skid steer loaders and attachments.
This year has seen the launch of a single parent company, Doosan Infracore Construction Equipment, headquartered in Atlanta, US. Doosan says the office location outside South Korea emphasises its international credentials.
While all of this has been going on, the company has been filling-out its range with key machines, several of which were launched at Bauma.
At Bobcat - the brand used for Doosan's compact range - new additions were the S630 and S650 skid steer loaders, which both replace the S220. The S630 offers a radial lift path, while the S650's bucket has a vertical path. Also new is the T650 compact tracked loader, replacing the T250.
Key features on all three machines include a comfortable, well equipped cab, and a 30% increase in hydraulic flow over the predecessor models. Design improvements include a re-located quick coupler for better protection of the key components, and the hoses to the attachment end have been routed inside the loader arm.
New in the mini excavator segment meanwhile are the E45 and E50, two zero tail swing models covering the 4.5 to 5.0 t weight classes.
In the heavier Doosan-branded segment, the company has added a 23 t, short radius excavator to complement the 14 t DX 140LCR launched in 2009. The new DX 235LCR fits in with a growing trend for short radius machines in higher weight categories.
A significant development is the acceleration of Doosan's hybrid excavator project. When the hybrid was announced last year the company said it hoped to launch the machine in 2014. That deadline has now been brought forward to 2012.

Minis, breakers &
lighting towers
Ammann Yanmar showed a wide variety of new and prototype equipment, including mini-excavators, hydraulic breakers, lighting towers and compact wheeled loaders.
The SVO8-1 (pictured) is a new version of the SCO8 mini excavator. The original model had variable width and height tracks - a feature that wasn't always well understood by rental customers. So the new version does away with the variable height option and limits the tracks to a 680 mm - 840 mm variable width.
It's a little lighter - just 30 kg less weight at 1035 kg - and it is 2.2 m height. Bucket digging force is 1015 kgf and maximum digging depth is 1500 mm.
The new lighting tower (also pictured), meanwhile, uses a new prototype Yanmar engine, a 50 HZ, 3 kVA unit weighing 149 kg. When fitted to the lighting tower 1.0 kW of power is reserved for ancillary equipment such as tools.
The genset is detachable from the lighting tower and the tower itself can either be fitted with a traditional lamp or with a balloon light. In the past, Ammann Yanmar offered the lighting towers either with a fixed genset or without the generator.
The company also showed new dash 6 compact wheeled loaders. The 3.6 t V4-6 - shown at Bauma - is the larger of the two, with the V3-6 a 3.0 t rated model. The V4-6 will be available first in Germany, by the end of this year, with the V3-6 getting a 2011 launch.
Finally, Ammann Yanmar is now marketing the Italian-made Socomec hydraulic breakers under its own brand. These were previously sold by Ammann Yanmar dealers under the Socomec name. There are nine models in the 60 to 850 kg weight range.

Husqvarna highlights
product development
Anders Stroby, president of Husqvarna's Construction Products division, told IRN at Bauma that a difficult 2009 - with sales to the rental channel down about 50% - had not prevented the company from investing in product development.
He said the focus was on continuing to develop products that require "less effort to do the job, and reduced time to do the job", with €13 million spent on R&D in 2009.
A good example, he said, was the new DM 220 drill, which can be used for wet and dry drilling and features a new electronic system for exact positioning. An LED display on the drill shows when the machine is horizontal or vertical, and the system can be calibrated for angled drilling as well. The DM 220 has a power rating of 1850 W, weighs 7.5 kg and offers a drill diameter of 80/150 mm.
Mr Stroby said he understood that rental companies had needed to scale back on investment, but that the company was already seeing demand start to come back; "It's coming back now, especially on power cutters. They have a lifetime of two or three years - it's the first product they need to replace."
He emphasised that Husqvarna sees rental as a key target market - it accounts for around 45% of the division's turnover - and that Husqvarna would not go down the 'fleet management' road that Hilti has chosen. "We will not do it. We see rental as a key market - I think it would be competition."
The company said it was looking at ways to partner closely with rental companies. In France, for example, it has service contracts with some renters. Mr Stroby said he expects more such requests when rental markets are fully recovered.

LiuGong opens
Europe subsidiary
Chinese manufacturer LiuGong used Bauma to announce the opening of a European subsidiary office in Amsterdam, the Netherlands to provide sales and support for the whole of Europe.
Staffed by 16 people - including six Chinese product specialists - the subsidiary will stock wheeled loaders, excavators and skid steer loaders.
David Beatenbough, LiuGong vice president, told IRN that the opening of the European base coincided with a concerted effort to establish a dealership network in western Europe. Up to now, LiuGong has focused on appointing dealers in Central and Eastern Europe.
Mr Beatenbough said France and Germany were the key markets; "We have a few very good prospects, and will be talking to very good people this week [at Bauma]." He said LiuGong's strategy was to progress carefully, with the aim of establishing five to six dealers this year.
The company sold around 600-700 units in Europe in 2009 and is targeting 800 this year. The company also hopes to be able to offer its European customers finance options by the end of this year or next year.
BAUMA HIGHLIGHTS
The new E10SR mini excavator from New Holland was given its official launch in Munich. Improvement over the previous model - which is the smallest in New Holland's range - include more compact dimensions and improved serviceability. Overhang has been reduced to zero on the right swing and just 38mm on the left swing, down from 39mm and 82mm respectively in the previous model. Adjustable crawler widths enables the E10SR to pass through openings as narrow as 900 mm when set at the minimum width setting of 750mm. The unit offers 1.75 m digging depth, 3.3 m digging reach and 3.16 m digging height.
The use of an aluminum boom is what keeps the weight of Multitel Pagliero'a new SMX225 Spider at the 2.5 t weight level, which is light given that its working height is up at 22.4 m. "It's the lightest in its size", claims managing director Renzo Pagliero. The boom comes from one of the company's small truck mounted platforms (the MX225) and offers two working envelopes, one with 110 kg pound cage capacity and one with 220 kg. The cage has 90 degree rotation each way. The SMX225 is big brother to the existing SMX170 model.
Hyundai renewed almost its entire range at the show. The new 9-series excavators were announced prior to the event, but the company also took the wraps off its new 9-series wheeled loaders. Pictured is the range-topping HL780-9.
Hitachi has launched a three-model range of compact wheeled loaders, covering the 0.7 m3 to 1.05 m3 bucket classes. The new machines were unveiled at Bauma due to the popularity of this type of machine in Germany which, according to Hitachi, accounts for about 75% of the European market. The ZW65, ZW75 and ZW95 are all powered by a 3.3 litre Kubota engine, rated at 46 kW for the two smaller modes and 53 kW for the ZW99. Key features include a 20 km/h travel speed, z-bar front linkage and a quick coupler as part of the standard specification.
Spanish crane rental company Roxu Group was the buyer of the Bronto Skylift 112 m working height truck mounted platform, the world's largest aerial platform. The machine has been bought primarily for wind turbine maintenance and is Roxu's third truck mounted platform to sit alongside its fleet of 800 cranes. According to Jan Denks of Bronto the company has 92% market share in Spain of truck mounts over 70 m. He added that crane rental companies are becomingly increasingly interested in adding the higher truck mounted platforms to their fleets.
Cummins Power Generation showcases its latest range of compact generators at Bauma. On its stand it was the 22 kVA C22D5 compact generator set powered by the Cummins X2.5 engine. The set is part of a wider range which includes the X 1.3 powered sets available in 8 -11 kVA configurations, the X 2.5 powered sets in 17 - 28 kVA and the X 3.3 model rated 30 to 38 kVA (all ratings for 50 Hz). Steve Juden, Cummins executive product manager, said, "Exceptional power delivery coupled with reduced running costs ensures the new compact range meets the specific requirements of the construction industry. We believe this new line with its unique features and benefits, will take leadership in this market segment."
Among the products on JLG Industries' stand were examples from its expanding range of telehandlers: the powershift 4017PS, the compact model 2906H and the super compact 2505, plus the specialist EIRV (Engine Installation and Removal Vehicle) made for the US Navy. The 2906H, produced at JLG's Maasmechelen, Belgium facility, has a Tier III Deutz engine delivering 74.9 kW combined with high-torque hydrostatic transmission for good performance in rough terrain situations. The super compact 2505 has a lifting capacity of 2.5 t and a maximum reach of 5.6 m and is the smallest model in JLG's range, measuring 1.9 m high by 1.8 m wide.