Visitors flood to second APEX Asia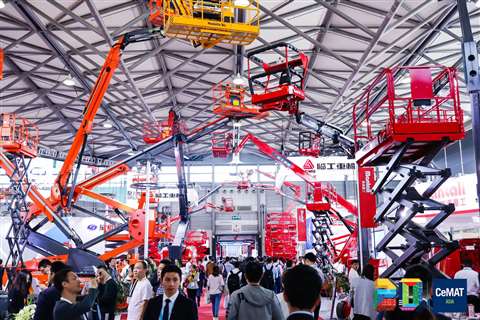 More than 13,900 people visited the second APEX Asia exhibition in Shanghai, a dramatic increase over the first show in 2017. The high attendance reflects the exceptional growth in the Chinese powered access market and the widening interest in access equipment in China and wider Asia.
In terms of exhibitor space the show was almost double the size of the inaugural event, with more than 60 companies taking space in hall N1 at the Shanghai New International Expo Centre (SNIEC).
As in 2017, APEX Asia was co-located with CeMAT Asia, the region's largest material handling and factory automation event. Some 142,000 visitors attended CeMAT Asia on 23 to 26 October, a 42% increase on the 2018 event.
China's powered access market is growing at unprecedented rates. According to a just-published study by Off-Highway Research, annual sales of platforms in China have tripled in just two years to reach 45,000 units last year. The total rental fleet has now reached more than 110,000 machines and is forecast to exceed 500,000 within five years.
APEX Asia provided a showcase for manufacturers and distributors of aerial platforms both to existing buyers of platforms and to the massive CeMAT Asia audience. Exhibitors also used APEX Asia to promote their machines to major rental buyers from Asia, Australia, Europe and North America.
Matthew Elvin, CEO, Snorkel, said; "It's been a great show and we are very pleased with the attendance. We've had many dealers stop on our booth and it's been busy."
Xu Zhong, Vice President of Dingli, said; "APEX Asia brings together the industry's top manufacturers and rental companies, and many cutting-edge technologies were unveiled.
"Zhejiang Dingli has attended every APEX and APEX Asia since 2017. For us, in addition to providing a perfect stage to show the full strength of our company, the exhibition has provided a platform for communication with global customers, which has benefited us a lot."
Harry Wang, General Manager of Haulotte Trading (Shanghai), said he was pleased with the development of both the International Rental Conference and APEX Asia; "Because of these events, China's MEWP rental industry can have more global viewpoint in a period when the industry is running fast.
"After two years of development, we found that there was a greater focus on the show from local Chinese rental companies. More professional people spent their time at the conference and exhibition. We are very happy and proud to be part of this journey.
"Haulotte offers its best wishes and support to APEX future in China. We believe we can work better only when we work together."
The show attracted the biggest Western access equipment suppliers as well as the growing number of Chinese suppliers, including major construction equipment suppliers and access specialists like Zoomlion, LiuGong, Sinoboom, Dingli, LGMG, Mantall and XCMG who are investing heavily in their access manufacturing operations.
The show was organised jointly by B.V. Industrial Promotions International (IPI), KHL Group (publisher of Access International magazine), and CeMAT Asia.
"We were absolutely delighted with the second APEX Asia, and the positive reaction from exhibitors and visitors", said Tony Kenter, Managing Director of IPI, "The Chinese access market is booming and that showed in the visitor numbers.
"The show is succeeding in its aims, which are to connect equipment suppliers and buyers, and to promote modern access equipment to companies and professionals who are new to the products."
James King, Managing Director of KHL Group, said, "China is the fastest growing access market in the world and has the potential also to be the world's largest within a matter of years. APEX Asia is playing an important role in that development.
"The partnership with CeMAT Asia is ideal. CeMAT visitors include Asia's largest factory equipment buyers as well as industrial forklift specialists, so APEX Asia is helping introduce powered access to a wider audience, going beyond the construction sector."
The exhibition also benefitted from being held alongside the International Rental Conference (IRC), which was held the day before APEX Asia on 22 October. IRC attracted more than 430 delegates, including many of China and the world's largest rental companies, including Shanghai Horizon, TVH, Kennards Hire, Modern (Access) and many others.
APEX Asia is held alongside CeMAT Asia every two years, so will next take place in the Autumn of 2021. (CeMAT Asia is an annual show and will be held on 3-6 November, 2020.) See www.apexasiashow.com for updates.