Volvo CE opens Jinan technology centre
By Helen Wright20 March 2014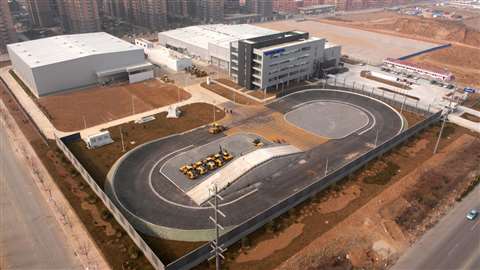 Volvo CE has opened a new technology centre in Jinan, in China's Shangdong province – a 50,000 m2 site where its engineers will focus on developing machines and components for customers in emerging markets.
The SEK 270 million (US$ 42 million) centre features design offices, workshops, two testing buildings and a test track. Both finished machines and components will be tested by the over 150 employees currently working at the centre.
And Volvo CE said employee numbers were set to grow – the site can accommodate up to 450 people.
While the new facility was under construction, the team at the Jinan technology centre produced Volvo CE's L105 wheeled loader – the first Volvo branded machine to be developed specifically for emerging markets – from an initial, temporary location.
The machine was developed over 25 months and launched at the end of 2012. Volvo CE said future projects at the site would include developing excavators, wheeled loaders, and road and utility products – all specifically designed for emerging markets.
Mats Sköldberg, president of Volvo CE Technology, China, said emerging markets presented an attractive and growing opportunity for the manufacturer.
"China is the biggest, and now perhaps the most important, market for us, and we know that it is vital to have a design and manufacturing presence where the machines are used. It gives us a greater understanding of our customers and their needs – and that's a big advantage in today's highly competitive global marketplace.
"With this new facility we will be able to provide machines tailored to the needs of the marketplace and deliver them to customer specifications in a shorter lead time," Mr Sköldberg said.