Volvo CEO says developed markets are driving demand
By Chris Sleight23 September 2014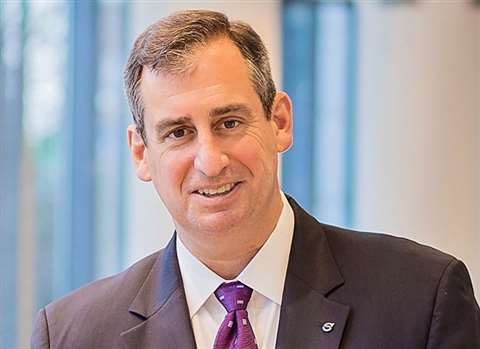 Volvo Construction Equipment president Martin Weissburg says the growth drivers in the global construction equipment market now are North America and to a lesser extent Europe. This is a turnaround from recent years, when it was emerging markets that were the most dynamic.
In an exclusive interview which will appear in the October edition of International Construction, Mr Weissburg said, "North America has come back, it's not just that's it's coming back. It might flatten out a little bit next year, but I think North America is seeing a terrific period of growth and economic stability.
"We've seen utilisation rates of the equipment continue to strengthen, dealer rental fleets with higher utilisation, and our customers, the end-users and contractors, not just in the replacement cycle, but in the expansion cycle for their equipment. So it is a good stable market.
"Europe is a tale of many different Europes. With some of the political turmoil and challenges going on, it's hard to forecast. Parts of Europe remain extremely strong, other parts are still working their way out of the global recession, and there has even been some softening since the summer months. So there's a mixed story there, but generally I'd say quite good."
"Then the emerging markets, after many years with many countries – not all of them – having strong continuous growth, they are growing at much lower levels and some are contracting. Brazil is not growing as quickly as it had been, but it is still a very robust and dynamic market. Russia – we know the challenges there, but there are some interesting opportunities still and it is a market we are extremely committed to, as is our distribution there.
"China has really been the bigger story from the emerging markets, and you could say that China had such a long period of very strong and rapid growth from 2009, 2010, and 2011 and even into 2012. There was a lot of government stimulus and strong availability of credit for distribution and customers. You could argue that it was over-stimulated and over-supplied.
"Like most markets that go through a cycle, China is experiencing this down-cycle, and it's probably the deepest and most severe corrections that the Chinese construction equipment market has seen. This is part of the natural maturation process, in my opinion, of any geographic market.
"For Volvo Construction Equipment, China remains one of our key markets and one of our most important markets. We are leaning into China and we are the market share leader there with the SDLG brand and the Volvo brand, and we continue to invest in China. So while China has had this correction, it is still a very, very important place and will show significant opportunities in the years to come."
Exclusive interview – October iC
This is an extract from a major feature that will appear in the October issue of International Construction. In his first interview since becoming CEO of Volvo Construction Equipment at the start of the year, Mr Weissburg talks about the company's acquisition of Terex trucks, its development of multiple brands and its approach to equipment rental.
To make sure you receive a FREE copy of the October edition of iC, register here for the print or digital versions, or sign up for our iPad edition in the Apple Newsstand.