Volvo keeps the power on in Ireland
By Ian Vallely01 November 2016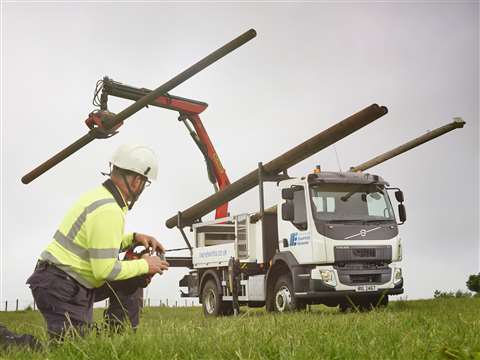 As part of its regular vehicle replacement programme, NIE Networks' fleet - currently more than 400 vehicles - has taken on the first five Volvo FL 4x4 trucks to go into service in the UK and Ireland.
NIE Networks is responsible for managing 47,000 kilometres of overhead and underground cables that deliver electricity to 850,000 homes and businesses across Northern Ireland.
The company opted for the FL 4x4 due to its four-wheel drive functionality to help access remote areas and suitability for bespoke bodywork conversion. Each of the 250 horsepower trucks is equipped with a Palfinger 12001-EH crane to help with the delivery of electricity poles to site.
The new vehicles are being used within the Lines Delivery side of the NIE Networks business, to help maintain the electricity network for the benefit of homes and businesses across Northern Ireland.
NIE Networks is a business that puts its customers first and, as part of this commitment, a number of the new FL 4x4 trucks will be used as 24/7 emergency response vehicles. To help reduce costly vehicle downtime, Dennison Commercials' award-winning aftercare support will keep NIE Networks' engineers on the road.
David Corry, supply chain and fleet manager, NIE Networks, said, "As the network company, we have a responsibility to ensure homes and businesses across Northern Ireland have a reliable electricity supply."
He added, "It was the reliability and the first-rate aftersales service offered by Dennison Commercials which helped to make it an easy decision when it came to replacing vehicles on the fleet. We were aware of the excellent reliability of Volvo's FL range and are looking forward to working in partnership with Volvo and Dennison into the future."