Volvo marks Aylestone centenary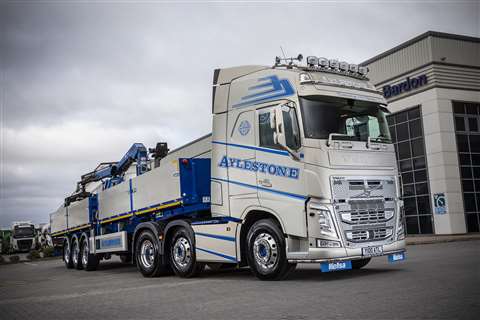 A Volvo tractor unit has joined the fleet of Aylestone Transport to help mark the Leicester, UK-based haulier's first 100 years of operation.
The new FH-540 has a Globetrotter cab, 6x2 pusher axle and is powered by a Volvo D13K engine rated at 540 hp. It also has the I-Shift dual clutch automated manual transmission and Volvo's Dynamic Steering System.
Richard "Bodge" Ward, Aylestone owner, said, "The new 100 year Volvo FH now means we have two I-Shift dual clutch vehicles on our fleet and four trucks fitted with Volvo's Dynamic Steering. Both are fantastic systems that we are now standardising on."
Extras on the FH-540 include side skirts, Alcoa alloy wheels, and Kelsa light bars. Inside the Globetrotter cab its driver, Joe Clarke, benefits from a full leather interior, microwave oven, fridge and television. Aylestone bought its first Volvo truck in 2006.