Wacker Neuson wins innovation prize
By Leila Steed29 January 2020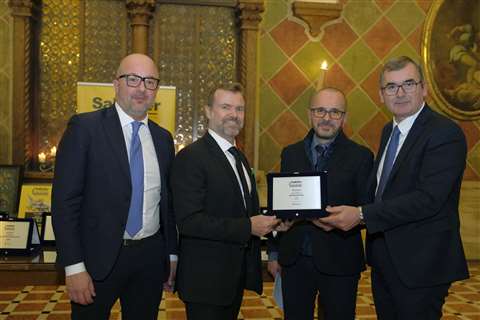 Wacker Neuson's fully electric E17e mini excavator model has won an Innovation Award in the mini hydraulic excavator category at the 23rd SaMoTer Innovation Awards 2020.
Martin Lehner, Wacker Neuson Group CEO, said: "We've channelled years of experience and expertise in zero emission products into our first mini-excavator with battery and electric drive technology."
Wacker Neuson was given the prize at the Innovation Awards ceremony in Verona, Italy, where a total of 13 awards across eight categories were given out.
SaMoTer said the model was selected as the winner for its "efficiency and optimal integration of electric propulsion with a design identical to the diesel version", as well as for its performance – which is identical to that of the manufacturer's comparable diesel machine.
Wacker Neuson said the zero-emission, battery-powered machine will be the its highlight product at the SaMoTer trade fair in Verona this year, which runs from March 21 to 25.
Georg Jung, Wacker Neuson Italy managing director, said: "We are looking forward to presenting our broad offer of zero emission products to the trade fair visitors, including the electric mini-excavator EZ17e."
The mini-excavator is due for commercial launch later in 2020.