Wasel on the power line
By Laura Hatton17 September 2015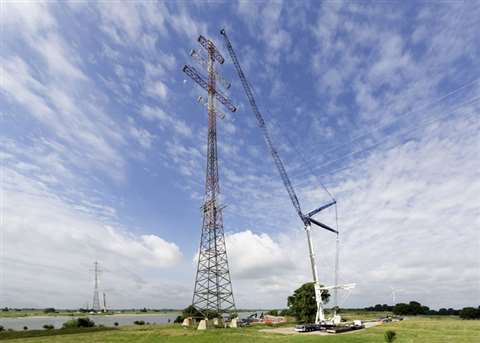 Specialists from heavy load logistics provider and crane operator Wasel, based in Bergheim, Germany, used two Liebherr mobile cranes on a power line job in Germany.
The task was to help shorten two 138 metre tall electricity pylons and rebuild the mastheads. The pylons were built in 1926 and form part of the Rhine Overhead Transmission Line Crossing Voerde. They are the tallest electricity pylons in the world, a company spokesperson said. The job was carried out for grid operator Amprion.
The job was carried out using two 500 tonne capacity Liebherr LTM 1500-8.1 mobile cranes. One of which was owned by Wasel and the other was supplied by Cologne-based crane rental company HKV Schmitz and Partner.
The job required both cranes to work simultaneously on either side of the river. Before dismantling the upper cross-beams, the transmission lines were detached from both masts and lowered to a height of around 50 m. The old mastheads and steel framework was then dismantled. The new mastheads were then erected at a height of almost 100 m.
Björn Kröger, Amprion project manager, said, "The corner posts of the masts had significantly more mass than the calculations predicted. Nevertheless, all lifts proceeded as planned, only the burn-through of the steel structure took more time than expected."
On this section of the river, the overhead transmission lines will always be at least 21 metres above the Rhine's peak water level.