Washington DC's 'The Wharf' receives US$847 million
By Joe Sargent01 October 2019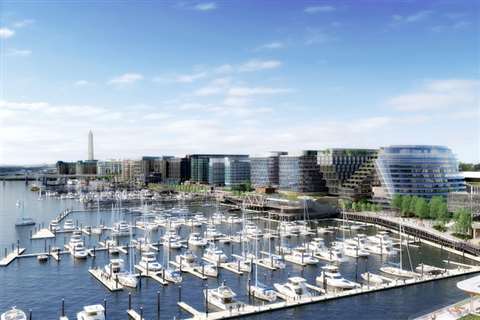 Hoffman & Associates, co-developer of The Wharf, a US$2.5 billion, 297,000m2 waterfront mega-project in Washington D.C, has announced that it has received the largest ever construction loan in the US capital's history.
US bank Goldman Sachs has led the financing of US$847 million to fund the construction of the development's second phase.
Other syndicate investment members alongside Goldman Sachs include Starwood Capital group, Mack Real Estate group and Pentagon Federal Credit Union.
The first phase included the construction of a two-level, below-grade parking garage covering 72,650m2, an 18,500m2 office building with ground floor retail space, a 12-story hotel with 268 rooms, along with other restaurants, bars, ballrooms and other various spaces.
Phase two of The Wharf will complete the remaining 116,000m2 of new mixed-use development, including further office, residential, hotel, marina, and retail space, as well as parks and public places, across just under a kilometre of redeveloped waterfront.
Monty Hoffman, Hoffman & Associates' CEO, said, "Phase one is completed and very successful, and this is a continuation of The Wharf development, which will be a mixed-use community with lots of vibrancy along the waterfront.
"Phase two will have more restaurants and another hotel, luxury condos, high-end apartments, trophy office and new marina on the east side, so there's a lot for people to enjoy."
The first phase of the project was completed in 2017. Construction on the second phase of The Wharf began didn't begin until March of this year, but is set to be completed in 2022.