Waste gas scrubber move
By Christian Shelton10 August 2018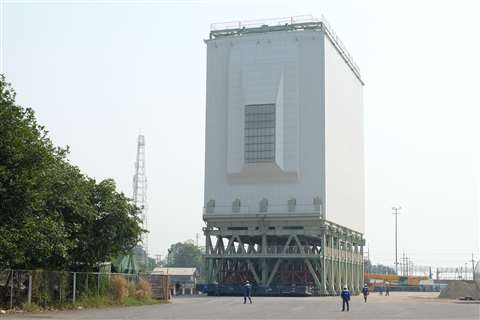 Thai transportation specialist Silamas was contracted to move two waste gas scrubbers, weighing 2,100 tonnes each and measuring 16 x 36.1 x 36 metres, a distance of 800 m from the factory where they were made to a nearby quay in Japan, and then to load them onto a barge.
Silamas' engineering manager Teeraphap Juntorn says, "In view of the enormous weight and dimensions of the units, we finally opted for two 24-axle parallel combinations controlled by a single operator using a Hydronic steering system from Goldhofer."
The first parallel combination comprised two PST/SLE 16s and THP/SL 8s; the second configuration comprised one PST/SL 4 and THP/SL 20, and one PST/SL 6 + THP/SL 18.
According to Goldhofer, its PST/SL series is one of the heavy-duty modules with the highest loading capacity on the market and has a tractive force of 160 kN per driven axle line.