Wear in the rope: SC&RA news September 2018
By Alex Dahm and Mike Chalmers25 July 2019
How does the use of crawler cranes on high-lift job sites and operating conditions generate unique wire rope deterioration?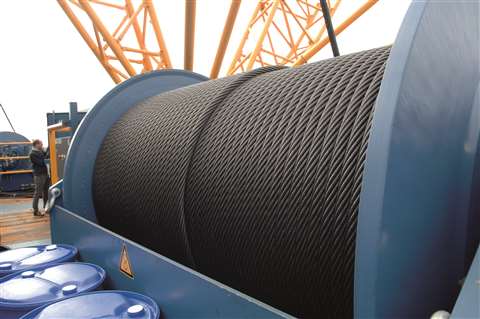 Tony Fastuca, vice president at rope company ASC/Python America, explored this topic at an SC&RA Crane & Rigging Workshop with other leading industry experts: Justin Brown, who works at Unirope Limited in Canada and is product manager for Python rope in North America; Dave Sleightholm, manager, customer technical support at Bridon Bekaert, The Ropes Group; and Mario Hartl, (at the time) head of field engineering R&D at Teufelberger.
Fastuca and his panelists shared their insights on the behaviour of wire rope in such circumstances and provided guidelines for inspection, repair and-or replacement. "We wanted to give clarity on some of the things that can happen with these high-engineered ropes when they have a lot of rope on the drum – and a lot of weight on the rope from a high lift," Fastuca explained. "That creates a significant amount of stress and certain types of abuse on the rope – and especially on the drum."
Fastuca and his group wanted to create an increased awareness of how important, even critical, it is to make sure that high-performance rope – the hoist line – is tensioned and very tight when workers are spooling it up on the drum.
"Also critical is training the rope," he added. "Meaning, once you've put the tension on the rope, you should put a lot of weight on it and run it up and down at least twenty-five times so that you're training the rope to seat itself in the proper position on the drum."
A third takeaway was rope allotment. "It is important to only have as much rope as you possibly need on the drum – footage wise. Many times, workers will have to put more rope on the drum at the beginning because of how far up they have to go to make a lift. But we wanted to highlight that excess rope on the drum only serves to potentially cause unnecessary stress on itself.
"That said, I think one of the more consistent, and major, issues with wire rope is proper installation on the drum. Taking it off the reel and putting it on the drum – proper installation is everything."
Block twisting
"When we are called to cranes dealing with a cabling problem, we have to determine whether the cabling is caused by incorrect rope selection or torque being introduced through a crane setup issue, installation, a component like a bad sheave or operational issues," explained Brown. "The first step is a rather simple calculation to determine if a rope is designed with enough rotation resistance considering the lifting height, line spacing and specific rope factors. If the rope construction is okay, we simply turn to troubleshooting the other potential issues one by one, checking off the list. So, block twisting is reasonably straightforward and solvable, but when a user is experiencing it in the field, it can be extremely frustrating.
Brown added, "For the end user, the way these ropes are damaged is the most critical thing to understand and most often misunderstood. The industry has known for years that wire ropes used on multi-layer drums are typically retired because of the damaging effects of winding a highly tensioned rope in multiple layers. So, it was always assumed that the same holds true for boom hoist ropes, especially since these ropes are permitted to be used with smaller drums and typically higher loads than main-hoist ropes. However, there is an x-factor in boom hoist ropes, being the high number of bending cycles the rope is subjected to in the bridle reeving. When you combine the operating conditions with a high number of bending cycles and the vibrational fatigue from the lifting conditions, it creates an entirely new dynamic where ropes tend to fail due to wire breaks within the bridle reeving."
Brown indicated that the breaks cannot be identified by merely looking at the rope on the drum, and inspecting the reeving from the crane deck is impossible without lowering the boom to the ground. "That makes inspections of boom hoist ropes highly inconvenient and time consuming, but utterly necessary."
Fastuca agreed. "You can't forget about the boom hoist rope," he said. "Everyone thinks that rope is going to last forever, and it's such a critical rope – raising and lowering the boom to the proper angle to make a pick. That rope needs to be looked at daily."
Best choice
According to Brown, rope selection is also critical. "Historically, swage compacted six-strand ropes have been the rope of choice because they are strong, cheap and don't crush as easily on multi-layer drums," he explained. "But since the main deterioration occurs within the reeving from fatigue factors, these rope types don't hold up and have been known to fail from the inside out, making inspections increasingly more difficult, if not impossible. Instead, using a rope that does not fail on the drum too early, or fail from undetectable wire breaks, is crucial. An eight-strand rope with compacted outer strands and a plastic-coated core suits this purpose very nicely."
Rope deterioration is also a major point for Fastuca. "One of the things we see is that, when we have more rope on a drum, as we see more bearing pressure put down, especially on the lower layers, and especially if the rope is not very tight on the drum (where you have gaps between the layers), a big lift causes those upper layers to suck down into some of the lower layers," he noted. "You end up creating premature wire wear, which can create all that crushing and abrasion on the rope."
Fastuca also underscored the ultimate focus: safety. "Clearly, there's a huge safety component here that's front and centre. One of the major and critical issues is always continuous training and safety programmes – making sure folks realise this rope is a machine for them, and probably the most critical tool for them on that lift. They have to make sure they're following the installation guidelines and, if they're questioning anything, then they need to go to the resources provided by the manufacturer and double, even triple, check."
Fastuca will be moderating a session on synthetic rope at the upcoming SC&RA Crane & Rigging Workshop in Louisville, Kentucky, USA, 26 to 28 September. "It's a trend we need to talk about. We can never have enough information on rope." For more information, see: www.scranet.org/events