Wearable tech could 'transform' construction
By Andy Brown23 December 2019
Wearable technology has the potential to transform the construction industry by improving safety and efficiency for workers, with this technology sector set to be worth US$54 billion by 2023 according to a special report.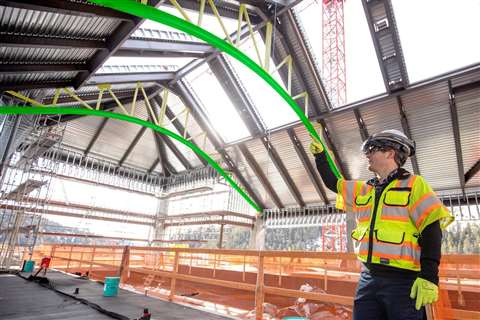 The GlobalData report – Thematic Research: Wearable tech in Construction – states that the wearable technology industry was worth nearly US$23 billion in 2018 and will grow at a compound annual growth rate of 19% to reach US$54 billion by 2023.
Wearable technology is said to have great potential to improve safety in construction through innovations such as gyroscopes, emergency alerts, and tracking devices. GPS-enabled wearables and Artificial Intelligence (AI) technology are leading improvements in efficiency on construction sites.
Growth in wearable technology will also be driven by the utilisation of many countries' aging workforces in remote support roles for a younger generation of workers through AI and smart glasses technology. Wearable exoskeletons will also be used as an aid for workers' physical support during strenuous tasks where there is a risk of injury.
Danny Richards, lead economist, GlobalData, commented, "Wearable tech, like the smart helmets developed by companies such as SmartCap Technologies, is helping to increase safety on construction sites. SmartCap measures workers' fatigue levels and detects micro-sleeps, alerting them when they are in need of a break."
Safety and efficiency are two primary trends in construction which are driving the adoption of wearable technology.
Richards added, "Despite wearables' difficulty launching in the consumer market, its commercial applications have proven valuable. As the benefits of wearable tech becomes clearer to construction companies, uptake is likely to increase."
To read a feature on research and development in the construction industry click here. International Construction and Construction Europe will be producing another technology supplement in the January/February 2020 issue.