Webuild completes Astaldi acquisition
By Leila Steed06 November 2020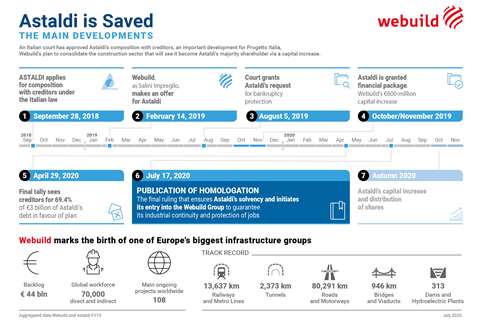 Italy's largest construction group Webuild - formerly called Salini Impregilo - has completed its acquisition of fellow construction company Astaldi.
The deal, worth €225 million, means that Webuild now owns around 65% of Astaldi, which had recently come close to declaring itself bankrupt.
The company originally offered to acquire Astaldi back in February 2019. Its offer was submitted to the Court of Rome by Astaldi, which was in the process of seeking protection from its creditors in order to have time to restructure.
The deal, which was accepted by Astaldi shareholders, creditors and the court, saw Astaldi's non-core assets such as the Gebze-Orhangazi-Izmi highway, the Etlik integrated health campus in Turkey, the Santiago airport and the Felix Bulnes hospital in Chile liquidated in order to repay the company's creditors. This allowed Webuild to take the controlling share of Astaldi, without inheriting its debt.
According to Webuild, Italy's construction sector represents 8% of the country's economy and employs around 500,000 people. The company said its investment in Astaldi would bring it "closer to what its foreign competitors enjoy: a strong presence in their home markets". According to the company, 60% of the world's top 250 construction company make 75% of their revenue from their home markets.
The acquisition of Astaldi was part of the 'Project Italy' plan launched by Salini Impregilo in 2019. Project Italy's aim is to aid the revival of Italy's building industry by creating a single major construction hub.
Astaldi, which has completed major projects around the world including the Yavuz Sultan bridge over the Bosphorus in Istanbul the world's largest optical telescope - the ELT - in Chile, is one of three companies acquired by Webuild as part of Project Italy.
The ambitious project was launched a year ago and Webuild is now in the process of taking control of Seli Overseas SpA and Grandi Lavori Srl, which owns GLF Construction (USA).
New investors including the Italian state fund Cassa Depositi e Prestiti (CDP), Italian banks UniCredit and Intesa Sanpaolo, Leonardo Del Vecchio (Luxottica founder) and Elliott Management, have also been welcomed into the Project Italy initiative.