Weiss Kranservice adds Demag all terrains
The Germany-based crane rental company has purchased a Demag AC 220-5 and a Demag AC 300-6
Weiss Kranservice, a Mindelheim, Germany-based crane rental company, was in search of powerful and reliable telescopic cranes to help assemble and dismantle tower cranes in its its 280-unit fleet.
"This is why we decided on a Demag AC 220-5 and a Demag AC 300-6 for our most recent acquisition," said Dominik Magg, Weiss Kranservice crane operator. "These two new cranes will complement our Tadano ATF 220 perfectly."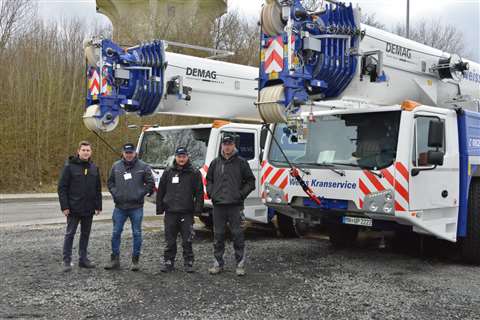 Left to right: Thomas Keckeis, Tadano Demag sales manager; Danijel Solaja, Weiss Kranservice crane operator; Dominik Maag, Weiss Kranservice crane operator; and Candrea Ometita Niculai, Weiss Kranservice crane operator
Customers keep ordering increasingly bigger and taller tower cranes, Weiss said, so the assembly cranes also need to keep pace. Dominik Magg said he found the AC 300-6 particularly compelling for its combination of range and power. "A lifting capacity of 15 tonnes with the 80-metre main boom fully extended – that's quite something," said Magg.
The people at Weiss also took into consideration the fact that the runner can be used by either crane is a big plus in terms of cost-effectiveness. Both cranes also have a load hook camera and the latest IC-1 Plus control system.