Welti-Furrer invests in new axle lines
By Katherine Weir25 May 2016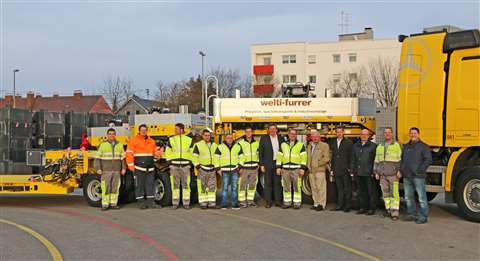 Switzerland-based crane rental and transport company Welti-Furrer has bought 18 axle lines and four bridges from Goldhofer.
Welti-Furrer is one of the oldest companies in the Swiss transport and relocation industry. For many years it has chosen Goldhofer for heavy and oversized cargo transportation equipment, the German manufacturer said.
The company's existing 15 axle lines were replaced by 18 new axle lines in the form of six modules with 2 x 2, 2 x 3 and 2 x 4 THP/MT axle lines. The order also included two low-profile drop decks (80 and 170 tonnes), a vessel bridge and a crawler deck with a payload of 120 tonnes each and two universal goosenecks.
Alois Mosberger, head of heavy and oversized cargo transportation operations at Welti-Furrer, said, "With these vehicle combinations, we have completely new transport capabilities to offer our customers. Over 80 percent of our customers are industrial companies. In recent years, the size of items such as generators, stators, transformers and major plant components has constantly increased. With the new Goldhofer modules, we can meet such requirements much more easily. The modules' improved steering geometry has also expanded our operating range."
With the addition of the low-profile drop decks, maximum load lengths have significantly increased, the company said. In the case of the 80 tonne deck, length limitations have expanded from 6 to 16 metres and from 8.5 to 15 m with the 170 tonne version. The new vessel bridge also offers an enormous increase in the company's capabilities, it said.