Welti-Furrer purchases crane trio
By Hannah Sundermeyer21 September 2020
Lifting and moving specialist Welti-Furrer in Switzerland has taken delivery of three new Liebherr wheeled mobile telescopic cranes. Improving the fleet's capacity, the new trio comprises an LTC 1050-3.1 compact crane, plus LTM 1130-5.1 and LTM 1160-5.2 all terrains. The 130 and 160 tonne capacity units will replace two, aging 100 tonne capacity machines.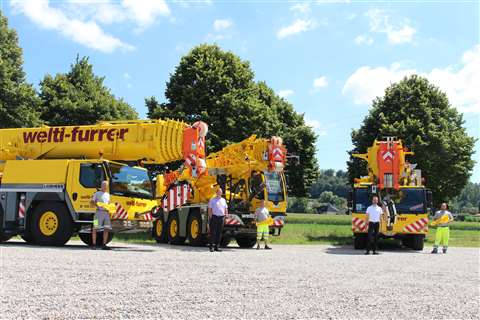 "The LTM 1130-5.1 and the LTM 1160-5.2 are very solid cranes in this size class," said Fabian Meier, managing director of heavy goods logistics, Welti-Furrer. "One of the main points in their favour is their variable supporting base. VarioBase is still in front in the crane market."
Welti-Furrer also modernized its fleet with the LTC 1050-3.1, equipped with the RemoteDrive function, to be used in tighter work spaces. In addition to the remote control of all crane functions on the superstructure, the 1050-3.1 is the first crane ever where it is possible for the carrier to be controlled remotely, the company said. The idea is that the crane driver can position himself directly next to the crane in confined areas and manoeuvre it safely.
"The compact design of the LTC 1050-3.1 is perfect for jobs on constricted sites," added Meier. "We have also ordered the telescoping crane cab and RemoteDrive for our new 50 tonner. That is a real highlight, particularly for jobs inside buildings."