What are some of the most useful trucking apps?
By Joel Dandrea10 October 2022
While "there's an app for that" has become a ubiquitous notion in society today, perhaps no industry has benefitted more than trucking from mobile apps. Truckers now have access to the weather, live traffic reports, diesel prices and their business – all at the touch of a button on their phones (not while driving, of course). Apps that make quality of life easier on the road have grown in popularity, allowing drivers to stay connected, find truck stops and stream music.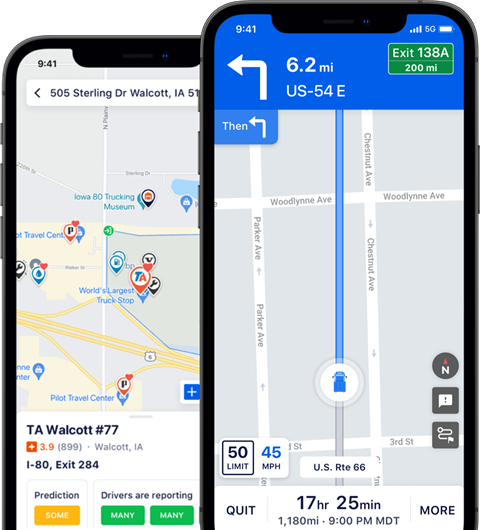 Trucker Path is considered one of the most popular trucking apps – providing information on navigation, parking status, fuel prices, weight stations and more.
Similarly, Truckstop.com offers its Truckstop Go app for quick and easy access directly to the load board – allowing drivers to search for quality loads, view fuel pricing and locations, review spot market rates, check broker reviews/credit scores and more. Additionally, the advanced search experience helps drivers to get as granular as they want – filtering by preference – including lanes, partners to work with, geographical regions and even rates.
Also highly regarded is the Trucker Tools app – whose main selling point is "being the most accurate truck stop guide." Other handy information includes updated fuel prices, live traffic updates and turn-by-turn directions.
And if drivers really want to drill down on gas prices, GasBuddy is an in-depth gas and diesel app that gives truckers a look at nationwide fuel prices. It also provides a price map, trip cost calculator and gas price charts. GasBuddy even allows drivers to pay with the app, which can quickly turn into cost savings.
Where your business is concerned, BigRoad comprises an electronic logbook for owner-operators, drivers and fleets. The app allows drivers to track hours of service by calculating the time for them. BigRoad will send notifications for errors or violations to help drivers avoid fines.
Additionally, DAT (originally known as Dial-a-Truck) has a load board app that posts more than 600,000 loads every business day. It includes features like spot market rates, saved searches, sort options and company reviews.
Equally helpful, the Drivewyze app detects weigh stations and inspection sites across North America – and lets drivers bypass them. When drivers are within two miles, the app automatically alerts them and sends a bypass request. The app also lets them know if they need to pull into the site, or if they can keep rolling.
Personalized app benefits 
On the personal side, the Rolling Strong app provides drivers with exercise and meal plans while on the road. A subscription also comes with online coaching from the Rolling Strong trainers. Similarly focused on driver health, the FleetSafer Mobile app comes at it from the safety side. It recognizes that access to all of these apps can be pretty distracting, so this app blocks any messages a driver might receive while driving and automatically responds with "I'm driving."
And as safety is the primary focus of any trucker's daily agenda, The Weather Channel app provides accurate weather updates all day, every day – including easy-to-view radars and forecasts.
Relatedly, Drivewyze – mentioned above – is now also providing real-time weather warnings as part of its Drivewyze Safety+ proactive driver notification platform.
Its "Severe Weather Alerts" function starts at up to 50 miles from the severe weather occurrence. Alerts are only delivered where drivers need them and are discontinued when the threat passes. And Severe Weather Alerts is one of several proactive alerts on the Drivewyze Safety+ platform. It also provides drivers with alerts for high-rollover areas, low bridges, mountain corridors (steep grades/runaway ramps), real-time congestion, speed (areas known for high citations), cargo theft (high alert areas) and rest areas (parking availability). The Severe Weather Alerts feature is currently rolling out to compatible ELD devices.