What do the ANSI A92 Standards mean for our industry?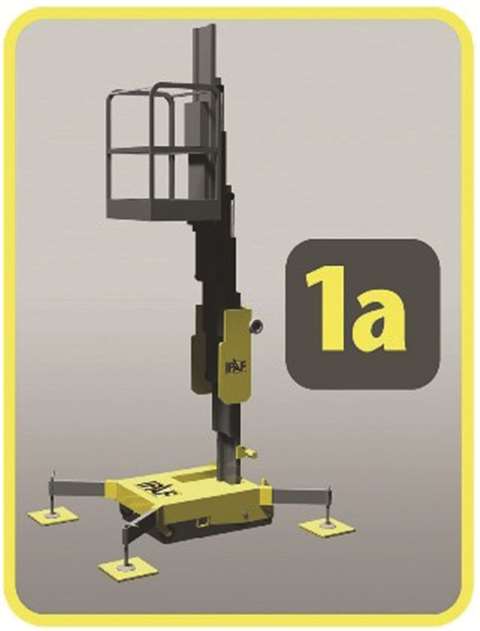 As an ANSI A92.22 safe-use chairperson and a member of the two other committees that helped develop the new suite of standards, an important aspect to note about the introduction of the new standards is that they are intended to improve safety and reduce accidents involving MEWP operations. Industry experts with thousands of years of experience between them have developed requirements for MEWP design, safe-use and training that will improve the safe and effective use of MEWPs in the industry.
The suite of standards takes a systemic approach to these goals, beginning with the requirements for the design of MEWPs that specifies design calculations and stability criteria, construction, safety examinations and tests, followed by the safe-use standard that specifies requirements for application, inspection, training, maintenance, repair and safe operation, and then the training standard, which provides methods and guidelines to prepare MEWP training materials, defines administrative criteria and delivers elements required for proper training. Compliance with all three standards should ensure the safe and effective use of this equipment.
So, what will the new standards mean for different parts of the industry? The design standard requires manufacturers to provide operations manuals, the safe-use standard requires those manuals be maintained on the machine and that users read and understand them prior to use, and the training standard says required training must be undertaken.
While a user of MEWPs may not need to know how to manufacture the equipment, the new requirements in the A92.20 design standard will impact them. Much of the terminology being used will change, with mobile elevating work platforms (MEWPs) replacing aerial work platforms (AWPs), or new classifications such as "3b." This change will be easy to grasp once you know the key to the terminology, where MEWP types "1, 2 or 3" define the drivability of the MEWP with the work platform elevated, and "a" or "b" defines the work platform movement in relation to the chassis.
Load sensing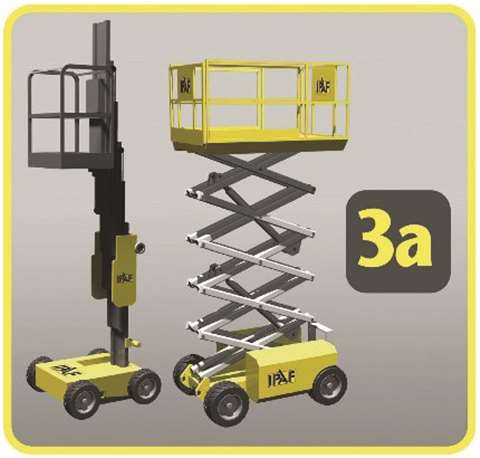 One fundamental change in the design standard is a shift from safety-factor-based stability and calculations to an ISO-standards-based stability and calculations to include wind-load formulas. Formula-based designs will offer greater flexibility in the development of individual new models.
The introduction of mandatory work-platform load-sensing, meanwhile, may require a cultural change. Many of today's designs define a maximum-rated work load, but do not actually prohibit work platforms being raised with a higher weight in the platform. The MEWP may be capable of lifting greater loads above the rated work load, but the new load-sensing system will require a sensor that will activate and prevent drive and lift functions until the overload is removed.
Currently, though a user/operator should not exceed rated work load, if the MEWP can physically perform the task it may be assumed that heavier loads are being moved despite warnings. If this improper operation occurs with the platform in certain configurations, the MEWP can become unstable. This is a serious issue, particularly if the load is transferred at height (for instance taking down an air conditioning or heater unit.) How will you remove that load under the new standard? It will become critical to know the actual weight of all items to be carried in the work platform before placing them into the platform.
Load-sensing systems will not be added without cost and will require additional maintenance and training, but they clearly provide an engineered solution to risks from overloading, and can provide increased rated workloads in various configurations.
Level sensing
Also new in the ANSI A92.20 standards, for type 3 MEWPs, at or beyond allowed limits of chassis inclination a device will prevent the MEWP from continuation of travel in the selected direction and, for group A MEWPs, further elevation shall not be allowed. This will hopefully prevent MEWPs overturning when driven on unlevel surfaces beyond the limits allowed by the manufacturer. Previously, tilt alarms would activate when the MEWP reached the inclination of the chassis limits permitted by the manufacturer, but the machine could still operate.
Further updates
New requirements for operator manuals documentation require the manufacturer to provide a list of items that must be included in the familiarization of the machine. This checklist is relatively easy to follow, as opposed to reading and understanding the entire manual.
Though annual inspections have always been required, until now operators never knew if they had been completed, as there was no requirement to show when the annual inspection was last performed. The new standards will require manufacturers to provide a means to mark the machine with the date of the last inspection, and owners must keep it up to date. Operators, inspectors and managers will then be able to check quite easily that the machine has been passed fit for use.
Another change is that an MEWP having a "zero wind" load-rating is an indicator that it cannot be used outdoors, where winds can impact on stability. The new standards require these machines to be clearly marked for "indoor use only."
Last among the noted design changes is the movement from a minimum rated design load of 300 pounds to a load of 264.5 pounds, or 120kg. Reaching higher or further are potential benefits that can come from this change. If the market wants 300-pound-rated machines, they will still be available.
Operation manuals are any documents that a manufacturer provides in the weather-proof compartment on the MEWP that are intended to communicate necessary safety information to users and operators.
The design standard mandates these to include the operator's manual and the SAIA Manual of Responsibilities. The standard could also include other documents, all of which must be maintained on the mobile elevating work platform and read and understood by the user/operator.
Modifications to a mobile elevating work platform can create hazards to the safe operation of a MEWP. They are now only allowed when authorized by the MEWP owner, after first obtaining written permission from the manufacturer. The net effect is that users and operators are excluded from any modification or addition to a MEWP without authorization of the owner.
Assessments and more
One of the more significant additions to the standard is the requirement for users to perform a worksite risk assessment prior to operation of an MEWP. This is a detailed planning process that identifies potential hazards associated with the task to be performed and the development of means to eliminate or mitigate the risk from the hazards.
Planning includes the proper selection of the MEWP for the work, providing appropriate personal protective equipment, developing a rescue plan and communicating the plan
with affected workers. While this should have been a safety practice already in place, the standard spells out this responsibility for users in a clear process. Industry associations developed a best practice for MEWP risk assessment years earlier, so this should not be a surprise to anyone in the industry.
Tied to risk assessments is the new requirement for supervisors of MEWP operators to receive training. Logic would dictate that one couldn't meet the requirement to supervise, monitor, evaluate and warn MEWP operators of potential hazards if unaware of the safe use requirement. Language has also been added to the potential events that may require MEWP operator re-training beyond the evaluation of the MEWP supervisor.
Existing standards offer 37 topics for operator warnings and instructions. The new standard now includes supervisors and operators, and provides more details and additional topics in user responsibilities. As an example, existing standards only address "wind and weather" in daily workplace inspections, whereas the new standard addresses such things as the effect of wind forces on MEWPs and on equipment in the work platform, local wind effects and use in thunderstorms. Ground-condition considerations are also now to include inadequate outrigger foundations, sub-surface voids and working on or near public roads.
There is now a recommendation for the operator to use available devices to deactivate the controls on the work platform whenever possible when working at height, and to ensure proper ventilation in enclosed areas.
Terminology and training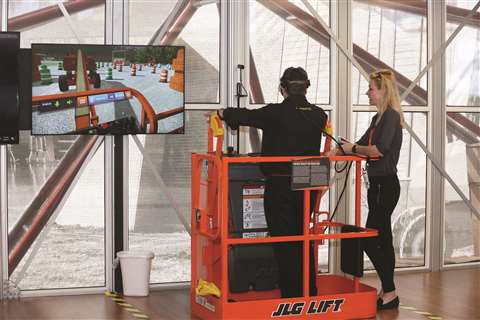 Another significant addition is new language addressing exiting an MEWP at height. Previously this was allowed only if permitted by and following guidelines and instructions provided by the manufacturer. While not intending to repurpose an MEWP as an elevator, the new standard opens the industry to this procedure to be more widely approved.
The A92.24 training standard provides methods and guidelines to prepare MEWP training materials, defines administrative criteria, and delivers elements required for proper training. The requirements for training include incorporating the responsibilities defined in the A92.22 Standard and require the delivery of training itself to be in compliance with the standard. An example of training in compliance with the Safe-use Standard is a trainer performing a site risk assessment for the work area where the practical training is being delivered, and communicating the potential hazards and the methods required to mitigate risk with the operator trainees.
One very significant addition is the requirement for the user to ensure that any personnel who supervise MEWP operators must also be trained. Supervisor training includes responsibilities for both user and operator to enable them to be qualified to monitor operator performance and supervise their work.
Overall, however, while the industry may fear a sea-change, in fact, the new standards are more about codifying and clarifying existing requirements and recommendations, with a few new additions. MEWPs are a worldwide product and the principles of safe use are the same wherever in the world they are used. The new ANSI standards are a significant move toward standardizing design, safe use and training requirements worldwide – a goal that is at the heart of IPAF's purpose to promote the safe and effective use of powered access worldwide.
What's next?
Utilizing the latest generation of online learning tools, IPAF now offers operator trainees the option of completing the theory requirement of their training via an interactive eLearning module, pictured here.
So what will be the biggest challenges once the ANSI standards come into place? Getting all entities involved aware of the required changes and complying with requirements of the standards – how compliant the industry is at present is somewhat questionable, so adding new requirements will only add to non-compliance. It will be important to quickly identify the additional or changed requirements in the standards, and tailor existing training programs accordingly.
Getting those previously trained to become compliant with the new standards and the additional requirements may also be difficult as many may think they are automatically compliant without the need to update or refresh their training or consider the new/additional requirements of the standards. Ensuring enough supervisors of MEWP operators are trained prior to implementation date may also prove challenging.
There will also be a major shift in culture to, with operator training going from being the "finish line" in terms of safe use to it only being the "starting line." Implementation of risk assessments prior to all MEWP use will also be a cultural change that the industry will quickly have to come to terms with.
And design changes will provide more options and functionality in the range of MEWP models rolling off the production line – for instance higher load capacities in certain configurations, new models that may reach farther, outside the platform anchorage options etc. This will also impact on training and familiarization though it is hoped that ultimately the new systems will make for safer operation with less room for operator error.
With specific reference to how the new standards will affect the rental industry, it's fair to say many companies will prioritize the purchase and introduction of MEWPs with platform load-sensing and other design changes introduced by the standards.
Rental company employees will need to get up to speed in a whole host of areas - from load-sensing training to compliance - and will also have to update their own operator training courses where these are offered.
The manual of responsibilities on the existing rental fleet will have to be changed out for the new version, of course, and companies will have to plan ahead to implement the change of "offering" familiarization as opposed to "providing" it – ensuring familiarization is made available for those who request it.
And operators must also get ready for the new standards: They need to be aware of all the changes and plan for the date of implementation. Employers need to implement supervisor training, and must ensure operators are trained or re-trained to be in compliance. Operators must implement risk assessment for all MEWP projects, ensure all loads on platforms are planned and know to avoid overloading and function loss from load-sensing systems. Also it is important
to ensure proper planning in compliance with the standards if the MEWP is used to exit at height.
Down the road
The 12 months between publication and the effective date of these standards allows all to plan and take appropriate action to read, understand and implement their responsibilities as defined in them. Those 12 months will go by quickly, so don't wait to take action; begin planning now.
ANSI will not hold any authority responsible for policing of compliance of the new standards, as they have been developed as "voluntary consensus" standards. Therefore, all stakeholders must ensure that these standards are adopted, accepted and implemented across the industry.
OSHA will typically reference the ANSI Standards in general duty citations as industry-accepted safe-use practices, and general liability lawsuits will refer to the standards as requirements – so while the standards may have been developed as voluntary, they will be applied as requirements in most post-accident events.
Everyone in the powered access industry knows that training of some level will be needed, and it is merely a case of identifying what is appropriate. Users want a "training card," and the introduction of a stand-alone training standard will bring a higher focus on industry acceptance for compliant training.
The best way to ensure compliance is for operators to hold a PAL Card and supervisors to obtain IPAF's MEWPs for Managers (AWPs for Managers) qualification. The IPAF training program uniquely ensures compliant accreditation through well-defined procedures and auditing. IPAF's MEWPs for Managers course covers what managers need to know about using MEWPs onsite, from planning the job and completing a risk assessment, to selecting the right equipment and mitigating all possible risks.
The one-day course for managers includes topics such as health and safety regulations, accident prevention and control, personal protection equipment and pre-use checks and maintenance.
The course is about planning, supervising and effectively managing the use of powered access, and not about operating equipment. It ends with a written test that candidates must pass in order to obtain a certificate.
Utilizing the latest generation of online learning tools, IPAF now offers operator trainees the option of completing the theory requirement of their training via an interactive eLearning module.
IPAF PAL Cards – the global industry standard in recognizing training and accreditation - use smart technology, which can help keep a digital log of what equipment the user has used and where, and can alert the holder when refresher training is due. Validity of PAL Cards can also be verified online.