What is the origin of SC&RA's insurance program?
By D.Ann Shiffler31 March 2023
Launched in 1994, SC&RA's initiative offers crane, rigging and transport companies cost savings and other benefits.
One of the most valuable and sought-after membership benefits of the Specialized Carriers & Rigging Association is its insurance and risk-management program that integrates the specific needs of companies in this specialized industry while minimizing cost and exposure to risk.
Because no two companies are alike, the program provides a number of options that companies can choose from to accommodate their unique needs.
The now legendary program was first offered in 1984 after explosive developments in the crane industry through the 1970s and into the 1980s prompted an increased emphasis on operational safety. The program was an acknowledgement that despite the best efforts to promote safe practices, accidents still occur in industries that by their very nature expose personnel and property to considerable risk and require equipment that is expensive to replace. The costs to cover these risks are expensive, but SC&RA's insurance program gives member companies economies of scale that they could not achieve otherwise.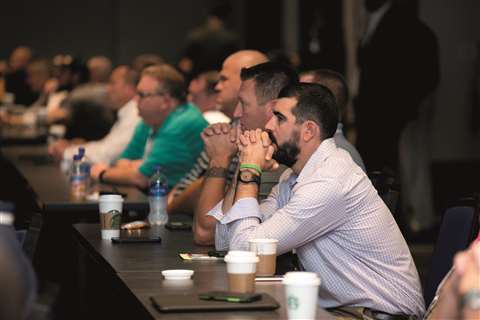 Evolving insurance program
The program began with a single carrier, Nations Builders Insurance Services (NBIS), and has evolved over the years. In 2003, SC&RA partnered with Special Risk Services Group (SRSG) to expand the members insurance line to include commercial auto/truckers coverage and product liability insurance. In 2006, SRSG merged with NBIS and the new company, operating under the NBIS name, offered a broader array of services, including a captive program for workers' compensation, auto liability and auto physical damage coverage.
In 2020, SC&RA strengthened and expanded the coverage options for its members with the addition of National Interstate Insurance as an endorsed market partner alongside NBIS. Likewise, member companies can choose to work with any of four preferred producers: Allied Insurance Brokers, Brown & Brown, Emery + Karrigan and USI Insurance Services.
The crane, rigging and specialized transportation sector is inherent with risk, but this program offers coverage and programs that increase safety, lower risk and help companies do business better.