What lies ahead for vertical masts?
By Euan Youdale23 June 2020
AI delves into the trends found in the vertical mast access platform sector, covering a range of manufacturers, including ATN, Haulotte, Bravi Platforms, JLG, Genie, Snorkel, Skyjack, Dingli, Sinoboom and ELS Lift.
As Christophe Burel, from France-based ATN, explains the vertical mast is essentially the missing link between scissor lifts, that are relatively light, without horizontal reach, and articulated booms, that are heavier and offer horizontal reach but starting in the 5m to 6 m range. "[We are] showing that industrial users can transfer their articulated booms to a smaller machine that will give them the same benefits from a smaller and lighter base."
Malcolm Early, vice president of marketing, Skyjack, agrees mast lifts are showing a consistently positive trend. "Geographically North America leads the way with numbers that are as much as twice that seen in Europe. In Asia, the market is somewhat sporadic with some large swings in volumes year to year. Most recently we have seen some quite large growth rates, but at relatively small."
According to Haulotte, vertical masts have become increasingly popular thanks to applications in maintenance for industrial, manufacturing, retail and public facilities, as well as in constructions tasks.
However, not all regions of the world have the same needs and the same maturity. In North America, the market is mainly focused on models without jibs, with 6m and above working height, says Haulotte. While in Haulotte's core market of Europe, there is a focus on models with jibs and 10m working heights and, to a lesser extent models without jibs from 3m to 6m working height. In Asia demand is mainly focused on mast lifts without jibs, of 6.5m working height and more. In particular, the Japanese market is one of the biggest in the world, after North America.
Haulotte launch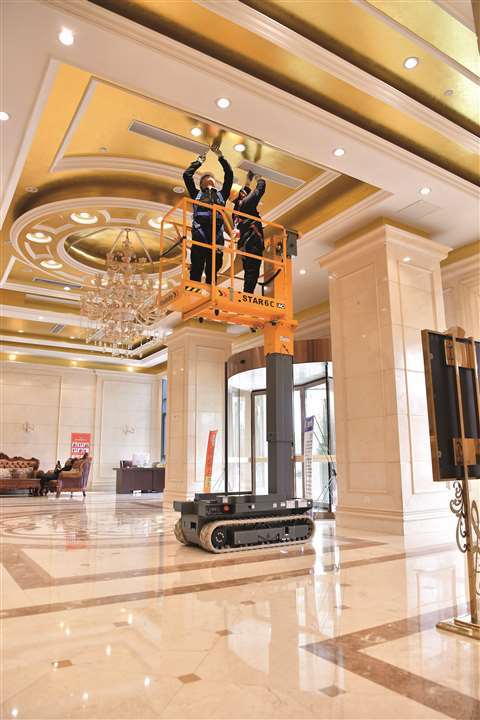 Haulotte has extended its vertical mast range, with the new Star 6 Crawler. The model follows the recently-launched 8m working height Star 8 S, which completed the wheeled Star range. The crawling system on the new 6m working height Star 6 Crawler, which complements the wheel-based version, enables the mast to negotiate the roughest terrains and significantly reduces ground pressure.
The electric-powered machine can handle slopes up to 25%, thanks to a mobile axis on the intermediate oscillating rollers that provides its rough terrain capabilities. The machine is also suited for fragile floors, with its low ground pressure. The mast provides 200kg load capacity, enabling two operators to work indoors, while a 40cm basket extension offers an extra outreach.
Its AC motors provide a high level of torque. The company decided several years ago to move all DC electric drive to AC to provide better efficiency and power and the easier maintenance that goes along with it.
Another example of how vertical mast horizons are expending comes from Bravi's latest product. The Sprint TL is an innovative picker with a tyre handling attachment. Launched in 2019, it represents the evolution of the previous Sprint model, first launched in 2013 and is aimed at the tyre dealer and warehouse markets. "With tyres getting bigger and heavier it is becoming necessary to prevent injuries during their handling and movement," says company owner Pierino Bravi.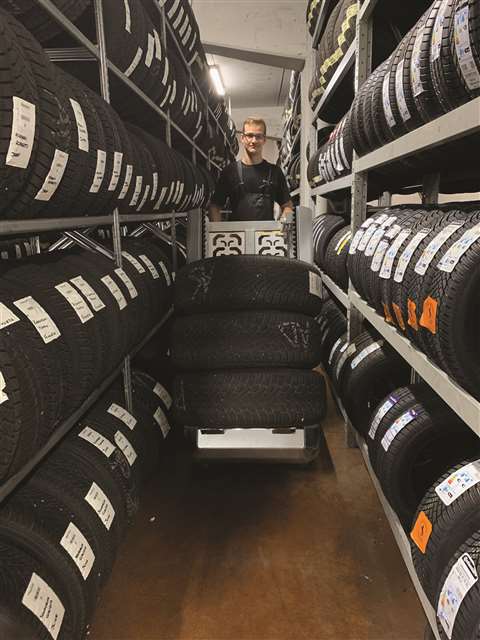 The Sprint TL lifts the operator and tyres, positioning them at the desired height and is faster and safer than manually handling them. "In the future we will focus mostly on specific accessories to be installed on the Sprint to facilitate the picking procedure of heavy-duty or bulky objects, especially doors and massive boxes, from racking," explains Bravi.
Over the last few months Bravi has been working on an upgraded version of its well-established Leonardo HD. This upgrade was originally designed to comply with the new US-based ANSI A92.20, but it is being extended to the rest of the world.
As far as trends are concerned, Bravi sees greater demand for highly manoeuvrable, compact machines that increase productivity and limit risks. "The global [Covid-19] pandemic has forced contractors to review the way they work in order to guarantee, by way of social distancing, the safety of their employees. "A lot of them are no longer allowing two persons on the same lift, so vertical lifts that are compact and manoeuvrable enough to allow more units on the same job will be the right solution to the current challenges, letting each operator work on his own lift."
New options
ATN has the DNA of vertical masts in its routes, having been launched by the inventor of the vertical mast Daniel Duclos, with the company's first product being a vertical mast, 20 years ago. The company is now owned by Fassi Group and has a range of eight Piaf mast lifts, including the Piaf 13 RE launched at Bauma last year.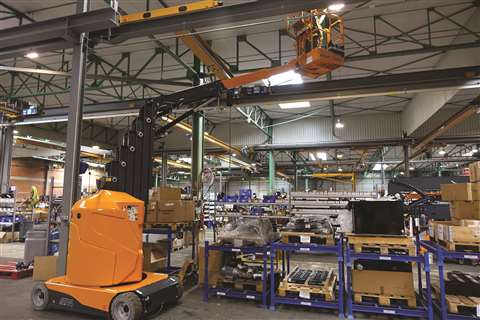 Christophe Burel, at ATN says the main features of Piaf RE (Roues Electriques) includes the largest horizontal reach on the market, with the 10RE offering 3.51m. In addition, Piafs offer zero tail swing. ATN then decided to broaden its range to offer more height with the Piaf 12 RE and 13 RE. "Many industrial companies are keen to take advantage of the small chassis base and the many other advantages of mast booms to replace cumbersome articulated booms."
ATN will expand the PIAF range further, although it is too soon to provide details now, but there will be developments in both track mounted and wheel-driven machines for greater autonomy and heights.
The company provides electric and hydraulic driven machines. Despite the advantages of electric drive equipment, hydraulic drive remains on the Piaf 880R, 1000R and 1100R. "Most of our customers are located in large European cities where electric dive motors are highly appreciated. But many other users operate from remote areas in Siberia, Brazil, China, India and other places where 'local' service is located days away from operations. These users are glad of the original hydraulic drive technology that gives them the opportunity to service the machine by themselves with limited tools and parts."
China launches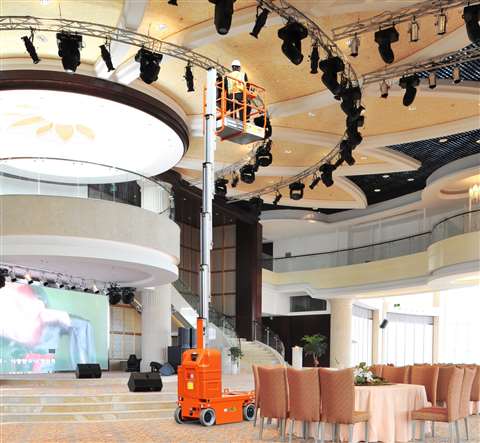 Chinese manufacturers have also been moving into the vertical mast arena.
Dingli launched four vertical mast lifts in October 2019, which are upgrades from the existing GTWY1200 series. The new GTWY9.5-1300, GTWY11-1300, GTWY12.5-1300 and GTWY14-1300 are equipped with CE standard, with more flexible and accurate lifting and descending than the previous 1200 series. The 1300 models incorporate high strength alloy materials, greatly reducing deflection. The company will now focus on more electric-models and direct electric drive.
Sinoboom officially launched the GTZZ10EJ to the overseas markets in 2017. It has a unique movable pothole-protection system. The integrated boom system allows easy maintenance and as a compact machine, it provides zero tail swing and can easily pass through standard doorways. The company has been actively researching the global market and has identified that vertical masts are widely used in mainstream markets in Europe and the US, and future products will be geared to towards the needs of those markets.
A company spokesperson said, "Vertical masts are developing towards lighter weight and miniaturisation, giving greater convenience in transportation, and easy accessibility to commercial elevators."
In 2017, another manufacturer in a growing MEWP market, this time ELS Lift, based in Turkey, stepped into vertical mast production, with the VM10-J. Then, a year later, at the Germany-based Platformers Days in 2018, it introduced the prototype of its second model, the VM6.
The company is also preparing to launch a new mast lift jib extension, and working on making telematics standard for the VM10-J.
ELS Lift's sales and marketing director İrfan İşmak explains, "These products provide a user-friendly experience in general maintenance applications and industrial warehouses, and are highly demanded in the market. We receive requests mostly from European countries, North America and Scandinavian countries.''
The VM10-J, suitable for indoor and outdoor use, weighs 2800kg and offers 3.15m of horizontal access. With a working height of 9.8m, it also has non-marking tyres, 25% gradeability, 350° rotation, zero tail swing and a compact 0.99m width. The integrated Diagnostic Centre Display provides error codes, charge percentage and hours of operation. The model also comes with a large tool tray and an inclination sensor integrated into the ECU. Together with its maintenance-free AC drive system, the manufacturer also points out that the product type offers a replacement for heavier articulated booms.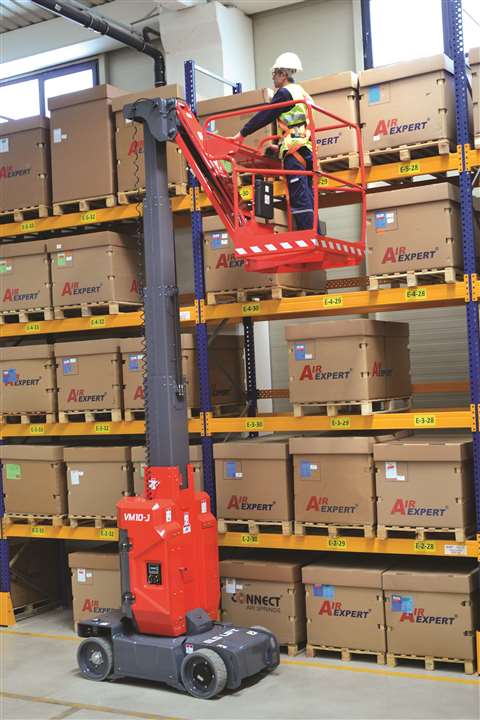 The VM6 can assume the duties of a standard scissor lift, says ELS. A prototype has been completed, with a specific emphasis on space saving and easy storage and its ability to work on sensitive floors. It will be put into mass production in the last quarter of 2020.
Meeting standards
The new DSP series from JLG offers a low step in height, unobstructed access to the picking platform, ergonomic controls and good sense of stability and with an emphasis on the increasingly important operator comfort.
At Bauma 2019 JLG introduced the first in the series, the DSP-M stockpicker, with a working height of 6.55m and a combined operator platform and material tray platform of 220kg.
The next in the line up, the DSP-S and DSP-L versions followed on. They are a hybrid of a conventional forklift and a MEWP, that allow for a high level of configuration to meet industry requirements.
The step-in height is 20 cm and there is unobstructed access to the picking tray. The low maintenance single AC drive motor adds to the simplified operation, with operator friendly controls and the similar mast design to forklifts. Two caster wheels offer stability.
Genie offers the GR, GRC, GRJ and QS models and recently announced that to meet requirements in the upcoming US ANSI A92 standards, which include global ISO requirements, its mast lifts have been updated worldwide to adopt one lift specification.
Molly Frank, Genie product manager, Terex AWP, says, "It is our position that one global standard for Genie GR, QS and GRC vertical mast lifts will optimise operators' productivity, while reducing rental fleet complexity. The Dual Zone Control means that outdoor operation will be possible on most Genie mast lifts. Like the manufacturer's existing Dual Zone scissor lifts, its GR and QS mast lifts will have two buttons on the platform controller, prompting the operator to select indoor or outdoor zone. When the outdoor zone is selected, maximum platform height and occupancy is restricted. GRC models, on he other hand, will be indoor-only use.
On all new GR, QS and GRC lifts, load sense is accomplished using a spring-controlled sensor designed to monitor the platform load and alert the operator if the machine is overloaded. Accessories include the Lift Tools Work Tray and they all have a zero-degree turning radius and compact base.
The GRJ products' narrow size, outreach and rotation mean they can easily get to areas above production lines, shelving and equipment without bringing in a full-size boom to achieve up-and-over capabilities.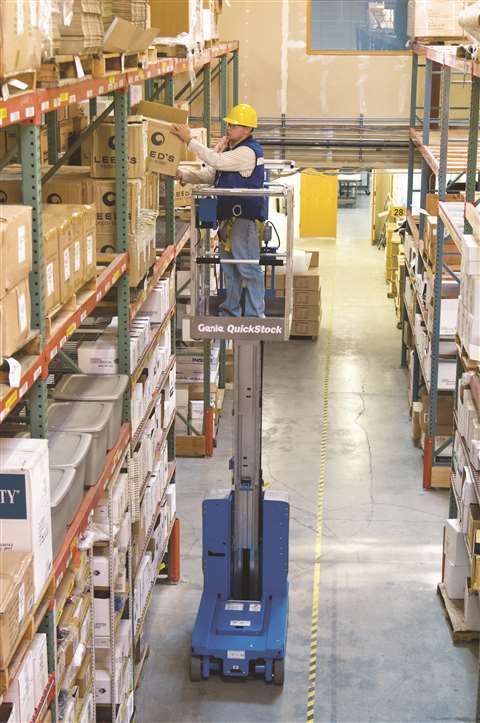 Frank adds, "vertical mast lifts are getting smaller and more compact, with an emphasis on total machine weight and exterior dimensions. They are often more compact and lower weight than a comparable scissor.
"More machines can fit within the same jobsite area, and with new technology in construction materials and processes, larger platforms, extension decks and capacities found on scissor lifts are not necessary for what are increasingly becoming one-person tasks."
Skyjack has two vertical masts in its product lineup with working heights from 5.65m to 6.75m. Drivable at full height, the SJ12 and SJ16 provide a zero-inside turning radius for maximum maneuverability, 30% gradeability, and rated load lift times from 16 to 20 seconds.
These zero-emission machines offer low floor loading, which means they can be used in a wide variety of applications. A motor controller provides smooth control functions and exceptional maneuverability, making them an ideal low level access solution, while maneuverability in tight spaces is aided.
Although these products were introduced some while ago, they have received significant updates. The SJ16 is also rated for outdoor use with a feature that, once lifted over 3.65m, alerts the operator to remind them that the machine should not be lifted any higher while outdoors.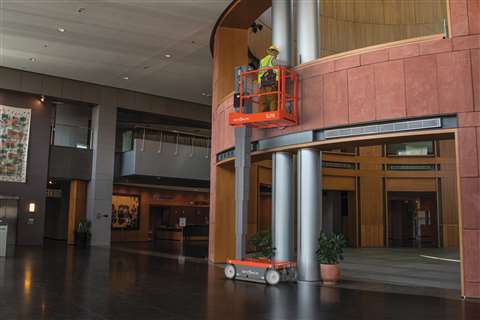 A key differentiator of Skyjack's models is a mast design that keeps the masts at the rear of the platform, providing maximum visibility for the operator. Both the SJ12 and SJ16 are capable of taking Skyjack's new Secondary Guarding Lift Enable (SGLE) system. With SGLE, both joystick and tamper-proof secondary enable must be activated to allow the platform to lift, the release of either will stop the functions immediately. The ergonomics are such that the operator's body is maintained in an upright position and away from the railings; mitigating the risk of entrapment. It can be equipped with tray options, optional electric tyre attachment and panel carrier.
Customer demands
The most recent introduction to the Snorkel vertical mast range are the electric drive TM12E and TM16E mast lifts, which were both launched in early 2017.
Developed in response to customer demand, both models feature a electric drive system that delivers longer duty cycles, drawing up to 50% less amps than the hydraulic drive version and provides a zero inside turning radius, making them ideal for working in confined spaces. In addition to the duty cycle and manoeuvrability benefits, the electric drive minimises the risk of a hydraulic leak, making them suited to sensitive areas.
The Snorkel TM12E can lift up to 227kg to a working height of 5.65m and weighs in at 840kg. The larger TM16E can lift 227kg to a working height of 6.87m and weighs 1,105kg.
Both lifts feature an electric braking system contained within a fully sealed unit and all electronic components are housed in a separate compartment at the rear of the chassis, underneath the step. They are fitted with a roll-out extension deck as standard and can be customised with an optional order picker tray for use in warehouse and retail applications.
As buildings become more complex in their design, Snorkel is exploring options to expand this range to include higher reaching models.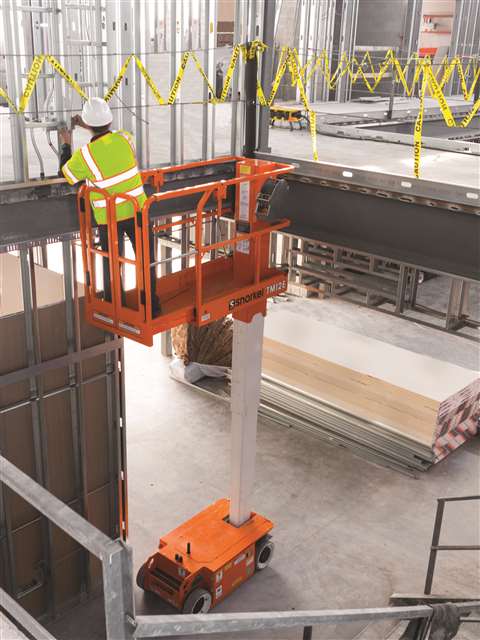 There is increasing demand for direct electric drive across a number of product categories, including vertical mast lifts, the company says. It has produced the original hydraulic TM12 mast lift for many years, but due to growing customer demand, introduced the electric drive TM12E and TM16E models in early 2017. The key advantages being the longer duty cycles between charges thanks to a more efficient drive system, a zero inside turning radius, and the ability to use the lifts in sensitive areas, as the risk of hydraulic leaks is minimised.
Vertical masts are a well-established product category at the company, with models sold around the world. Its self propelled lifts, including the TM12, TM12E and TM16E, are widely used in developed markets, such as Scandinavia and the USA for interior work at height tasks, replacing large ladders and scaffolding towers on jobsites.
Push around telescopic self propelled mast lifts, such as the UL25, UL32 and UL40 models, provide a simple and affordable method for safely working at heights up to 14.0m and are most popular in developing access markets due to the simplicity of the operation and maintenance.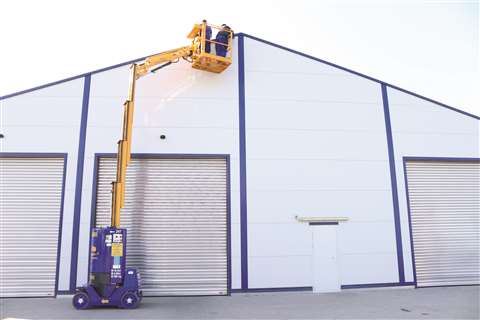 Hematec has launched the Helix 1004 XL, the first and only mast boom in the world with 300kg in the basket and a 4m outreach.