What to expect at World of Concrete 2023
By Lewis Tyler05 January 2023
World of Concrete returns once again to Las Vegas with a special focus this time on sustainability.
The next edition of World of Concrete (WOC) – the 49th edition, to be precise – will be once again held at the Las Vegas Convention Center in the US from January 17-19, 2023.
The 2022 show saw approximately 37,000 visitors as the event showcased over 1,000 industry-leading suppliers in the exhibit halls.
One of the many consequences of the pandemic was that many shows were postponed, taken online or even cancelled.
Since the pandemic has eased the trade shows that have been held again have generally drawn strong crowds, as people look forward to meeting again in-person.
"In 2022, WOC drew close to 37,000 registered professionals, with bustling foot traffic throughout the show, high engagement with the comprehensive educational offerings, and overall enthusiasm from participants, underscoring the industry's critical need for in-person connections," said Kevin Archibald, Senior Show Manager, WOC.
"WOC 2022 took over 632,000 NSF [net square foot] of the Las Vegas Convention Center and hosted over 1,000 industry-leading suppliers in the exhibit halls, with just over 140 first-time exhibitors."
The 2023 show is already at similar numbers regarding exhibitors and people registering to attend. Archibald says that, "There is pent-up demand and people want face-to-face networking and being with their industry."
The North American construction industry is well placed for good growth with demand higher than supply – like most of the sector, worker shortages and getting materials are two of the biggest problems.
What's the event?
World of Concrete
Where is it?
Las Vegas Convention Center, Las Vegas, US
When is it?
17-19 January
Where's the KHL booth?
C4326
There's more work to go around than people to do it, and that is before the full effects of President Biden's US$1.2 trillion infrastructure Investment and Jobs Act (IIJA) are felt.
"Last fall, Ed Sullivan, the Portland Cement Association's economist, forecasted that the cement industry will begin to realize the effect of the projects authorized by the IIJA in the third and fourth quarter of 2023.
"So, this year's event will be an important opportunity for contractors to prepare for the increased infrastructure and associated commercial activity," comments Archibald.
"Contractors and design professionals will need to learn about the innovations with which to accomplish these projects."
A large focus at the show will be sustainability – an increasingly topic for the construction industry in general, and the concrete sector especially.
It has been estimated that around 7% of the world's global CO2 emissions comes from cement, the key ingredient in concrete.
Concrete is absolutely essential to the construction sector and won't be going anywhere, so it is vital that it becomes more sustainable.
"An important focus at this year's event is the concrete and masonry industries' commitment to reducing the carbon footprint on a construction site. Many of our exhibitors are unveiling electrification of tools and equipment," says Archibald.
"Others are introducing technologies and business software that enable contractors to be more efficient with project planning and labor assignments. And some are offering insights on new construction materials that reduce Portland cement.
"Education sessions on 3D printing, geopolymer, steel reinforced concrete, AAC, and advanced admixtures are scheduled Monday-Thursday."
Concrete slipform technology
Power Curbers will be exhibiting the 5700-D, the latest generation of the company's concrete slipform machine. The 5700-D is said to be a 'One-Machine Solution' that can handle curb and gutter work, highway safety barriers, irrigation ditches, sidewalks, and other special applications.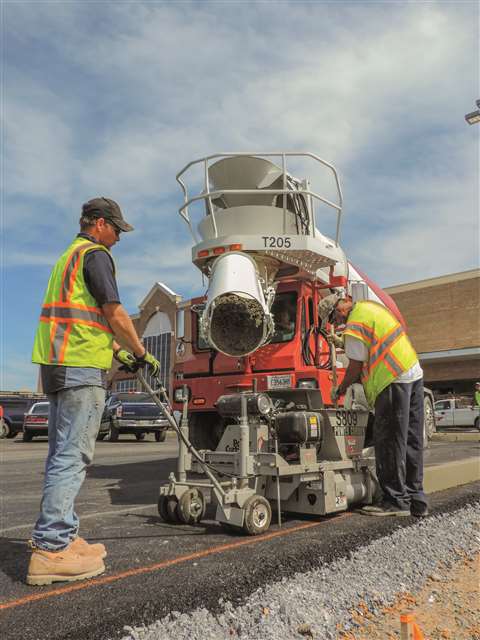 The compact size of the 5700-D helps with tight jobs, and the upgraded SlipSmart Control Solution provides contractors with a new level of responsiveness, simplicity, and precision.
The company will also display its most popular slipform paving machine, the Power Paver SF-2700.
This two-track model can pave between 12 to 27 feet with a low profile and narrow side clearance. It features simple controls and the ability to transport without disassembly.
Both the 5700-D and SF-2700 are stringless capable and compatible with Leica, Topcon, and Trimble 3D systems.
The company will also have a 150 Extruder on display. This walk-behind concrete or asphalt extruder is ideal for small curbs on paved or 95% compacted surfaces.
Lightweight concrete mixers
For over 48 years, Schwing America has exhibited at the World of Concrete. This year the company will be featuring two brand new machines. The Schwing S 51 SX and S 36 X RaZor.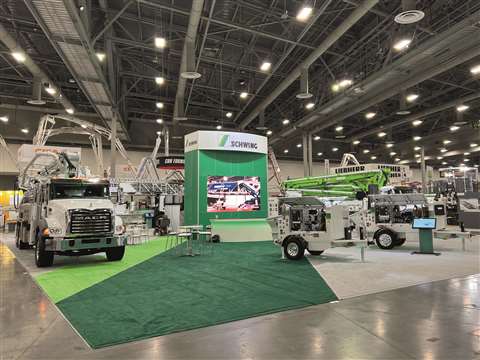 These machines will be displayed in Central Hall booth #C5126. The S 51 SX and S 36 X RaZor booth feature 5-section RZ booms, Vector II controllers and Schwing exclusive Rock Valve.
These machines have strong, lightweight designs that are said to provide smooth operation and stability on the jobsite. Open loop hydraulics and long stroking pumpkits increase fuel savings.
A large video monitor will display the latest Schwing innovations along with customer testimonials.
A reception area at the back of the booth will allow customers to meet with sales and service representatives.
Hydrodemolition robot
Aquajet, a global leader in the design and manufacturing of Hydrodemolition technology, introduces its newest Hydrodemolition robot – the Aqua Cutter 750V at World of Concrete.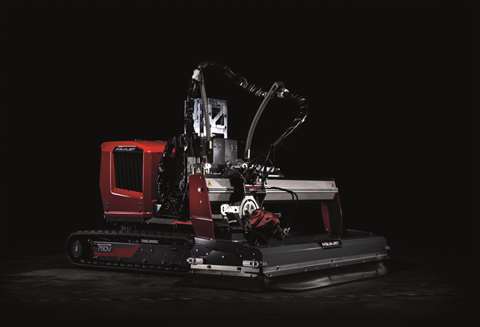 The new model launches Aquajet's revolutionary patented Infinity oscillation that moves the water jet in an infinity – or figure 8 – pattern, removing more concrete in a single pass while reducing shadowing, eliminating the risk of pipe holes and providing an ideal bonding surface.
The 750V also features the next generation Evolution 3.0 Control System that includes new functions, including the ability to automatically calculate optimal settings for lance motion for greater precision and efficiency.
Like all Aqua Cutter Robots, the 750V cleans and descales rebar without causing microfracturing.
The company says that it also maintains exceptional horizontal, vertical and overhead reach, making it suitable for a wide variety of concrete removal tasks, such as renovation and bridge and road repair. Aquajet can be found on booth C4119.
Modular screed systems
Curb Roller Manufacturing will show its first modular screed system, the patented Lynx Screed. This versatile alternative to completing flatwork provides a series of linkable screed pipes to accommodate concrete pours in varying widths from 3 to 22 feet.
Unlike traditional roller screeds, the Lynx modular system removes the need for purchasing dedicated pipe lengths to offer easy adaptability for a multitude of pours.
Its aluminum design decreases strenuous setup, shipping costs and transportation requirements for jobs that call for longer pipes.
Curb Roller Manufacturing will highlight the Lynx Screed, along with other products and technologies, at Booth O31934 at World of Concret