Whats in a bottle?
By Lindsay Gale10 April 2008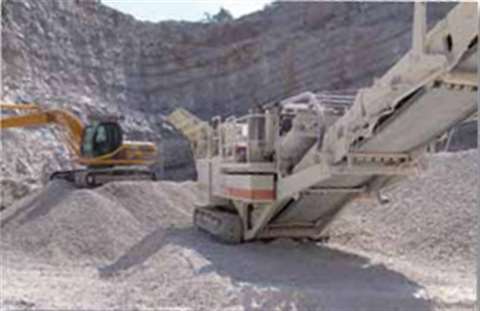 As an alternative to using sand, Hansen Aggregates has been trialling the use of crushed glass during asphalt production at its Caer Glaw quarry in Anglesey, Wales. A Lokotrack LT1213 tracked impact crusher has replaced a cone unit to crush waste glass from a variety of sources.
Currently, Hansen has a stockpile of 3,500 tonnes of this material, with a further 1,500 tonnes arriving every month The Lokotrack is currently processing around 180 tonnes per hour, of which 100 tonnes is suitable for use in tarmac base products. The machine is consistently producing a >4 mm produc om the heavily contaminated pre-screened waste glass. A magnetic separator on the Lokotrack removes any metal contaminates remaining while an additional screening unit segregates any remaining plastic and paper.
According to Hansen's quarry manager, Gary Kitson: "Hansen has spent years testing the process and the end product, and we now know it will work. Using this method is the best of both worlds. It helps conserve resources [fine sand] and increases recycling. But it is important to get this right. Not only do we need to provide a recycled product that solves a raw material shortfall, but it has to be of an equal if not better quality than the original product. And this is."