Wheeled excavators: Mobilising the fleet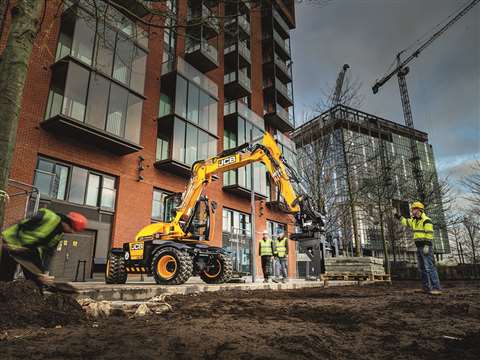 The European market for wheeled excavators is particularly buoyant at the moment, according to specialist market research and forecasting company Off-Highway Research. Sales in Western Europe came to just over 10,000 units in 2018 – the highest for a decade.
The key reason for this is that the major markets for these machines – Germany and France – have been on a high for the last few years. Wheeled excavator sales in these two countries alone totalled 5,885 last year, or 58% of European demand.
One of the quirks of the European wheeled excavator market is that the acceptance of these machines varies hugely. Whereas they are popular in France and Germany, in the UK, an otherwise similarly-sized market, only 425 machines were sold last year and tracked excavators dominate the industry.
There are objective reasons why a buyer may prefer a wheeled or tracked machine. Wheeled excavators offer much faster travel times around site and can be driven legally on public roads in many European countries, which can save on transportation costs. Crawler excavators are much less mobile, but much more stable on soft ground due to their lower bearing pressure. They are arguably more versatile machines, but are expensive to transport from site to site.
In addition, there is the question of what equipment buyers and users are used to and what type of equipment they favour. In the markets where wheeled excavators are popular, there is usually at least one long-standing OEM which has popularised the concept for many decades.
The fortunes of the European wheeled excavator market therefore depend on the outlook for countries where these machines are most popular. As well as France and Germany, they sell in significant numbers in the Netherlands and Sweden, among others.
Generally, equipment demand in Europe is set for a moderate decline over the next year or two, and what growth there is will be in the southern part of the region. Wheeled excavators have never been hugely popular in this part of Europe, so the decline may be a little steeper than for other machines. However, Off-Highway Research expects demand to stay between 8,000 and 9,000 units for the next few years, which would historically represent a healthy market.
A street-wise machine
German-based Wacker Neuson currently offers two different wheeled excavator models: the EW65 and EW100.
Sitting in the 6 tonne range, the European manufacturer's compact EW65 model can reach speeds of up to 30 km/h through its variable drive system. Not only can time be saved through transit when on the site, but the machine also offers a 'Street Driving' mode for easy transportation by road without requiring a trailer.
The five control circuits onboard the machine, along with load-sensing hydraulics and a closed driving circuit for optimal synchronisation, ensure that the wheeled excavator is optimised for equipment carrying.
The diesel engine inside the EW100 wheeled excavator, the 10 tonne variant, has been developed to minimise fuel consumption with reported diesel savings of up to 20%. Wacker Neuson says this is achieved through an optimised hydraulic system and its new ECO operating mode.
Hunter Plant Hire brought the first E57W Bobcat excavators to the UK market
Another interesting feature on the machine is its integrated 'Jog Dial' system, which has been derived from the automotive sector. In this system, using one rotary push knob, the menu can be easily and intuitively operated with one hand.
Other functions can be operated with the joystick, including cruise control for optimal speed, such as for when driving slowly with various attachments like a sweeper, or a
lock button for continuous operation in instances such as the operation of a hydraulic breaker.
The 10 tonne excavator is equipped with a boom that has been engineered for a high level of arm mobility, though two dipper stick versions are also available. One configuration comprises a long dipper stick with an adjustable boom.
Three types of steering mode are packaged into the wheeled versions; two-wheel steering, all-wheel steering and crab steering. In the two-wheel steering setting, just like a car, the mobile excavator is more suited for road traffic, while in the all-wheel steering mode the excavator can make use of a smaller turning radius. Crab steering helps with the parallel displacement of the excavator; for example, in order to approach a wall.
Multi-purpose tool
UK manufacturer JCB offers an excavator that it calls a 'wheeled tool carrier' – the Hydradig 110W. The Hydradig has been designed for confined urban sites, offering the same steering options as Wacker Neuson. JCB's machine offers a turning circle of under 4m, while also providing a rear wheel steer option for reversing.
Recently JCB has been focused on enhancing the cab on the wheeled tool carrier, with a view to improving operator experience, boosting productivity and further reducing ownership costs. The front of the cab has been redesigned, with a 106mm increase in the windscreen top line, changing the split between upper and lower screens to a 63:37 ratio. This provides the operator with improved forward visibility, which is helpful as the range of attachments that can be implemented on the machine also grow.
A further improvement for the cab is that JCB has opted for flat glazing, reducing replacement cost for customers. The front wiper motor is now also relocated to the bottom rail of the windscreen, for improved visibility when on the road and to provide an increased wiper sweep across the glass. This also has beneficial results for lifting operations being carried out with the excavator.
The UK firm has also made its 'Intelligent Hydraulics' system standard on the Hydradig 110W, allowing operators to programme the response from the servo levers to their individual requirements.
A change of pace
Sometimes, like the wheeled excavator, the industry can be fast moving, but it can also be slow. One strategy for coping with a sharp demand, but not having to worry too much about times when business is sluggish is by renting equipment.
Rental company Société Robert Chevillard has been renting a Hitachi ZX145W-6 wheeled excavator on a monthly contract since November 2018. It was one of the first Premium Rental customers for Cobemat, the authorised Hitachi dealer for Brittany, Loire-Atlantique and Normandy in north-west France.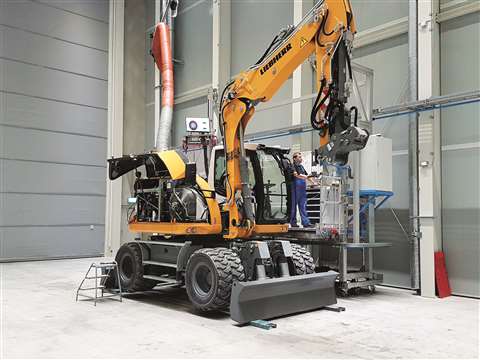 A Liebherr 912 Compact undergoing an emissions test at the firm's facility in Austria
The company selected the Japanese excavator because it needed a machine similar in size to its existing Hitachi ZX140W-5, with a short-tail swing and two-piece boom. Equipped with a tilt rotator, fork attachments and various bucket sizes, the machine is said to be highly versatile and has taken on a variety of earthmoving projects since delivery.
Christophe Talarmin, manager at Société Robert Chevillard, said, "We like the flexibility of renting the ZX145W-6. If there is no work, then there is no cost for this machine. Hitachi Premium Rental also guarantees that you get a well-maintained and constantly monitored wheeled excavator – and we appreciate the support we receive from Cobemat. This is important for us, because when our customers call, the machine has to be ready the next day. We're likely to use the Premium Rental programme again – it allows us to demonstrate the efficiency of our Hitachi equipment to customers and meet their requirements with a competitive offer."
Between May and September 2019, the ZX145W-6 was used on the construction of a new metro station to connect the suburb of Cesson-Sévigné to Rennes. One of its tasks was to create pavements, unload cement onto which kerbstones were placed, and widen the road on the site. Using the integrated grapple on the tilt rotator, it was also used to lift and transport smaller items of equipment and tools around the large site safely and efficiently.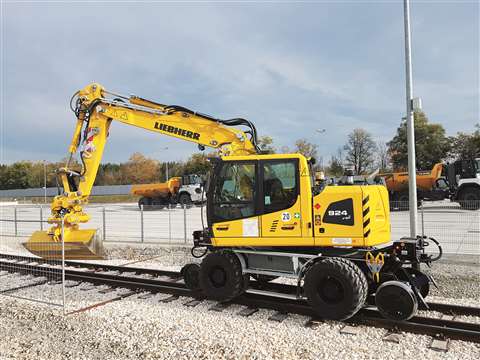 The compact choice
Known widely for producing compact construction machinery, US firm Bobcat has its own offering in the wheeled mini-excavator segment, which it calls the E57W compact excavator.
A UK-based rental company, Hunter Plant Hire, recently purchased the first ever Bobcat wheeled excavator variant for the UK rental industry. In total Hunter ordered 12 Bobcat machines, including E57W 6 tonne, E17 1.7 tonne, E27z 2.8 tonne, E45 4.8 tonne and E85 8.6 tonne units.
Liam O'Malley, a Director at Hunter Plant Hire, said, "Following a very busy period over the last two years, serving the heavy equipment market, the purchase of the new Bobcat mini-excavators represents a renewed focus on serving the compact rental market."
The E57W mini-excavators at Hunter Plant Hire were selected with the optional double tyre configuration and are powered by a Bobcat D24 diesel engine delivering 42.5kW of power.
The machines offer enhanced hydraulic performance and, like all the Bobcat machines in the order, have double acting breaker lines. In common with the E85 mini-excavators, the E57Ws also have rotation piping for a second auxiliary hydraulic line, air conditioniing, auto idle, a refuelling pump and a key code immobilisation system.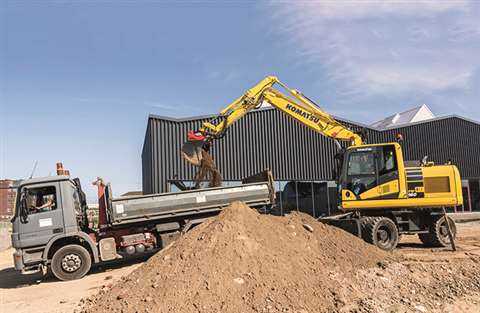 O'Malley said, "The E57Ws are perfect for finishing work on new surfaces. It can be anywhere from new housing developments for work between properties to work on grass verges at the side of roads. Another important benefit is mobility, with the possibility of rapid transport on the road between different workplaces. With no need for a trailer or a vehicle to tow it, the E57W can negotiate narrow streets and other city centre spaces, where a truck and trailor cannot access."
The drive for Stage V
German manufacturer Liebherr has been busy developing a new range of prototype wheeled excavators at its new Kirchdorf development centre in Austria. One such machine is the A 913 Compact Litronic wheeled excavator, which complies with Stage V emission standards.
Liebherr say that the product is an all-rounder for classic earthmoving work on construction sites where space is tight. It has an operating weight of between 13,800kg and 15,500kg and, thanks to the flexible undercarriage with all-wheel steering and crab mode, the machine appears highly capable in terms of manoeuvrability and high lift capacities.
The current prototype of the new A 913 Compact Litronic wheeled excavator has a 2,550mm wide undercarriage with outriggers at the back and a dozer blade at the front. A 4.65m long adjustable boom and a 2.25m long dipper stick complement Liebherr's own fully automated quick coupler system LIKUFIX.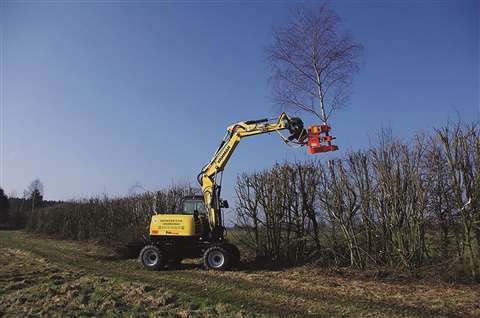 Inside the machine a 95 kW engine powers the new A 913 Compact, which Liebherr says boosts performance levels, compared with its predecessors. As the engine achieves maximum output at low speeds, the components are protected, extending service intervals. In this new compact excavator, the Liebherr Power Efficiency (LPE) system also ensures enhanced efficiency of the drive components, thereby reducing fuel consumption.
In the A 913 Compact the requirements of Stage V exhaust emission standards are met by the combination of a diesel oxidation catalyst, a particulate filter and an SCR system.
Inside the cab, Liebherr offers as standard a foldable armrest, an automatic working brake, the automatic axle locking cylinder and the capability to operate the excavator jib without having to change grip. Safety can be enhanced with an optional Skyview 360° camera system mounted on the upper carriage.
Alongside the A 913 Compact prototype, a new 912 excavator is being designed to meet Stage V regulations, as well as a new 924 wheeled model, designed for applications on railways using rail bogeys.
From Asia to Europe
Japanese manufacturer Komatsu says its PW160-11 wheeled excavators are ideal for job sites with limited space or in urban areas. The machines vary in operating weight from just under 16.2 tonnes to 18.6 tonnes.

Komatsu has developed a boom suspension system that it says provides a significant increase in comfort when riding over bumps. As standard, Komatsu also provides a 360° camera system onboard the excavators, which it calls "KomVision".
Inside the cab, the operator's seat comes with suspended joystick consoles, auto weight adjustments and pneumatic lumbar support. Joystick steering is also optional for those that prefer that extra precision in control.
The current models have EU Stage IV engines on onboard and provide an average of 4% lower fuel consumption than the previous models.
In January 2020, however, the new diesel engine restrictions in Europe will come into effect for engines between 56kW and 129kW. It is likely that the new models up to 129kW and manufactured after 2019 will feature a new Stage V Komatsu diesel engine.
Komatsu has said that in implementing its Stage V engine, machines in the 19kW – 560kW power range will include a Komatsu Diesel particulate filter (DPF) in the engine's aftertreatment system, to comply with these new particulate number requirements. In these engines over 98% of DPF regeneration is performed passively – no action is required of the operator, with no interference to machine operation.
The Sany SY155W excavator is being re-designed for the European market
A heavy lifter
Fellow Japanese firm Yanmar has developed the B110W wheeled excavator.
Designed to cater to the civil engineering segment and, in particular, road construction by placing a special focus on material
logistics. The company claims the 11-tonne machine can delivers at such a capacity that it can also take on tasks usually assigned to a higher weight class. This could also lead to further benefits in gardening and landscaping industries, where branches and tree trunks need to be seized with a grab and loaded.
With a top travel speed of 36km/h and a digging force that equates to 72kN on the arm and 58.5kN at the bucket, the machine's sensitive hydraulic system integrates well to provide precision in both digging and lifting operations.
A rear-view camera comes as standard on this short-tailed excavator. To provide improved stability on rough ground a 14 degree axle swing has been built into the parameters of the machine, while four independent additional control circuits allow a whole host of attachments to be utilised in various applications.
Wheeling out a prototype
Chinese manufacturer Sany has been offering a wheeled excavator to the Asian market for some time – the 13.5 tonne SY155W machine. Recently, however, the company has been working on a design to bring the excavator to the European market.
The new machine, of the same name, will bring to the fore a greater capacity as it slots into the 15 tonne category, bearing a dozer blade as standard along with an HKS cylinderless tiltrotator.
The new machine is said to be specifically designed to appeal to European customers with the need for good mobility, efficiency and the ability to travel by road.
Though only a prototype at present, it's likely that this machine could appear in 2020.
From rubber duck to goose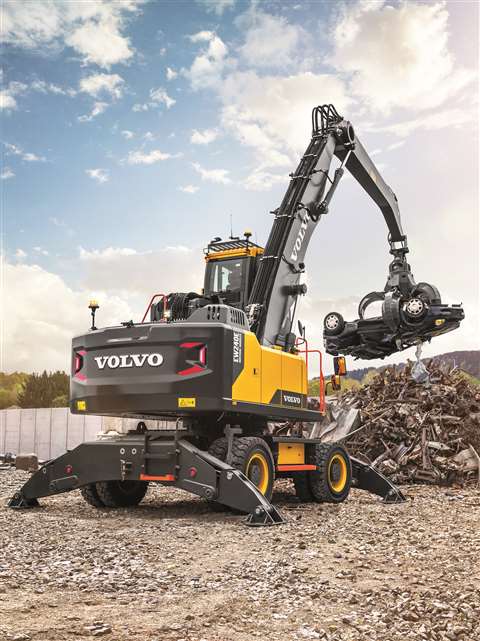 Specifically designed for the waste and recycling industries, the new EW240E material handler from Volvo Construction Equipment is a powerful machine, designed for use in challenging work conditions.
The 26 tonne Volvo EW240E material handler is powered by a Stage IV/Tier 4 Final-compliant Volvo engine, which provides 129kW of power and maximum torque of 850Nm at 1,350rpm. With its 6.5m straight boom and 5m gooseneck arm, the machine has a forward reach of more than 11m.
The handler is manufactured with an upper structure and reinforced undercarriage for scrap sorting applications. Other differences compared with a standard excavator include the hydraulically elevated cab, four stabilizers, full rubber tires, and a tailor-made straight boom that is flexible enough to be fitted with either a 5m gooseneck arm or a 4m grab/sorting arm.
Performance is enhanced by the boom float function and boom cylinder dampening, which minimise shaking and holds the grapple in place for increased stability. To improve accuracy, the grapple control and soft swing braking system work in harmony during operation, while the optimised hydraulics system delivers instant response.