Wheeled loader range renewals
By Chris Sleight09 September 2015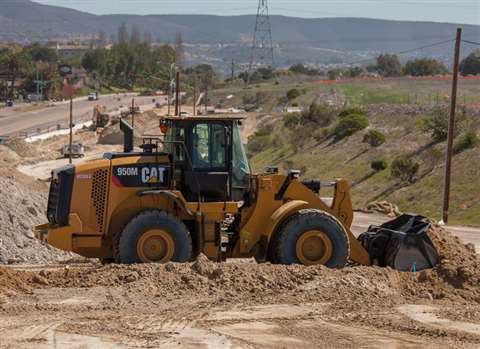 New Tier 4 Final (US), Tier 4 (Japan) and Stage IV (Europe) engine emission regulations have seen manufacturers renew their entire wheeled loader ranges, with new machines being designed around the latest engines.
Fuel economy has generally been improved across the board by all manufacturers. In addition, many have taken the opportunity to add new features and improve their machines in other ways.
The last 12 months has seen Caterpillar renew a huge part of its wheeled loader line up – the new models are designated the M series and have a focus on productivity and fuel savings. The new additions start with the compact 906M, 907M and 908M, with their 55 kW engines and buckets around the 1 m3 mark, up to much bigger production workhorses like the 202 kW 962M.
The key change is of course new Tier 4 Final engines, although the 55 kW units in the 906M, 907M and 908M is significant, because it ducks under the requirement for a Stage IV engine in Europe.
Caterpillar's loader classification system can be a little confusing – it calls some machines 'medium' wheeled loaders, when many would view them as quite large. However, with a range that tops-out with something as big as Cat's 240 tonne, 1,300 kW 994K loader, it highlights the point that size is relative.
An interesting new addition on the M Series medium range, including the 950M and 962M, is the company's product measurement system, which is integrated into the machines. This monitors the payload in the bucket, and Caterpillar says it can gauge the weight of material with an accuracy of +/-1%. This opens a world of possibilities when it comes to monitoring, analysing and fine-tuning production levels.
Another key factor is that it weighs the bucket while it is being loaded. This means operators can adjust how much they are carrying as they load-up the bucket and before they leave the stockpile area. This means the machine can work at its greatest efficiency – neither under loaded nor overloaded.
Weighing modes
The system offers three modes. Transfer-On Weigh provides a preview of material weight plus total truck payload as the bucket is weighed, giving operators the opportunity to tip-off material if the load is too heavy.
A second mode is Low-Lift-Weighing, which estimates material weight at a low lift height – without lifting through the entire weigh range – to speed loading when exact weights aren't required, such as during hopper loading.
Finally, Tip-Off allows the operator to make final-pass load adjustments at the stockpile, truck, or hopper and view adjusted weights in real-time.
Operators can track loader productivity from the cab, and information can be fed back to a central office via Caterpillar's Vision Link telematics system.
Komatsu's latest Tier 4 Final models include the 191 hp
(143 kW) WA380-8 and 272 hp (203 kW) WA470-8 wheel loader. The company says fuel consumption on both machines is -6% lower than their Tier 4 Interim predecessors. The machines also have an auto idle engine shut-down system to save fuel in periods of inactivity.
Another key feature is Komatsu's Smart Loader Logic software and lockup torque converter, which work together in second, third and fourth gears. The company says they provides optimal engine torque for improved acceleration, hill climbing, a higher top speed and fuel savings.
There have also been numerous in-cab improvements, including a new air suspension, high-back, heated seat and seat-mounted electronic pilot control levers. The machines come with Komatsu's KOMTRAX telematics system, which provides key performance and operating data.
Volvo meanwhile has updated its 397 kW L350F, which can be fitted with a 6.2 – 12.7 m3 bucket. Since its introduction in 2007, the loader has always featured lock-up torque converters and boom suspension for load and carry. Updates to the F-series include a new air high-back air-suspension seat for the operator and a better cab entry point, with steps and hand rails over the rear mud guard.
Increased clearance between the rear mud guards and tyres now allows for the use of wheel chains, while there is a new intelligent hot shutdown system, which helps the operator avoid shutting down the engine when at high temperatures. The system monitors the required engine low idle duration before shut down, and advises the operator when it is safe to shut off the engine, which also increases the service life of the machine's turbocharger.
Utility class
John Deere is continuing to update its wheeled loader line-up with Tier 4 Final models, and the latest additions are the 444K, 524K and 544K, which it describes as "utility class" machines. They feature 124 – 163 hp (93 – 122 kW) engines, load sensing hydraulics and power shift torque converter transmissions. In addition, 544K has a new 5-speed transmission as standard, with a lock-up torque converter in gears 2 – 5, which the company says offers increased acceleration, speeds cycles, and optimises power and fuel efficiency.
The in-cab monitor has been updated and provides diagnostic and maintenance information and John Deere says its diagnostics system is 'best in class'. The cab also features a high-backed air suspension seat, keyless start and easy-to-operate push-button controls for many functions.
Case Construction's latest Tier 4 Final wheeled loaders are the 621F, 721F, 921F and 1121F, covering the 128 – 259 kW engine classes, with bucket payloads from 4.3 to 9.1 tonnes.
Emissions compliance has been achieved with SCR alone, without a DPF. Case says this is an advantage as it reduces the need for engine cooling, and makes for a smaller engine compartment, which knocks-on to better rear visibility. This also means the exhaust temperature remains relatively low at 200° C or less, as there is no DPF to regenerate ( the burning-off of accumulated particulate matter). This makes the loaders safer around flammable material.
Models up to 20 tonnes feature the Proshift 5-speed transmission which Case says provides fuel savings of up to 2 litres per hour and faster cycles compared to conventional transmissions.
Similarly, Doosan has launched several new Tier 4 Final wheeled loaders this year, from the 128 kW DL250, which is available in either a Z-bar or tool carrier configuration, up to the 283 kW DL550-5.
The DL250-5 and DL250TC-5 (tool carrier) offer improvements in fuel efficiency, operator comfort, serviceability, reliability and remote monitoring with Doosan's telematics.
Other features include limited-slip differentials which provide the improved traction, particularly in poor conditions or when climbing.
Meanwhile, at the top end of the range, the new DL450-5 and DL550-5 cover the 4.5 to 5.7 m3, bucket classes.
A key feature is their fuel saving characteristics, which have been improved from the previous models with a lower engine idle speed and auto idle system, as well as automatic engine shut-off for longer periods of inactivity.
The engine is a Scania and the transmission is a 5-speed ZF unit, which like all Doosan wheeled loaders, features a with a lock-up torque converter for direct drive between the engine and transmission, should it be required, from 2nd to 5th gear.
Hybrid first
Hitachi meanwhile made waves at this year's Intermat exhibition with the introduction of the world's first hybrid wheeled loader, the ZW220HYB-5.
The four-cylinder engine powers a generator, which produces energy to drive two electric travel motors. When the machine is rolling or braking, it continues to store electricity in a capacitor. Under acceleration, it uses energy from the generator and capacitor, reducing the load on the diesel engine.
Hitachi says there are four main benefits of the hybrid system – reduced fuel consumption, enhanced reliability and safety, less noise, and easy operation. Fuel consumption is the most tangible of these and the company claims a 26% improvement in efficiency compared to the conventional ZW220.
The company added that lifetime costs are reduced thanks to the relatively low maintenance maintenance requirement for the generator, travel motors and service brakes, compared to mechanical components. These components also contribute to a quieter machine - noise levels are lower by 5dB(A) in the cab and 2dB(A) less outside.
Safety improvement
Safety has been enhanced by the auto-braking system that enables the machine to travel downhill at a constant speed. In addition, the use of travel motors rather than a conventional transmission means, there are no jolts when digging or climbing uphill.
In addition, the drive and hydraulic systems are independent, which delivers a higher level of performance.
New from JCB is the 457 Wastemaster wheeled loader, which features the company's new CommandPlus cab – a feature to be rolled out across other models. Further features pointing the way ahead for JCB's wheeled loader range include the revised engine cover and rear counterweight, of which contribute to improved visibility.
As the name suggests, the Tier 4 Final 457 Wastemaster has been tailored to the needs of the waste and recycling industry, with high visibility red and white chevrons, additional cab air filtration, rear object detection system, on-board automatic fire suppression system and puncture proof tyres.
Power comes from a 193 kW, 7.7 litre MTU engine, which helps to cut fuel consumption by -16%, compared to the previous model. It meets emissions requirements by using SCR alone – there is no DPF.
New additions to Hyundai's wheeled loader range this year include the 149 kW HL955 and 168 kW HL960, which are the Tier 4 Final replacements for their Dash-9A predecessors.
A key feature across the HL series is a new weight calibration system, which weighs, stores and keeps a running total on bucket loads.
Meanwhile, the new accelerator saves fuel, with an automatic switch between 'Eco' and 'Power' operation depending on how aggressive the operator is. Other fuel saving features include an auto-idle system for periods of in activity and there is also a 5-speed lock-up clutch.
The HL955 is available in an 'XT' configuration with a high dump height and 'TM' tool master configuration with a parallel-lift linkage at the front end, as well as a standard Z-bar linkage.
An interesting new feature from Liebherr meanwhile is the Likufix quick coupler system, which is available for its mid-sized wheeled loaders, from the L 524 to L542.
It is an automatic, push-button system, which the company says comes into its own on projects where there are multiple tool changes, particularly changes between mechanical
and hydraulic attachments.
This is because the Likufix system does not only pick up and lock new attachments at the push of a button, the hydraulic hose connection (if there is one) is also automatic. This mean all tool changes can be carried out without the operator having to leave the cab – saving time, and with safety benefits.
The coupling block is spring mounted, so forces acting on the hydraulic quick hitch do not transfer to the coupling system. Even on long operations, the connections between the hydraulic circuits are completely sealed.
This all illustrates that the latest models on the market
might be able to deliver running cost savings for contractors thanks to improved fuel efficiency and other productivity improvements.