Wheeled loaders: A healthy load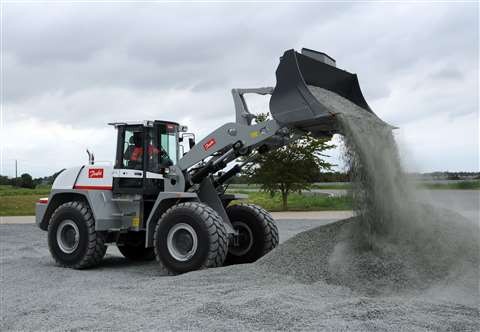 The European wheeled loader market is relatively buoyant, according to specialist market research and forecasting company Off-Highway Research, with sales of machines over 60kW currently running at just above 10,000 units per year in Western Europe – the best demand has been since the global financial crisis a decade ago.
This puts the value of the market at some US$2.15 billion (€1.9 billion).
Within Europe, the major markets are largely what one would expect – Germany accounts for some 25% of demand and, together with France, Italy and the UK, these big four represent about 60% of regional sales.
Besides these, Sweden and Norway are also large markets – certainly bigger than might be thought from their populations and the value of construction output. Last year, for example, wheeled loader sales in Sweden came close to 1,000 units, according to Off-Highway Research.
The company said there were two reasons for this. First, the Nordic equipment markets are particularly buoyant at the moment, so equipment sales in general are high, and these countries represent an unusually large proportion of the European total.
Second, Volvo's long history in the wheeled loader segment has done much to popularise the concept in its home market of Sweden and neighbouring Norway.
The European market is forecast to stay reasonably stable over the next few years. While sales looked to have peaked in 2017 and 2018, there is no expectation of a sharp decline and demand should stay above 9,000 units per year over the medium term.
White paper
In its recent white paper, Nordborg, German-based Danfoss said the challenges facing OEMs, at least as they relate to wheeled loaders, include ensuring vehicle performance is optimised, gaining market share in a global customer market, and expediting the process of getting products to that market.
The company also said higher profitability for OEMs depended on tackling four primary challenges – increasing productivity; the shortage of appropriately-skilled labour; managing the requisite energy transitions; and meeting diverse market expectations.
Danfoss expanded on this last challenge, saying that for global manufacturers the expectations of emissions compliance, operator comfort requirement and vehicle productivity can vary greatly between customers from different regions.
In China, for example, operator comfort typically takes a back seat to machine performance, when compared with the requirements of equipment in North American or European markets.
Giving maximum support to these markets, while keeping design and fulfilment complexity to a minimum is an ongoing challenge for wheeled loader OEMs.
Within the white paper, Danfoss detailed four design subsystems – transmission; work functions; steering; and thermal management. While each can be examined individually, Danfoss argued that this could contribute to problems for the customer.
It gave the example of a wheeled loader that used a torque converter power shift transmission system. If the ground drive and work circuit are treated separately, a discrete amount of engine torque would be allocated to each function, with the machine size determined on the assumption that both functions would be active at the same time, to avoid engine stall.
The problem occurs, when a machine is using a small amount of ground drive or work function hydraulics, in which case, numerous inefficiencies result as some of the installed engine power is redundant.
Danfoss said evaluating the machine in a holistic way results in greater optimisation across functions. In the white paper example, the loader would be designed to allocate engine power where it is needed, based on operating conditions.
Danfoss currently offers product, system and design solutions, specifically engineered for wheeled loaders, including a vehicle management technology called Best Point Control, hydrostatic drive solutions, control architectures to enable machine management, and anti-stall and electronic torque limiting technologies.
Increased payload
Also featuring some advanced technologies – and modelled on the features of the 990K wheeled loader – Caterpillar's new 990K aggregate handler boasts a 25% increase in payload capacity (to 20 tonnes), compared with the standard version of the 990K.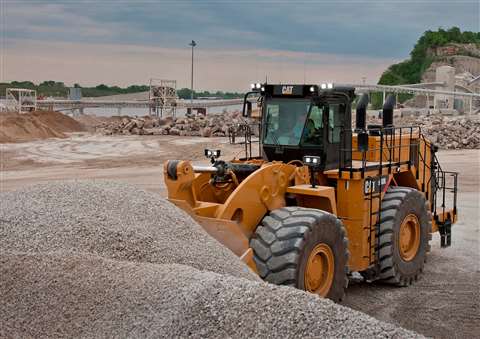 The machine has a full turn static tipping load of 43,738kg, and boasts enhanced stability through an additional counterweight, as well as a strengthened structure.
Cat said the handler's high dump clearance facilitated the loading of large trucks and rail cars, increasing efficiency and reducing costs per tonne.
Cat has introduced the 990K to complement the smaller 986K and 988K handlers, although the 990K is not designed for quarry face.
Delivering net power of 521kW, the 990K's Cat-made C27 engine promises more economical fuel use than its predecessors, with additional potential savings available with the ECO mode (on-demand throttle), engine-idle shutdown system and engine-idle kickdown/auto-resume system.
Its impeller clutch torque converter uses a lock-up clutch, which can further enhance fuel economy, as well as reducing cycle times and heat.
Operators can balance hydraulic power for loading efficiency, while an electronically controlled pump apportions oil flow based on operator inputs.
The 990K has a number of drivetrain options, including integrated axle cooling and ride control, for load-and-carry tasks.
Inside the cab, operator profiles can be customised on the Cat Vital Information Management System, which includes a cycle time and payload control system.
In terms of operator comfort and operability, the seat has integrated seat-mounted controls, plus the new STIC steering lever for more convenient travel control.
Other features of the 990K include a rear-view camera system, plus an in-cab display allowing the operator to view the area directly behind the loader; plus, as an optional extra, an object detection system, which uses radar and in-cab software, and enhances safety when operating in congested loading areas.
Uphill driving
Hitachi said its new ZW330-6 wheeled loader was ideal for quarrying applications, with traction force improved by 26% over its predecessor, for more efficient loading, plus a quick power switch that increases engine output when more power is instantly required, or for uphill driving.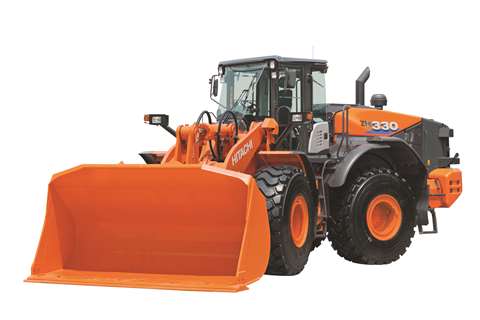 Hitachi's ZW330-6, with improved traction force, is designed with quarrying applications in mind
The flow control system, plus an auto lever, on the new loader allows its lift arm to be controlled more smoothly and it can also be raised more quickly than the ZW-5 model.
After unloading, the machine's bucket is prioritised, getting the loader quickly back to digging.
With a lock-up transmission system, the ZW330-6 promises reduced fuel consumption during travel, and prevents energy loss in the torque converter by coupling the engine with the transmission.
Designed to reduce emissions, the engine's aftertreatment device comprises a diesel oxidation catalyst, urea mixing pipe, selective catalyst reduction system and silencer.
Hitachi has improved the sound insulation of the ZW330-6's cab, as well as offering enhanced all-round visibility. Other important features for operators include a rear-view camera, a curved engine hood and a repositioned exhaust pipe and air intake.
Another safety addition is LED rear road lights to increase the machine's visibility on dusty job sites.
Easier maintenance is supported by having engine covers that open fully, the ability to inspect the urea tank from ground level, and a battery disconnect switch – standard on this machine – to help in the avoidance of electrical accidents and retain battery engine during long-term storage.
Mid-range line-up
Within its mid-range loader line-up, JCB's new 411, 417, 427 and 437 models come with many of the features seen its 457 wheeled loading shovel.
The 411 and 417 loaders are powered by JCB's own EcoMax Tier 4 Final/Stage IV-compliant diesel engine, which delivers 81kW in the 411 and 108kW in the 417.
Cummins Tier 4 Final/Stage IIIB diesel engines, with 133kW and 136kW, power the larger 427 and 437 loaders respectively.
Both the JCB-made and Cummins engines meet latest emissions standards without the need for diesel particulate filters (DPFs).
Across the range, the loaders feature a single-piece engine hood that can be raised electrically or manually, improving access to the engine and cooling pack for ease of servicing.
The machines also have the JCB CommandPlus cab, including a new ROPS structure that provides more interior space and a panoramic front windscreen.
Operator comfort and ease of use has been enhanced with revised pedals, an adjustable steering column and seat-mounted hydraulic controls. JCB has also repositioned the cab's switches and auxiliary controls onto the right-hand B pillar, giving operators a less cluttered interior, as well as providing enhanced access to the machine's controls.
The interior space also benefits from a heating, ventilation and air conditioning system which has been repositioned outside the main cab structure. This provides additional storage for the operator, both behind the seat and in pockets in the front and side consoles.
A full-colour LCD screen has operating menus and also acts as a monitor for the machine's rear-view camera.
Monitor functions include adjusting auxiliary flow rates and SRS boom suspension engagement speeds, as well as the timing of the cooling fan reversal.
JCB said the new cab, as well as on-demand cooling fans on the new engines, reduced both noise and vibration, which can alleviate operator fatigue and therefore boost productivity.
Intelligent assistance
At April's Bauma exhibition in Munich, Germany, Liebherr will present a range of intelligent assistance systems for its XPower large wheeled loaders.
With jobsite safety a major issue for contractors, Liebherr's active rear person recognition could prove popular. One of its advantages is that its acoustic warnings allow operators to concentrate on the job in hand, allowing the sensors to alert them if there is a danger behind the wheeled loader.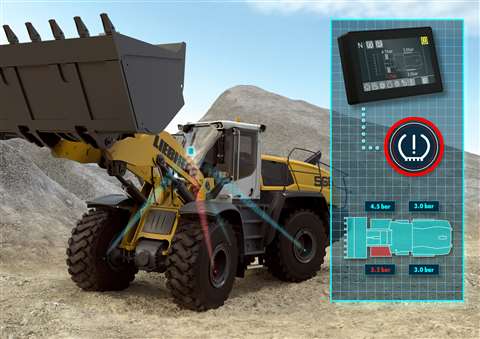 Another is that the system's sensors can automatically differentiate between people and objects.
The sensors will alert operators at a greater distance if a person moves into the area behind the machine and give a different warning sound if there is a risk of personal injury.
The active rear person recognition thereby avoids an overload of warning signals, which in turn reduces the burden on the machine operator, reducing the risk of serious accidents.
Another of the systems Liebherr will introduce at Bauma is an integrated tyre pressure monitoring system, intended to increase the life of tyres – among the most expensive wear parts of a wheeled loader.
Furthermore, if tyre pressures are incorrect and wear increases, then fuel consumption rises. Added to this are other negative consequences of tyre pressure inconsistency, such as stability and manoeuvrability issues.
With the aid of sensors installed on the tyres and protected from damage, the system records the status of tyres, and the machine display indicates the status to the operator.
Another Liebherr system premiered at Bauma is an intuitive steering system that will be available for all mid and large series models from Bauma onwards.
Lower operating costs
Volvo CE said its next-generation H-Series wheeled loaders offered greater fuel efficiency and lower operating costs, among other enhancements across the L60H, L70H and L90H models.
One of the key factors in the fuel efficiency, available on the L70H and L90H loaders, is the lock-up function, an optional feature that eliminates losses in the torque converter by creating a direct drive between the engine and the transmission.
This is said to promote more efficient working with the axles.
The lock-up is an automatic function, requiring no operator input and, with customisation, it promises further improvements to cycle times and fuel economy.
With top travel speeds of 50km/h, the efficiency of work cycles in these models is enhanced, and Volvo said the lock-up feature had improved the drive response, inclined performance and smoothness of ride.
H-Series loaders are equipped with Smart Control, which ensures the correct torque is always applied. Fuel consumption can also be reduced, using the Eco pedal, which encourages the operator to ease off the throttle when the engine rpm is about to exceed the optimum operating range.
The productivity of the L60H, L70H and L90H loaders is enhanced with a 73mm increase in lifting height and, respectively, a 1.7%, 1.6% and 3% higher tipping load.
Across the new models, Volvo has enhanced the interior space of the cab and repositioned controls, enhancing visibility of the attachment and surrounding jobsite.
Visibility is further improved with redesigned side mirrors and a rear-view camera, plus optional front camera.
Optional electro-servo controls give the operator command of the hydraulic functions, with the ability to shift more easily between linear and single-lever controls.
Three hydraulic settings tailor the lever control – boom kick-out, return-to-dig, and a bucket levelling function, which automatically returns the bucket from both dump and curl positions.
As with all H-Series machines, the new loaders have torque parallel (TP) linkage, which combines the benefits of the Z-bar and parallel linkage to deliver high breakout torque and enhanced parallel movement throughout the lifting range.
Volvo said additional technical advances – both as standard and optional – could combine to double the oil change intervals and lower maintenance costs in the new H-Series machines.
Heavy-duty class
German-based manufacturer Wacker Neuson has entered the heavy-duty loader class with the new 9 tonne WL95.
Wacker Neuson said it had responded to calls from customers to expand its loader range at the top end, to cater for large construction contractors and recycling companies faced with high volumes of materials handling.
Available from January this year, the WL95 is offered with the capacity for the engine, travel drive operator's station and hydraulics to be individually configured.
The loader is equipped with ecospeed PRO transmission, an infinitely variable hydrostatic high-speed transmission system, that allows higher tractive forces and driving speeds.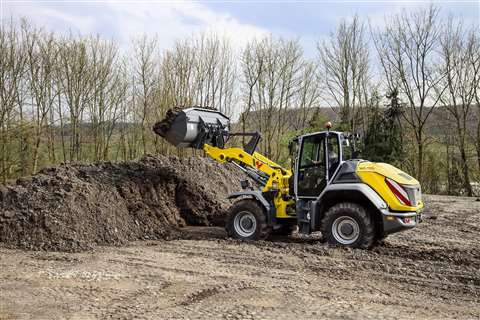 It also makes it possible to drive through the entire speed range – up to 40km/h – without shifting gears, enhancing operator comfort, particular in typical work situations, which often require thrust and tractive forces at speeds between 10 and 20km/h.
The WL95 has two engine options. The first is a Deutz 3.6 litre engine with 100kW and DOC (diesel oxidation catalyst)/SCR (selective catalytic reduction) emission control system, consistent with the current Stage IV emissions standard. A DPF is optionally available, which is already Stage V certified.
The second, also from Deutz, is a 4.1 litre engine with 115kW. This engine is equipped with an exhaust aftertreatment with DOC/DPF/SCR system, and meets the future valid exhaust emission Stage V.
Designed to load any high-sided truck, the WL95 nevertheless has relatively compact dimensions. The bucket, for example, has a total length of 6.5m and a width of 2.39m, and the machine's turning circle is just 4.90m, with an inner radius of 2.45m.
Enhancements inside the standard cab include air conditioning control as standard, a console connected to the air-cushioned seat for ease of use and a jog dial that can be used to set the flow rate of hydraulic oil manually.