Wheeled loaders: Loads of options
By Thomas Allen28 February 2018
The market for wheeled loaders in 15 of the largest western European countries came to a shade under 20,000 machines last year, according to specialist consultant and forecasting company Off-Highway Research.
Sales of larger wheeled loaders – above 56kW engine power – are spread more or less in proportion to the size of each country's economy and construction market, but the appeal of compact wheeled loaders is more selective.
Off-Highway Research said that, as far as larger machines are concerned, the European market currently stood at 9,000 units per year, up from the most recent low of 7,792 loaders in 2013. It is expected that demand will grow gently over the coming years to 9,635 machines by 2020 – representing a total increase of just under 8% over the next four years.
The major markets are the countries you might expect – France, Germany, Italy and the UK. In addition, Sweden is a disproportionately large market, coming in at a similar size to the UK or France, and larger than Italy. This is because wheeled loaders are used for a wide range of applications in Sweden besides construction, quarrying and mining, with the concept being popularised and promoted for many decades by Volvo in its home market.
Meanwhile, Off-Highway Research's figures show that compact wheeled loaders enjoy enormous popularity in Germany, which accounts for more than 60% of the European market for sub-56kW/m3 bucket machines. Again, this is attributed to the historic strength of domestic manufacturers such as Kramer, Atlas Weyhausen and Liebherr promoting the concept, along with the likes of Caterpillar, Volvo and Terex, although Terex completed the sale of this business to Yanmar in October.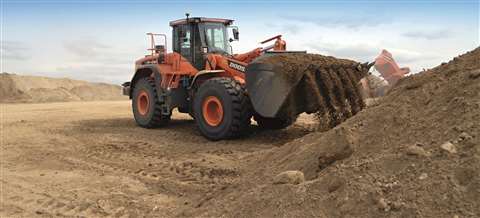 Sales of compact wheeled loaders have been forecast to grow at a similar rate to their larger counterparts over the coming years. Although the German market looks to have flattened-out at a peak level, other European countries – most notably France – are expected to see growth in the coming years.
As a result of these combined factors the European market for all classes of wheeled loader will likely reach some 21,000 units
by 2020.
Electric drive
In light of this growing popularity of the wheeled loader, Caterpillar recently introduced its new electric drive 988K XE wheeled loader, which was said to offer improvements in fuel efficiency and lower cost of ownership.
It is the first wheeled loader offered by Caterpillar with an electric drive system and it was said to offer 10% more productivity in load-and-carry applications than the988K loader.
Compared again with the 988K, it claims to offer 25% greater overall efficiency and up to 49% improvements in face-loading applications, and so it has been recommended for demanding job sites where fuel efficiency significantly impacts the total cost of operation.
The 988K XE features switched reluctance technology and has undergone four years of testing in a range of applications to ensure reliability in the field. Also, it uses the C18 Acert engine, mechanical dropbox, driveline and axles from the 988K for consistent, trouble-free operation, said Caterpillar.
The new 988K XE loader offers a range of bucket capacities, from 4.7 to 13m3. Rated standard and high lift payload for the loader reaches 11.3 tonnes when working with face material and 14.5 tonnes with loose material. Advansys Series Ground Engaging Tools (GET) protect bucket components and reduce operating costs, so operations can get the most out of machine performance.
The electric drive technology used in the new 988K XE was said to lower overall maintenance costs while increasing engine life expectancy by up to 3,500 hours. Offering extended oil change intervals of 2,000 hours, the electric drive wheeled loader was said to use 40% less powertrain oil.
Lowering costs
Komatsu has also been working to increase fuel efficiency and reduce the operating cost of its wheeled loaders simultaneously.
The Japanese-based manufacturer recently launch its new WA200-8 loader, which comes equipped with a quick-coupler and an EU Stage IV engine.
Based on its predecessor, the WA200-8 was said to offer a strong combination of stability, good breakout power and tractive effort. Engine acceleration has also been increased and the boom raising time improved.
Dynamic braking has been enabled by the introduction of a fourth-generation hydrostatic transmission, which helps to prolong brake life, while S-Mode helps to enhance the operator's control in slippery conditions.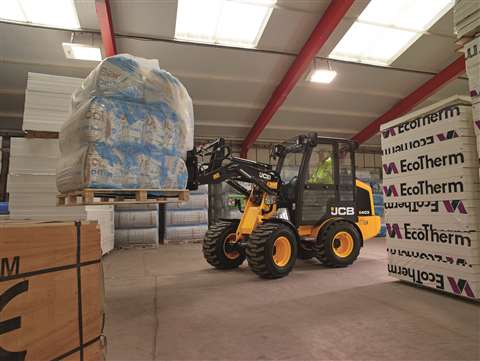 Dadgar Shayan, product manager for wheeled loaders, said, "A focus for the development of the WA200‐8 was to make it reliable on any type of surface and efficient in all applications. And with its new high-lift boom, it can also load dump trucks with a side wall of over 4m."
The operating weight of the WA200‐8 ranges from 11.72 tonnes to 12.02 tonnes, and its SAA4D107E‐3 engine has an output of 94kW. The Komatsu Diesel Oxidation Catalyst (DOC) and other aftertreatment components work together with the engine for improved efficiency and longer life.
A new integrated Selective Catalytic Reduction (SCR) system was said to reduce NOx emissions by a further 80% using AdBlue.
The digging bucket has been redesigned to offer better penetration, and it was said to be easier to fill due to its longer bucket bottom, the modified shape of the back and side walls, and the newly-designed spill guard.
For safe access to the cab, large steps have been put on both sides of the loader.
Once inside the cab, the operator has a new air-suspended seat, and a steering wheel with a tilting and telescopic column, making for a more comfortable experience. The operator can also monitor key machine metrics such as AdBlue e‐level data, fuel consumption, and performance via an 18cm, full-colour, high‐resolution screen.
Cab comfort
Also with a focus on cab comfort, JCB has introduced the new 403 compact wheeled loader, which was said to combine excellent powertrain components with a new cab design, control features and layout.
The JCB 403 is a 2.5 tonne articulated chassis wheeled loader that has been designed for working in confined spaces.
Powered by a compact four-cylinder Kubota engine that generates 26kW of power and 92Nm of torque, it provides a combination of high torque and fine speed control, which
were said to be important for digging into materials and for precision control and placement of loads.
An inching control, operated by the brake pedal, enables the operator to draw on the loader's hydraulic power to breakout and lift materials without causing unnecessary wear to the braking system and transmission. And open or manual differential locks are used in the heavy-duty axles to suit operation on both hard surface and soft ground.
The JCB 403 uses a new roll over protection system (ROPS) and falling objects protection system (FOPS) to provide protection from the elements, dusty working environments and potential hazards. Also, the fully glazed structure maximises working space for the operator, and a large door with grab handles and substantial steps makes for easy access.
With the cab fitted, the machine is less than 2.2m tall and when narrow tyres are fitted it is 1.1m wide.
A new control panel on the right-hand side of the cab has rocker switches, a storage tray and a new joystick controller, which operates the lift arms but also has switches for selecting forward-reverse and the high-low transmission ranges.
The JCB 403 is light enough to be transported on a trailer behind a light commercial vehicle, and yet it delivers a payload of 610kg – or 512kg with long arms – and a full turn tipping load of 1,219kg – or 1,041kg with long arms.
Cab comfort was also an important factor in the design of Doosan's new DL420CVT-5.
The cab on this Stage IV-compliant wheeled loader offers generous headroom and a fully-adjustable, heated Grammer air suspension seat. It also features a new steering column design that gives more clearance for the operator's legs and knees.
Meeting ROPS and FOPS regulations, the cab also offers a wide emergency exit for fast and easy evacuation in critical situations.
The 14.5cm full-colour LCD panel is suitable for both day and night work, and the monitor has two customisable screen displays to suit the operator's preference, giving a full readout of the machine settings and maintenance data.
Beyond the cab, this is the first model in the company's wheeled loader range to be equipped with a Continuously Variable Transmission (CVT), which is composed of a hydraulic motor combined with a hydraulic pump. This was said to provide a smooth and continuous speed variation.
The CVT design combines the benefits of a mechanical transmission and a hydrostatic transmission in the same machine, allowing the DL420CVT-5 to transition automatically from hydrostatic power at low speed to the mechanical system to operate at higher speeds.
In this way, the technology ensures that high loads can be carried at low engine speeds with high dynamics to optimise the operating cycles – important for digging, loading and lifting applications.
The complete driving range, forwards and in reverse, is controlled by the CVT system. Low engine speeds help to increase efficiency and improve driving comfort irrespective of the traction speed. Doosan said that a fuel saving of up to 15% could be achieved with the CVT.
The ability to split hydrostatic and mechanical power has allowed Doosan to move to the Scania DC09 engine in the DL420CVT-5, since the CVT system maintains the machine's efficiency even at low engine rpm. With an output of 232kW of power at 1,800rpm, the Scania DC09 engine was said to provide generous torque at low rpm. It also meets Stage IV emissions regulations without the need for a diesel particulate filter (DPF), through the use of cooled exhaust gas recirculation (EGR) and selective catalyst reduction (SCR) aftertreatment technologies.
Fuel efficiency
Improved fuel efficiency is also offered by Volvo Construction Equipment's (CE) new L260H wheeled loader, which is run by a Stage IV-compliant engine.
At 34 tonnes in weight, this latest addition to the company's H-Series range was designed for heavy-duty applications.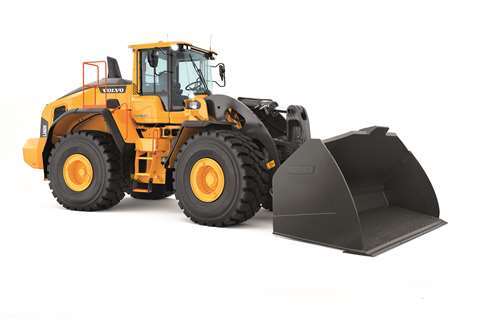 Compared to previous models, the L260H was said to boast 5% more power and torque, a 15% increase in payload, and larger buckets.
The 310kW Volvo D13J engine that powers the new wheeled loader delivers 2,343Nm of torque at low engine speeds, helping to minimise emissions and fuel consumption. Also, the passive regeneration automatically cleans the DPF during normal operation, without input from the operator and without having a negative impact on performance.
Fuel efficiency is further enhanced by the Volvo-patented OptiShift technology, which integrates the Volvo Reverse By Braking (RBB) function and new torque converter with lock-up to reduce fuel consumption.
The RBB senses the loader's direction and slows the machine by automatically applying the service brakes instead of the torque converter.
In terms of lifting, the new load-sensing hydraulic system supplies power to the hydraulic functions only when required. It works in combination with the new transmission, new converter and new rehandling bucket to increase fuel efficiency by up to 10%, according to Volvo CE.
The lifting-arm system, with its redesigned lift arm, offers a lift capacity of 295.6kN. The L260H delivers a breakout force of 283.7kN and has a dump height of 3.1m, while the wheel base has been lengthened by 50mm to provide greater stability.
Volvo's Care Cab, featured on the L260H, has been designed to provide the operator with a comfortable work environment and good visibility.
The spacious air conditioned interior is insulated from vibrations – by viscous cab mounts and an air suspended seat – and noise.
The ROPS and FOPS protected cab has a wide windscreen that provides an unhampered view of the jobsite, and a view to the rear of the machine is shown on the on-board Volvo Co-Pilot display.
Reliability
For Hyundai Construction Equipment (CE), reliability was a key concern in the design of its new HL965 wheeled loader.
Rigid cycle testing, heat testing, vibration testing and sock load testing were conducted in the design and manufacturing process to ensure optimal durability and reliability, Hyundai CE said.
The HL965 has an operating weight of 20.1 tonnes and is powered by Cummins' Stage IV-compatible QSL9 electronically-controlled diesel engine with a gross power of 200kW at 2,100rpm.
The maximum axle load capacity is 44 tonnes at the front and 35 tonnes at the rear, with standard 23.5 R25 L3 tyres.
Operator comfort was, once again, an important concern too. Compared to the company's 9a series, the ROPS and FOPS cab on the new HL965 was said to be 10% larger, with a fully adjustable seat.
The cab has also be fully sound-proofed and features a new air conditioning system that maximises heating and cooling performance by optimising air flow through the cab.
Hyundai CE has also tried to reduce the toll on the operator by including an electro-hydraulic integrated control lever that allows attachments to be operated with minimal effort. Fingertip control of the boom, bucket and third hydraulic line are also available as an option.