Wheeled loaders: rising to the challenge
By Thomas Allen10 October 2018
Global sales of wheeled loaders reached 163,139 units last year, representing a 33% rise on 2016, and these machines had a retail value of $14.8 billion, according to market analyst Off-Highway Research.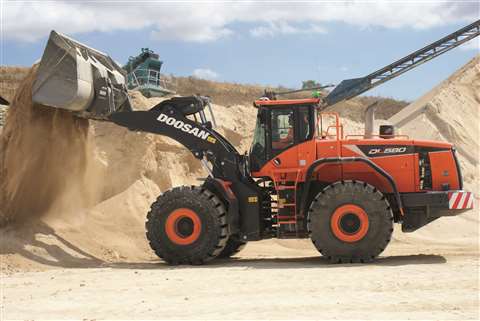 The key driver behind this growth was said to be a surge in the Chinese wheeled loader market, which represented 43% of global sales in 2017. The underlying factor here was a sharp increase in infrastructure investment by the Chinese government and through the public-private partnership (PPP) model. With that said, the relative popularity of wheeled loaders in China is now declining due to the rise of compact and crawler excavators and 'economical' wheeled loaders as alternative tools.
The global population of wheeled loaders is believed by Off-Highway Research to have risen by 75% over the last decade from 1.3 million machines in 2008 to 2.23 million this year. Again, this is almost entirely attributed to the influence of China, which is believed to be home to 60% of the world's active fleet of wheeled loaders.
Construction contractors were said to be the largest customer group for wheeled loaders, followed by the extraction industries – predominantly mining and quarrying. However, these two traditional industries only accounted for 58% of demand last year. Other significant customer groups include various public sector entities, equipment rental companies and agriculture and forestry.
The expected decline in wheeled loader sales in China over the next two to three years is expected to be reflected in an overall decline in global sales. However, this drop will be partially offset by growth elsewhere in the world, with this most notably occurring in North America.
The decline of a relatively low-cost market in China and the rise of a higher one in North America means the value of the global wheeled loader segment will continue to climb despite the dip in unit sales, said Off-Highway Research. The value of the sector is expected to reach $17.8 billion, in today's prices, by 2022, compared to $14.8 billion in 2017.
Difficult environments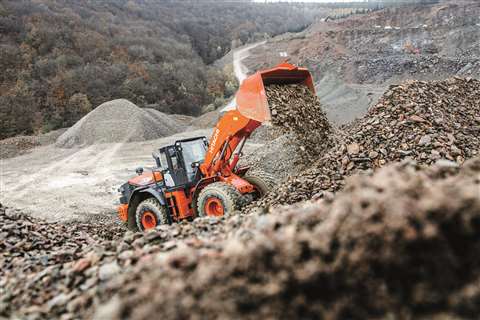 As such broadly applicable pieces of equipment, wheeled loaders are used in a diverse range of environments around the world, including particularly challenging ones. For this reason, Doosan recently introduced the new DL580-5 wheeled loader, which is aimed at heavier work.
Although similar in appearance to the company's existing DL550-5 model, the Stage IV emissions-compliant machine is said to feature new robust structural components and an advanced double-circuit axle cooling system. It has an operating weight of just over 36 tonnes and higher static tipping loads of 29.7 and 26.2 tonnes.
The first one to be purchased in the UK was recently supplied by Doosan's dealer Filtermech Plant Sales to Creeton Quarry, 16km north of Stamford in Lincolnshire. In this instance, the DL580-5 has been equipped with a 6.2m3 quick-hitch mounted bucket for material handling applications around the quarry.
Steve Johnson, the quarry's manager, said, "We have an existing Doosan DL550-3 wheel loader but I felt the new DL580-5 would provide us with a substantial boost to our output. With its capability of scooping up to ten tonnes of material in every bucket full, the DL580-5 allows us to fill customer lorries with just two buckets rather than three, and our articulated dump trucks with just three buckets instead of four."
To meet the heavy-lifting requirements of the quarry, the DL580-5 has reinforced Z-bar kinematics for heavier lifting with few moving parts. This design was said to help stabilise the loader, enable rapid bucket movements and keep the bucket at the right angle at all times.
Hitachi Construction Machinery has also launched a new wheeled loader designed to tackle tough working conditions in Europe with its durable components and safety-enhancing design improvements. The company says that the radiators on the ZW330-6 offer improved resistance to corrosion, and a rear grille on the machine prevents material from entering the radiator compartment.
The lift arm and the front and rear frame have been designed to handle the rigours of heavy applications, and an optional belly guard can be used to provide added protection. The lift arm was said to raise more quickly than the ZW-5 model and can be stopped more smoothly due to the flow control system. Also, the auto-leveller was said to make it easier to control.
The traction force of the ZW330-6 has been increased by 26% to provide more efficient loading than the previous model, and the wheeled loader has a power switch that increases engine output when more power is required.
With regard to operator comfort and safety, the cab has improved sound insulation and adjustable features that can be controlled from the multifunctional monitor. The rear-view camera, curved engine hood and repositioned exhaust pipe and air intake all help to provide a better view of the operator's surroundings, while LED rear road lights increase the machine's visibility to those outside the machine.
Ice cold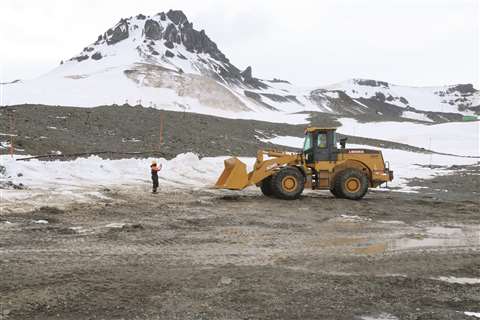 Arguably the toughest conditions for a wheeled loader to work in are to be found in Antarctica, where temperatures dip below minus 50°C. XCMG recently helped an observation team working at a national scientific research station on what is the coldest continent in the world by developing the LW600KN wheeled loader.
In the process, the Chinese company's loader technology research and development team ran tests in parts of Russia that are within the Arctic Circle and researched various standards, including those from the military.
In the end, the team came up with power, hydraulic and electrical systems, as well as a cab and structural elements, that could operate in Antarctic conditions. The engine, battery, fuel oil, hydraulic oil and cab pre-heating systems on the LW600KN can work in temperatures below minus 50°C. XCMG said that the LW600KN was a new benchmark in the Chinese low-temperature wheeled loader market.
Liebherr has a range of wheeled loaders for less- and non-regulated countries, which comprises five different models with operating weights of between 10.4 and 24.72 tonnes. At present, about 50 machines from this range are working in several gold mines in the harsh Siberian conditions of Russia's Magadan region.
The soil is in a state of permafrost, with temperatures ranging from minus 38°C in winter to 30°C in the short summer. As a result, the gold mining season lasts just seven months – from April to October – and so the wheeled loaders work flat-out during this time, clocking up as much as 600 operating hours per month. Their main task is to load raw material that contains gold into large machines for washing it.
To achieve such a high level of productivity, Liebherr's engineers tested the various elements of the machines in tough conditions, and it was said that the company's customers in the Magadan region had confirmed fuel savings of up to 25% compared to other wheeled loaders of the same size. Liebherr has also set up service stations in north-east Siberia to provide round-the-clock servicing for these wheeled loaders.
Increasing production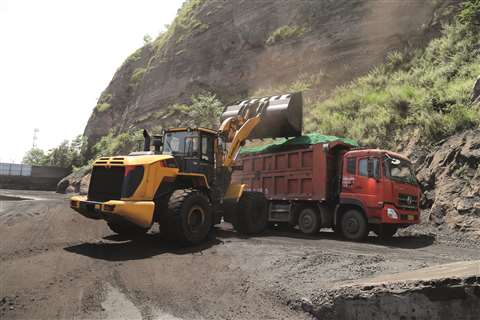 At a coal mine in Xinjiang, China, where high winds, sand and coal ash make for difficult working conditions, it was decided by the mine's manager Ma Baowen that production needed to be increased from 1.3 million to 5.9 million tonnes. However, a new fleet of wheeled loaders were required to achieve this ambition, and Baowen decided to opt for a domestic brand.
"Some people suggested foreign brands, but I think some domestic brands can also excel," Baowen said.
For the job, 13 of LiuGong's CLG856H loaders were purchased since they had a reputation for being powerful, efficient and durable, as well as safe and comfortable.
Baowen added, "Three years of use here equals five or six years elsewhere. So far, there have been no major problems."
When it was decided that the standard three cubic metre bucket needed to be replaced with a five cubic metre bucket to maximise productivity, it took LiuGong less than a month to tailor-make a new bucket.
"It took more than ten minutes for the previous three cubic metre bucket to load a truck, but now the five cubic metre bucket can load a truck in five or six minutes. At peak, the daily output can be doubled," Baowen said.
Looking to the future of wheeled loaders, electrification appears to be a growing trend – at least for compact machines. Volvo CE recently unveiled its electric compact wheeled loader concept, the LX2. The second-generation prototype is part of an electric site research project that also involves other electric construction machines.
Ulrich Faß, emerging technologies manager, said, "As it's electric, no particulate matter, nitrogen oxide or carbon dioxide are released into the environment. This, together with the fact that it has extremely low noise levels, makes it ideal for use in cities and densely populated areas."
To make the machine electric, the combustion engine has been replaced with a lithium-ion battery that was said to store enough energy to operate the machine for eight hours in its most common applications, such as light infrastructure construction and landscaping.
Electric motors
The wheeled loader also incorporates two dedicated electric motors – one for the drivetrain and one for the hydraulics. It was said that decoupling the subsystems had led to higher efficiency in both the systems and the entire machine.
In recognition of the growing trend towards electrification of compact construction machines that require new travel drive concepts with higher working pressures and electronic controls, Bosch Rexroth has introduced its new A4VG series 35 axial piston variable pump.
The developers at Rexroth have integrated an extensive sensor package into the short pump, which simplifies the electronification of travel drives in closed circuits.
Offering a nominal pressure of 400 bar and a maximum pressure of 530 bar, the pump was said to meet machine manufacturers' demands for higher pressure levels. Also, the design for travel drives has been optimised using load collectives, resulting in a compact design and high power density.
Together with the hydraulic motors of the A6VM series and the new DRCA4x travel drive software, Rexroth also offers complete solutions for travel drives from a single source.
All of the components were said to be optimally adjusted to one another and all of the basic functions have already been pre-defined in the new software. According to the German-based company, this reduces engineering time and costs and, in the vast majority of cases, removes the need for complex programming.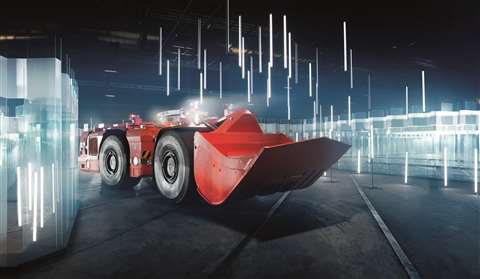 Through the dark
At a recent demonstration by Swedish-based Sandvik saw one of the company's 11m-long LH514 LHD (local haul dump) trucks self-navigate through a glass labyrinth. Laser sensors detected the walls, helping the machine to move through the labyrinth's narrow aisles.
Sandvik has had automated loaders and trucks working in mines for more than 20 years, but this demonstration represents a move to above ground.
Jouni Koppanen, senior systems engineer for automation at Sandvik Mining and Rock Technology, said, "Sandvik automated loaders have been in use for more than 20 years, with over two million operating hours underground. Autonomous systems improve safety and productivity for our customers.
"For the first time ever, the entire cycle can be automated, from loading to hauling and dumping. Nobody has been able to do that before."
The AutoMine system means that Sandvik loaders and trucks learn the safest and most efficient route the first time they enter a tunnel. Guided by a set of lasers, the equipment's intelligent system maps out and records a path. Sandvik's patented algorithms, together with its sensors and gyroscopes, ensure the machine knows where to go underground – an environment in which GPS is not possible.