Wheeled mobile telescopic crane installs 8.5 MW wind turbine
By Alex Dahm25 November 2022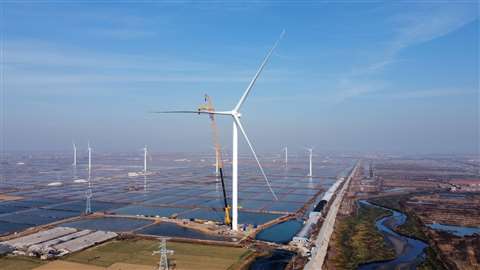 A second record has now been claimed for what is tagged as the world's largest all terrain crane.
XCMG's 2,600 tonne capacity XCA2600 was used to install an 8.5 MW wind turbine on its first project.
The record lifts were made on the Changyi Wind Farm construction site in Weifang, Shandong Province, China.
With its six section telescopic boom it can lift 173 tonnes to a height of 160 metres. The XCA2600 is mounted on a 10-axle carrier but the same upper crane works can be mounted on a crawler tracked undercarriage.
"The rapid development of wind power technologies necessitates hoisting equipment that can lift heavier weights to higher heights while guaranteeing transportation efficiency and safety. As such XCMG is committed to developing the best super cranes to support the fast development of the global wind power industry and new energy development," said Li Changqing, XCMG technical expert.
Check back for more information as it becomes available.