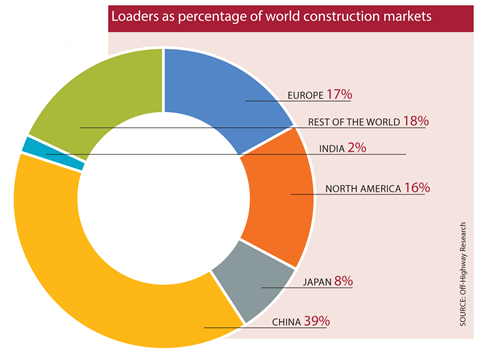 Global wheeled loader sales exceeded 120,000 machines last year and the Off-Highway Research put the value of the segment at US$12.5 billion. With equipment markets around the world now entering a period of recovery, sales of this type of machine are expected to rise to more than 150,000 units by 2021, with a value of some US$15.7 billion.
In terms of individual markets, China remains the most important in the world for wheeled loader sales, with demand of some 47,500 machines last year. Although this represented almost 40% of the global wheeled loader market, it is a far cray from the peak year of 2011, when a staggering 219,000 wheeled loaders were sold in China, representing two thirds of the global market.
China has had a historic affinity for wheeled loaders, as for many decades these were the mainstay of the large state-owned construction equipment manufacturers such as Chenggong, Lingong (now SDLG), Liugong, XCMG and their like.
Falling sales
However, in the mid-1990s, international equipment manufacturers started to enter the Chinese market and introduce crawler excavators, and in the last decade or so Chinese manufacturers have developed their own such machines. The greater versatility and higher productivity of excavators means they have now replaced wheeled loaders in China in many applications.
As a result, wheeled loaders now represent about 40% of the Chinese construction equipment market in unit terms, compared to 50% just six years ago. Although absolute sales of wheeled loaders are expected to increase over the next five years as the market returns to health, Off-Highway Research expects their proportional share of the Chinese market to fall to about 33% by 2021.
Despite the relative decrease in popularity in this key market, wheeled loaders still have an essential position in the global construction equipment sector. Worldwide in value terms the segment is second only to crawler excavators and in volume terms, about one out of every six pieces of construction equipment sold around the world is a wheeled loader.
Higher spec, higher prices
In volume terms, Europe is the second largest regional market in the world. This is due to a strong affinity for compact wheeled loaders in Germany and a number of other countries. These machines typically have a bucket capacity of 1m3 or less and an engine of less than 56 kW, which avoids the requirement for Stage IV exhaust emissions regulations. Almost 12,000
such machines were sold in Europe last year, about 60% of them in Germany.
For larger wheeled loaders, North America is the second largest market after China in volume terms. However, in value terms it is worth two to three times that of China, due to the higher specification of equipment, including the requirement for Tier 4 Final-compliant engines.
Elsewhere in the world, wheeled loaders enjoy a fairly universal popularity. The only major exception is India, where the country's long running love affair with backhoe loaders and a strong market for crawler excavators has left little room for wheeled loaders.
In terms of suppliers, Off-Highway Research counts more than 55 wheeled loader manufacturers around the world. The larger Chinese groups tend to be the leaders in volume terms, but the majority of their sales are made domestically. Among the international companies, Caterpillar, Komatsu and Volvo enjoy some of the strongest positions.