White paper: improving productivity & safety on high-rise jobs
By Murray Pollok20 June 2019
Contractors and consultants are looking for high-rise building techniques that reduce labour requirements to increase productivity, according to a new white paper from International Construction and KHL Group.
A survey of more than 135 engineering contractors and consultants worldwide found that the two highest rated factors in increasing productivity were, first, the adoption generally of building methods that reduce labour, and second, the use of formwork and falsework systems that require less labour for assembly and dismantling.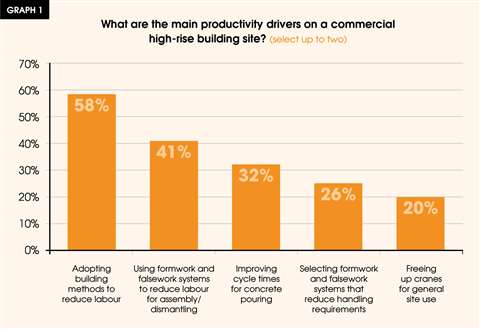 The research, which was carried out in early 2019, asked contractors and consultants for their views on a wide range of productivity and safety issues relating to high-rise projects.
The goal of reducing labour to drive productivity may not be surprising, but the importance given to using formwork and falsework systems that are quick to erect and strike – rated second as a factor - highlights the role that modern temporary works systems can play. This was rated as more important than faster cycle times for concrete pouring and technology that frees up cranes for general site use.
The white paper, High-rise construction: driving productivity and safety, is available for free download here.
The survey, which was sponsored by RMD Kwikform, also asked high-rise contractors and consultants for their views on how best to improve safety.
The key factor in improving safety cited by respondents was the need for individual workers to take personal responsibility, which was chosen by 58% of respondents. The second rated factor, for contractors to improve site conditions, was chosen by 48%.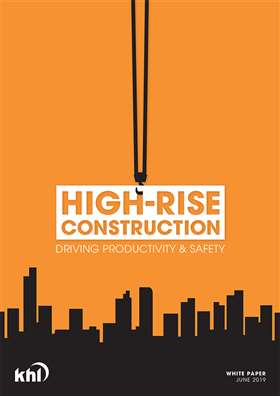 The focus on individual responsibility as the most important factor in improving safety on site might be viewed as unexpected, given a contractor's legal and moral responsibility to provide a safe working environment.
However, it is clear from the survey is that contractors and others working on high-rise projects see a need for action on multiple fronts – contractor actions, personal responsibilities, the need for safe methods of construction and for health and safety to be accorded priority.
Many also displayed openness towards further health and safety regulation. Just 30% of respondents said existing regulations in their territory were already adequate, and an even lower proportion, 22%, said the adoption of best practices on safety was related to budgets. More than a third were ready to agree with the statement that health and safety was not a top priority, but should be.