Why mini crawler cranes are ideal for restricted sites
Mini crawler cranes grant access to even the most restricted sites and tightest of locations and can manage complicated and awkward lifting operations once inside. Niamh Marriott reports.
Although mini crawler cranes can lift up to an impressive 15 tonnes given their compact nature, it is the manoeuvrability for their size that offers real benefits for lifting work. Being mini is an advantage for indoor work but can also be useful for accessing difficult and narrow entrances to sites.
The larger crane-owning companies note their usefulness and even the biggest see the value in investing in the smallest models. Back in 2018 international heavy lift and transport specialist Mammoet expanded the small end of its fleet with a pair of new 4 tonne capacity Hoeflon C10 mini crawlers. The Dutch-built telescopic C10 is just 800 mm wide to fit through doorways.
Winning work
Similarly, a Palfinger PCC 57.002 compact crawler crane was used to lift and move nine concrete elements, each weighing 1.2 tonnes, as part of the Red Bull Arena football stadium expansion in Salzburg, Austria.
There were a number of challenges to overcome, including the low stadium entrance which had a clearance of just 2.83 metres and a width of 2.87 metres, narrow aisles, barely any space to turn around and precise specifications regarding the statics of the load-bearing surface, which allow a maximum load of 14.5 tonnes.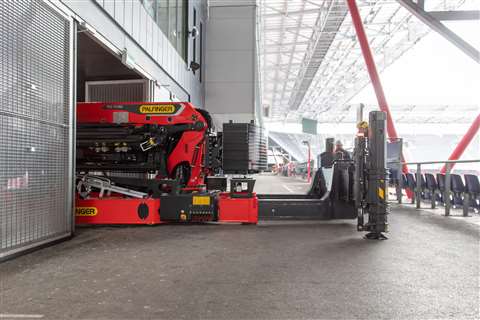 "It quickly became clear to us that this was a challenging job that a standard four-axle truck with a crane would never have been able to handle. It would not have been able to enter the stadium or meet the weight requirements," says Markus Egger, foreman at construction company Doll, which carried out the expansion of the stand. "The only logical and feasible solution was the Palfinger crane."
The crane unit had to be separated from the crawler chassis so it could pass through the difficult low-clearance stadium entrance. Using its own outriggers, it was able to gradually shift along the narrow aisles to its operating locations while remaining stable. Once through it was reconnected. To not damage the first floor of the stand in the stadium while the concrete elements were being lifted into place, the work had to be carried out with extreme precision.
Egger adds, "Whether in the stadium or for other special applications with low access heights, such as in car parks – we are impressed with the compact size combined with excellent manoeuvrability of the crawler crane. It is also possible to drive the crane with a suspended load. This is definitely a solution we can recommend."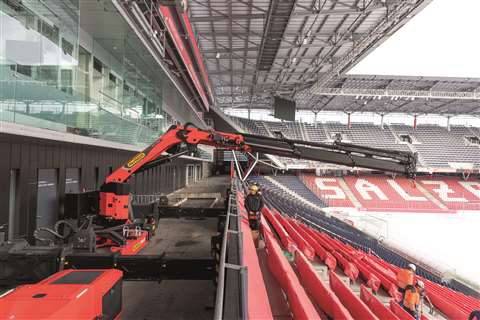 Palfinger's Hemmo Luijerink says, "Smaller cranes offer tremendous help with small onsite assembly and installation jobs," and that they each certainly have their place among the larger range of crawler cranes." He says they are, "extremely useful inside petrochemical plants, industrial installations for 24-hour maintenance and upgrading, as well as in city centres and tunnels."
Electric options
Having the option of making them powered by electricity is an ideal fit for the capabilities of mini crawler cranes.
GGR Group's range of mini crawlers includes its TMC 525 with a capacity of 14 tonnes and a maximum lift height of 32 metres. It benefits from continuous slewing which gives good control for load placement and it can travel on rough or uneven terrain, and slopes. Data can be fed back to the operator via the remote control transmitter during lifting operations. There is also an electric version. The lithium-ion battery-powered TMC25 retains all the compact dimensions and lifting power of the diesel variant, GGR says.
New models
Products are being launched to meet the demand for mini models, and the upcoming ConExpo show in Las Vegas will showcase new options.
Fascan International, the Jekko dealer in the USA, will represent the Italian company at ConExpo 2023 and will display as many as 11 products, including the new SPX328, JF235 and MPK20R models launched last October.
SPX328 is Jekko's new entry model, a crawler crane weighing 2.3 tonnes, with a load capacity of 2.8 tonnes, a maximum height with main boom of 10.5 metres and, with jib, of 12.8 metres. This new model is 2.95 metres long, 1.61 metres high and is powered by lithium-ion batteries.
It also has the first 100 per cent electric jib totally independent from the mini crane hydraulics and operated with a dedicated radio control.
JF235 is the newest and smallest bi-energy powered model of the range: 4.74 metres long, 1.6 metres wide and features a main boom and a jib, each with four extensions, and delivers the same performance of the larger JF models, lifting up to 6.1 tonnes and reaching as far as 16 metres high with its main boom and 25 metres high with its jib.
The MPK20R is the new version of the MPK20 electric mini picker. Measuring 2,390 x 1,510 x 880 mm, it is powered by batteries.
It weighs 1.9 tonnes and has a capacity of 1.8 tonnes, reaching as high as 6.5 metres. The main boom has a manual extension in addition to two hydraulic extensions to hoist as much as 850 kg at a maximum reachable height of 7 metres. Jekko says the major innovations are the turret rotating +/-6° on both sides and the possible installation of a 600 kg or 990 kg glass manipulator.
Rise in demand
More mini marvels will continue to enter the market as demand will still rise for these smaller cranes.
Luijerink comments, "What I have been seeing, and I got a strong confirmation of that during Bauma 2022, it that there is a new market quickly rising. Mini crawler cranes as we know them, have evolved during the past 20 years to a new product group tagged as compact cranes.
"Today's society requires more than bare lifting of big loads. Europe has reached the stage of re-construction and maintenance instead of building," and he said these types of cranes are ideal for that type of indoor and city work.
"They do jobs where before conventional cranes were being used and as such they will start to overtake mobile cranes in popularity. It is a sustainable trend to just move smaller machines around. Also, they can do the job with just 15 kW of electricity, meaning compact cranes have a great future."n