Why mini excavator sales have outperformed the market and where they go from here
By Neil Gerrard26 May 2023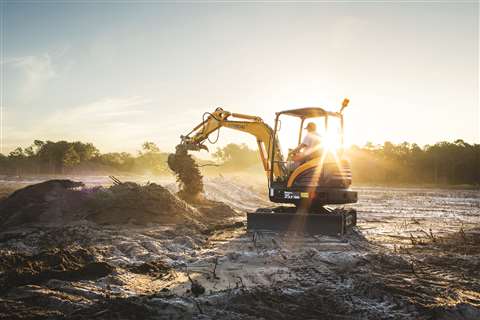 Mini excavator sales have boomed over the last 20 years.
Data from Off-Highway Research shows that whereas the 2021 peak in the general construction equipment market was 10-15% higher than the previous peak of 2007, the peak in the mini excavator market was two thirds higher.
The number mini excavator units sold in 2014 was 129,762. By 2027, Off-Highway research is predicting that figure to be two and a half times higher, at 321,751.
So why has there been disproportionate growth in mini excavator sales and what might the future hold?
"The ups and downs that you see in the construction equipment market in general at the same peaks and troughs you see in the sales of mini excavators," says Off-Highway Research's managing director Chris Sleight.
"But I would say there's been much more growth in mini excavators than the market in general."
There are two significant reasons behind that. First of all, mature markets have gravitated more and more towards mini excavators, away from more traditional machines like backhoe loaders. That's particularly the case in Europe and North America.
The second is that emerging markets, and particularly China, have seen mini excavators start to replace manual labour.
"When labour costs are rising year on year, you reach a tipping point where mechanising it and buying a mini excavator is a more economical solution than just having a load of people with shovels at the side of the road," says Sleight.
That trend is also particularly evident in the 'rest of the world' category, where unit sales have risen from the 10,000-30,000 range in the early 2000s to over 60,000 in 2022.
"Although that's a relatively small piece of the pie, you've seen quite a lot of growth in these emerging markets. Mini excavators are by no means a developed market product anymore, which arguably they probably were 10 and certainly 20 years ago," adds Sleight.
Higher interest rates slow sales…for now
The covid-19 pandemic caused only a temporary obstacle to mini excavator sales. While sales slowed in 2020 for around six months, they then went stratospheric in 2021.
But they have since started to cool off again. The reason behind that, Sleight explains, is higher interest rates.
"Mini excavators are very versatile machines and in mature markets, the biggest buyer group is probably rental companies. Machines in that kind of fleet will be working on a road project one day and digging the footing for a house the next. But the biggest application is residential," says Sleight.
With the majority of home buyers around the world requiring a loan for their purchase, that means rising interest rates have the potential to depress residential sales. And, of course, a slowdown in housebuilding means a slowdown in mini excavator sales.
As far as global sales of mini excavators are concerned, Off-Highway Research predicts a shallow dip for the next few years, before a recovery in 2026 and 2027.
"There's a sense that inflation is coming down from the highs of last year. I think we are returning to normal inflation and normal interest rates rather than the whole period from the Great Recession to the Covid pandemic when it was super abnormal," says Sleight.
He also points to strong underlying demand for housing in countries all over the world, which over the longer term should mean a recovery in housebuilding and consequently in mini excavator sales.
"I think inflation will come under control sooner or later. It's obviously a bit of a debatable point about when that is but it should just bring us back to a more recognizable and stable business cycle," he concludes.